Here we weigh in on the beauty and style looks we're currently lusting over. We promise to deliver fairly simple and easy tips, along with affordable products to help you pull them off.
Ah, necks…we forget all about them until gravity kicks in, we start noticing some curious creases that were most DEFINITELY not present on our third 21st birthday, and suddenly we're scrambling for neck-tightening quick-fixes to make up for the 25 years we spent neglecting the poor thing. (No? Just me? Great.) Well, total and prolonged disregard — and then a hasty attempt to redress that — is no way to treat our bodies. Which is why it's high time we learn to appreciate our necks a little more with a good ol' hug.
Long before the be-freckled girls in '90s dELiA*s catalogs were matching them to their hair mascara, chokers first popped up in early 18th century France. They were simple red ribbons tied around necks, worn in homage to those who were sentenced to death by guillotine. In 1870, Degas developed a fascination with dancers and started making his ballerina paintings, in which black dainty ribbon chokers could be found on the necks of his subjects. And then, in the late 19th century, Alexandra of Denmark (Queen Victoria's daughter-in-law) solidified the choker's popularity. Inspired by her many trips to India, Alexandra chose to don a choker to cover up an unwanted scar, and the style stuck.
During the subsequent decade, the choker naturally progressed to an elite status — a marker of wealth — as Queen Victoria began wearing them. And then it seems they fell off the bandwagon for a bit because the next notable mention of chokers is in a 1938 issue of Vogue under the headline, "The Return Of The Choker." Then, in 1944, Life Magazine published a piece on "Dog Collars," except the examples given were bejeweled and tasteful — a far cry from the dog collars we're familiar with today. And finally when the '90s came around, "dog collars," as we now know them, began to take shape; '70s-style spikes and studs re-emerged; and punk revival was born.
With chokers having another moment right now, I figure it's as good a time as any to propose a call to arms. I say we start being kinder to our necks. Perhaps even forgo the dog collars and tattoo chokers altogether in favor of something more polished and minimal – something as simple as a thin velvet ribbon looped through a pendant. Because yes, while tattoo chokers are cheap, so are bandanas and they don't come with the chilling memories of 7th grade glittery retainers and premature pubes.
So how about we all give our necks a hug now, shall we?
1. The ribbon.
Personally I like a velvet ribbon tied around the neck, in a simple knot – maybe even wrapped around twice, with a pendant looped in. Amazon has a whole wealth of options for velvet ribbons and the cool thing about these is they come in excess on spools. But ribbons exist elsewhere too. For those feeling extra penniless there's always the option of waiting until a birthday or an occasion that calls for presents and then snatching the ribbon from a nicely-wrapped one. And of course, how could we forget the crash-a-kids-party method in which we barge into a child's birthday party, snip the ribbon from one of the many balloons, and promptly leave. It's time to get creative, people.
2. The bandana.
They're cheap (buy 12 for less than $20 here), everyone owns at least three of them, and they can be tied around the neck in a number of different ways. There's something really elegant and classic about this look. Do the right thing.
3. A chunkier choker (a "statement" choker, if you will).
Ideally we'd all have enough money to go out and buy the Chanel pearl choker necklace. Or the Céline brass and slate bowl choker necklace. But "ideally" is not reality now is it? Still, there are more than enough affordable alternatives to choose from. I recommend going to flea markets and stoop sales – that's where I found this guy…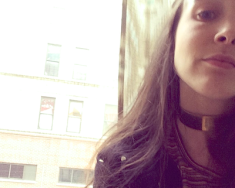 …for $10. Not at all constricting to wear to bed, by the way.
4. The scarf.
Scarves differ from bandanas, if ever so slightly. For one, there are more options when it comes to a scarf tied around the neck – more materials, patterns, and lengths to choose from. My general rule is: the simpler the better, and always try for a scarf that's on the thinner side. As usual, eBay knows what's up.