In "Dream Closets," I'll be documenting my favorite closets around New York and the personalities behind each of them.
I've never been in a sorority, but I imagine the initiation period is probably not all too different from my first day working at Opening Ceremony. I got the requisite rookie treatment from pretty much everyone save for one dude — Rhamier. Instead, he was the first friend I made there and told me "not to forget it." Which would honestly be hard to do, seeing as Rhamier manages to stay so goddamn relevant.
From Laurelton, Queens, Rhamier's first job was a bus boy at Red Lobster when he was 16 years old. After that was a job in retail at Uniqlo — when it was still the only store in the U.S., obvi. And then, at 18, he started working for Opening Ceremony where he's been ever since. While at OC he's interned and worked for Lori Goldstein, interned at Interview Russia under Karen Kaiser, and has worked with various brands on creative consulting and styling. Late last year he founded Super Vision, a creative team of multi-talented kids in fashion. It's sort of like a consulting firm; companies can hire them to help with creative direction, styling, photography, video, design, and talent recruitment. And they'll be launching an in-house label soon too.
Ever since I met Rhamier I've been taking note of his style. As a general rule: wherever Rhamier is, I usually am too, just 7 feet behind him and shrouded by a tree and a camera lens. Call me Yung Creep – call me what you will! – but at least I'll be a well-dressed creep. Right? Wrong. Whatever. Here's Rhamier!

"My style influences range from Ian Curtis and Thelonious Monk, to Tupac Shakur, Cam'ron and Phoebe Philo. Growing up, drug dealers were our style icons. Also gang bangers in LA, and my pops. I remember him going out to clubs with my aunt and he was fresh. Gold teeth, new kicks, crazy attitude — words really can't describe. My network of friends inspire me as well. My friend Will has started giving me a run for my money; he'll come to work with some new Walter Van Beirendonck socks and I'm immediately thinking, "Fuck I have to step it up!" haha. But in general I'm more influenced by culture than individuals."
---
"My favorite season or collection would probably be the Patrik Ervell Spring/Summer 2010 collection with all the rust stained garments. That was next-level for me, especially when I was first getting interested in fashion. I also like the Raf Simons for Jil Sander Autumn/Winter 2008 collection with all the marble prints (Long live Raf Simons)! And the Céline by Phoebe Philo Resort 2012 was a great collection too.
I actually got one of these Patrik Ervell rust stained blazers at an Opening Ceremony sample sale — probably my favorite purchase of all time."
---
"I don't think enough of our youth is enraged by what's currently happening in the world. Drones, school shootings, crooked politicians; it's like some shit out of a twisted soap opera. Why not take a firm stance while you still have nothing to lose? As they say, if you don't stand for something, you'll fall for anything…"
---
"My favorite editorial of all time is probably in the February 2001 issue of i-D Magazine, guest edited by Raf Simons. In it, Olivier Rizzo (one of my favorite stylists) styled a story shot by Willy Vanderperre called "Forever I Am A Part Of You And Me." They shot Robbie Snelders — who started off getting street casted as one of Raf's models in his early shows and is now Raf's studio manager in Antwerp — and a female model, and Willy captured them perfectly. Olivier did his thing and pulled from Raf Simon's archive along with Comme des Garçons, Helmut Lang, Stephen Sprouse, Army Surplus and all that good stuff.
It sums up what I love about those brands and their characteristic attitudes all in one editorial."
---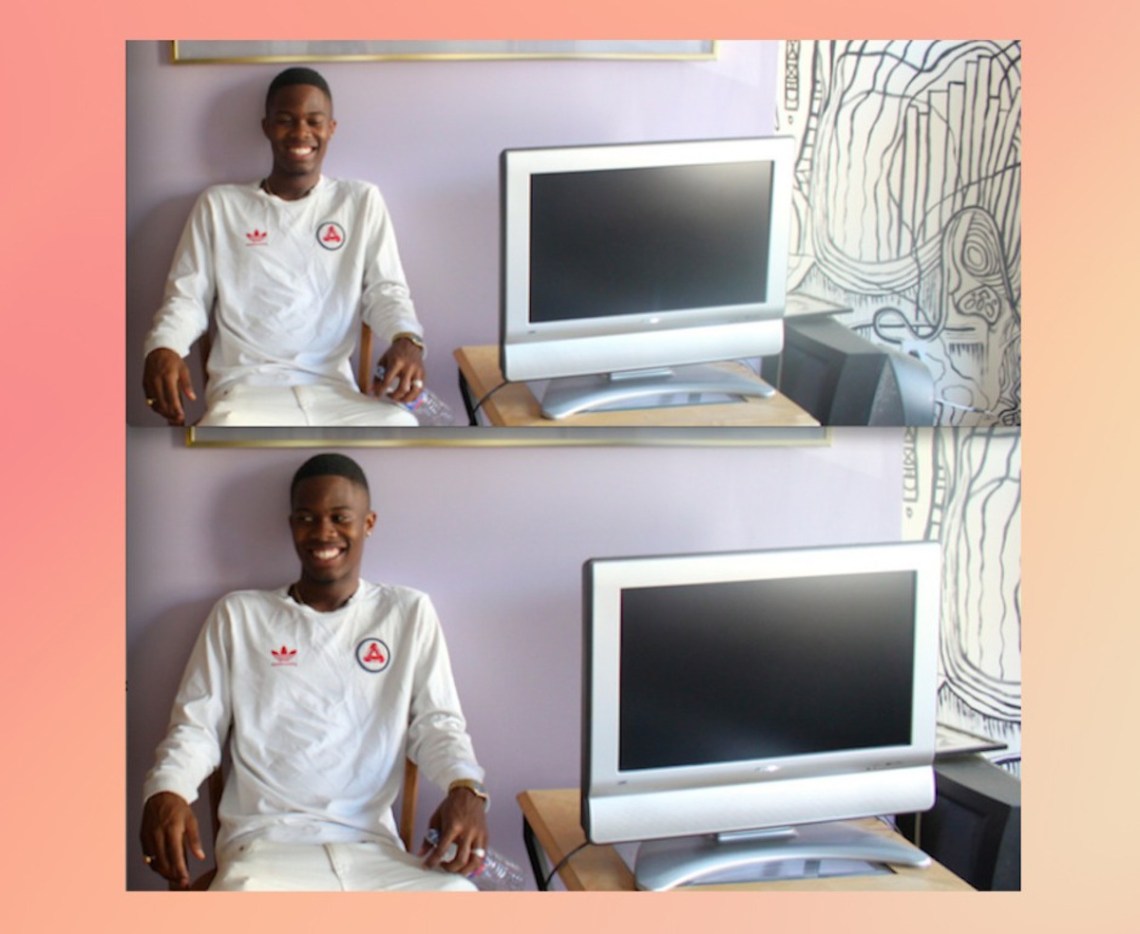 "Being black and growing up in damn near poverty will make you intimidated by anything highbrow. I had to teach myself how to develop a certain confidence because when I used to visit Barneys or Bergdorf's I was always nervous. I just felt like I didn't belong there and I'm sure a lot of kids from the inner city feel the same way."
"Before I was into fashion, I was rapping and had been since I was in elementary school. In high school I had my own crew, but we needed a name. My pops came up with "Bully Babiez." I'm from Laurelton, Queens (some consider it Jamaica, Queens) and Merrick Boulevard is to Queens what Broadway is to Manhattan. "Bully" is slang for "Boulevard." Cats would come up to me on the street and say, "I saw your pops on the bully the other day." So when you say you're a "bully baby," you're really saying you're a kid from the street, the hood. I'm actually thinking of making "Bully Babiez" an organization that gives back to the community, whether it's starting youth basketball leagues or having food drives. As much as I love rap, a lot of these artists aren't giving back to the communities like they should be. They leave the hood and forget all about the conditions they grew up in."
"I got this Dickies shirt from a workwear store in Chelsea and painted it myself. In the hood, Dickies suits were always popular (at least where I grew up) and so I wanted to bring that look back with a fresh twist. When I first put it on it looked so plain, so I bought some acrylic screen-printing paint from Utrecht and went to work as soon as I got home. Some of my biggest inspirations are the Black Panthers, Joy Division, and Punk subcultures — hence the references on the shirt. "No Love Lost" is the name of one of my favorite Joy Division songs and Huey Newton is my favorite Black Panther. I also wrote "So you think punk is dead? Tuff it ain't," which I came across in a book about Punk, and which really rang true with me. Yeah the Vivienne Westwood era of Punk has been done to death, but Punk still exists in so many other forms these days — you just have to open your eyes to notice it."
"My favorite fashion magazines either don't exist anymore or they're a bit watered down. I collect old issues of The Face, Blitz and i-D magazine. These days, most of the contemporary material I skim through is online. I used to collect LOVE Magazine because I love Katie Grand as a tastemaker but they have way too many ads now. I can't see any editorials!"