On Traveling Musicans And Deep Woods Off
In this chance to talk to globe-trotting violist Nadia Sirota for #MusicForWriters, we found her going beyond her usual stage performances; beyond her recordings (First Things First and Baroque); and even beyond her Meet the Composer series on New York Public Radio's Q2 Music.  This time, we found Sirota curating a week-long residency at Symphony Space in which she led the world premiere of composer Donnacha Dennehy's athletic new 38-minute work for viola and viols da gamba, Tessellatum.
Our special thanks to the Detroit Symphony Orchestra, which has given us permission to share for a limited time its video of Sirota's premiere of composer Nico Muhly's new Viola Concerto, conducted by DSO music director Leonard Slatkin. The work will be featured on her next album. Hit play and listen to her trademark aggressive, muscular attack on Muhly's score as you read our conversation.
'What I Was Actually Doing Was Writing'
Thought Catalog: How do you see the way things are going now in your career, Nadia, with your new residency starting, the Detroit premiere such a success, and another album in the offing?
Nadia Sirota: I've felt a string of grateful feelings about all this. Intermingled with incredible terror at what I've wrought upon myself. It's all very, very cool.
As a musician, you spend so much time working on other people's projects. And I love working on other people's projects. I love figuring out how to realize what other people have going on in their brains. That's why I love working with composers, and it's something I'm very good at.
But all of a sudden, right now, I'm working on a whole bunch of personal projects in a row, and I'm grateful I can do that.
There's something to be said for both types of things. On some level, I can throw myself into somebody else's brilliance—that's a role I feel very comfortable with. All of these projects have come up because of this, and it's really very gratifying.
TC: Gratifying, sure, but this is a lot of work, this residency in which you're putting together all these artist who work with and around you—four evenings of music in a single week.
Sirota: It is a lot of work, but what's interesting is that this residency is the kind of work I've actually trained for on some level. It's something I know how to do.
By contrast, the funny thing about the radio show [on Q2 Music] is that it took me a really long time to realize that what I was actually doing was writing. I'd been in complete denial about the writing element of that.
In fact, even the way I draft the show: I'll just make a little note on my phone and I'll read it off of my notes app. It's only later when I'm redoing all the voice-overs that I'll realize that I've written about 16 pages. Which is a complete funny thing for me. There's always a moment in my head when I'm, like, "This is not what I do," even though it's something that I do do.
So what's cool about this residency is that it is what I do, it's the kernel of what I'm passionate about. Obviously, it's tiring and complicated with a lot of moving parts. But I like those parts.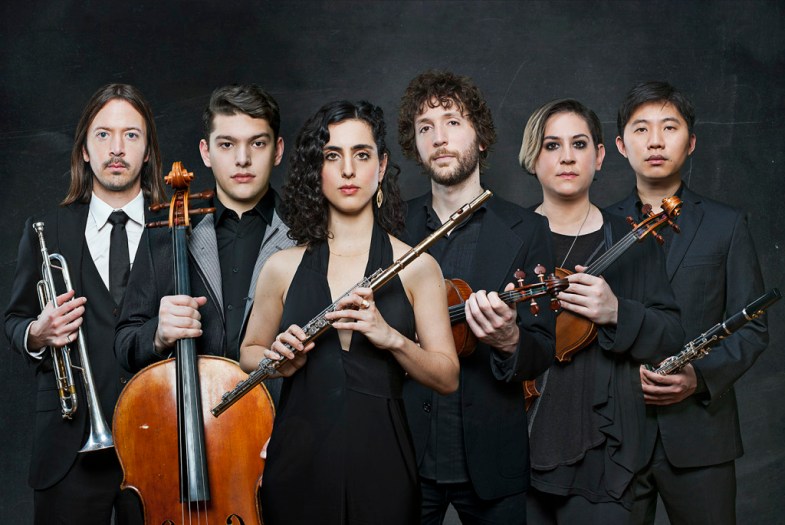 TC: And when I look at the residency, what I see is you programming a festival. That takes the mind of an impresario.
Sirota: I think that's probably true. The way I went at it is, "What is the music I'd  like to see? And who are the people I'd like to have in the room?" There's a community aspect here.
One of the coolest things about being a traveling musician is that you have this sort of nomadic tribe of people you keep encountering in the strangest places. It's all these different festival environments, and you're like, "Oh, yeah, you!" We're friends but not like friends who are connected to a specific city or place.
And one of the loveliest things about this residency is I'm bringing people from Iceland, from England, from Canada. People I really love and can rely on and am inspired by. I'm bringing them here to New York, to my home turf.
"At the bar, I commission people when they're at their most vulnerable."
Nadia Sirota
TC: What's the funding behind the residency at Symphony Space? I know that the residency falls under the aegis of the Composers Now Festival, and there's support for the Dennehy evening from the Isaiah Sheffer Fund for New Initiatives, right?
Sirota: Right, and Symphony Space has this fantastic artistic director, Andrew Byrne. He has an interesting and exciting vision for how that space can serve the community. The fact that he let me do this speaks very highly to his taste. [She laughs.]
It's interesting that in the United States of America, this is how it works [in terms of private fundraising with comparatively little public subsidy]. But it also points to how there's an incredible amount that you can do if you can find someone to believe in it.
TC: And did you use your usual approach to commissioning to get Donnacha Dennehy to write for you?
Sirota: Donnacha I met when he was doing a residency with Alarm Will Sound three or four summers ago. I heard him for the first time, and thought, "Well, this is my favorite music ever." And I promptly did my thing, which is later at the bar, I commission people when they're at their most vulnerable and then follow up. [Laughs.]  He was immediately excited about this idea of doing something with the viols da gamba. [Bass viols with a similar range to that of the cello.]
So now that piece, Tessallatum, is the centerpiece of the whole residency, And we recorded it before we had any idea how to play it, which is an interesting process. It ended up being scored for 11 bass viols and four violas. So we recorded that all with multi-tracking between me and Liam Byrne. The bass viol is a good bit lower than the viola, but the quality of sound on it, on the viol da gamba is so bright. It's got this incredible bright weirdness of texture and color. So the lowest instruments in the piece are so bright. And the highest pieces, the violas, are so dark and mellow. I've just never heard color like that before.
The other thing he has in this piece, which is very typical of Donnacha is slipping back and forth between just intonation and equal temperament. You get the idea you're looking through this kaleidoscope and all of a sudden everything seems clear and then it twists. It makes sense and it's logical, but it's not quite the same thing.
"The bass viol is a good bit lower than the viola, but the quality of sound on it, on the viol da gamba is so bright. It's got this incredible bright weirdness of texture and color."
Nadia Sirota
TC: And yet he never loses you. That's what I love about Dennehy's music. Like Nico [Muhly], he remembers the listener and brings us along. They leave us enough for us to hang onto.
Sirota: And you know that it's hard to play but it's worth it, and you know why you really have to make it work.
TC: And speaking of what you have to do to make it work, I have to remind you before I let you go of my favorite tweet. It's from 2010, the Fourth of July, and you were playing an outdoor concert. The 1812 Overture, no doubt.

Enjoying Deep Woods Off as hair product.

— nadia sirota (@nadiasirota) July 5, 2010