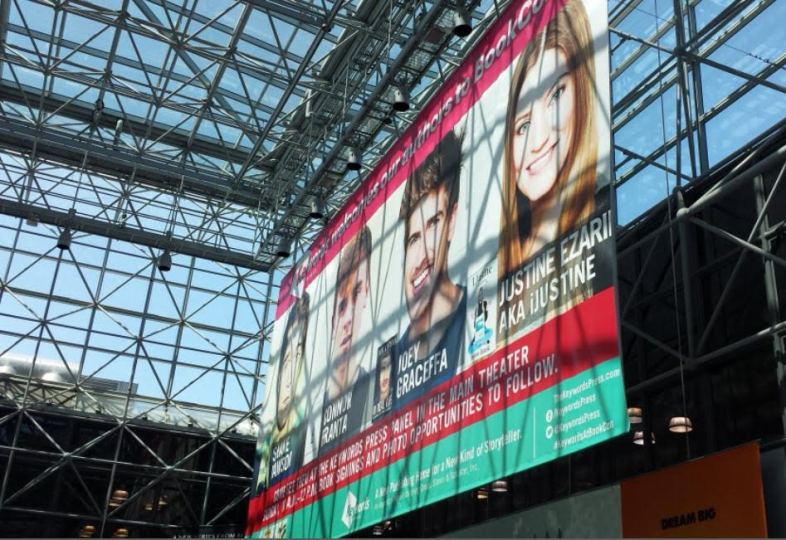 Wide-Eyed And Bookish
In the United Kingdom, Zoe Sugg—known as Zoella to her huge fan base—has pulled off the kind of book-sales numbers that most authors and publishers will never see.
Her first book, Girl Online, became the biggest seller in its initial week of any novelist's debut since BookScan began its data-gathering efforts. What that means in raw numbers is a first-week total of 78,109 copies in the UK alone, in one week. This, despite, what  you might recall was a somewhat inauspicious controversy around the ghostwriting assistance of author Siobhan Curham. I wrote this up here at Thought Catalog in Girl Online Spooked: What the Zoella Ghostwriting Issue Tells Us.
Our numbers here are from my colleague Kiera O'Brien at The Bookseller. Her piece on the next Zoellic zenith is Zoella Knocks [Author David] Walliams Off Chart Top Spot. And the kind of rankings that O'Brien is bringing in this time, suggest that Sugg's new second novel, Girl Online: On Tour from Penguin Random House may be capable of kicking even more ass than the first did, if at not with quite as quick a pop to the top.
This book, according to everyone concerned, is actually written by Sugg, and has just sold 56,038 copies in the UK for some £377,813 or $577,159, O'Brien tells us, a handy week's revenue.
At this point, in fact, On Tour is the UK's third bestselling children's title this year ("children's" being a publishing industry classification, not a criticism.)
It's No. 1 in the lucrative and fiercely contested YA (young adult) category there.
It has sold this year, O'Brien points out, 36 percent "of its predecessor's volume."
Sugg, in short, can really "shift" books, as her countrypeople say.
@Porter_Anderson my kids (11 & 12) are buying and devouring most YouTubers books right now

— Save Lincs Libraries (@savelincslibs) October 28, 2015
'A Genre Of Their Own'
O'Brien goes on to offer some cogent observations on the general trend of YouTube book babes (of both genders). Still focused on the UK, she writes:
Since Zoella's record-breaking first week back in 2014, titles by YouTube stars have become a genre of their own, totting up five weeks as overall Top 50 number ones and seven weeks as Hardback Non-Fiction number ones.

Zoella has racked up 10 weeks as the children's number one and her fellow vlogger and boyfriend Alfie Deyes has achieved a total of 20 Paperback Non-Fiction number ones with his two Pointless Books (Blink). Earlier this year, Zoella's brother Joe Sugg's Username: Evie (Hodder & Stoughton) broke the graphic novel category's all-time record for a seven-day sale and is currently in the top 10 bestselling graphic novels since records began, after just six weeks on sale.
And in the States, Natalie Robehmed this month at Forbes is looking at the same trend's snowballing implications, in For Many YouTube Stars, Next Step Is An Old-Fashioned Book.
The point of that headline is interesting in itself. While online cam-ops, as such folks once were termed, are thought of as comprising a relatively new pantheon of heart throbs and youthy celebrity, "paperbacks surprisingly still hold appeal for web-popular upstarts," Robehmed writes.
She takes special notice of Connor Franta, the YouTube personality who published A Work In Progress—a handsomely modest title for a memoir written at age 23. He sold, she writes, more than 140,000 copies, with 16 weeks on The New York Times list.
Zoe Sugg's first book, Girl Online, reportedly sold some 92,200 copies in the States.
Others with books out include Justine Izarik's (iJustine) I, Justine, An Analog Memoir, which, Robehmed reports, has a comparatively modest sales record of some 4,800 copies, as of the time of the Forbes article's release. They're not all through the roof.
[youtube https://www.youtube.com/watch?v=9mI00eigmSg%5D
PublishingTube?
What publishing needs to think about, worry about, do about all this is being avidly explored by many in the industry, but maybe more intensely than most by the digital marketing group at London's Pan Macmillan, one of the "Big Five" houses that dwarf other most other book-industry operations.
Hired by "PanMac" digital and communications director Sara Lloyd, the digital marketing specialist Naomi Bacon has taken the lead there, with a quick grasp of how the appeal of the YouTube celebrity works and thus an early look at the kind of fandom the bookish world may well need to explore in order to cultivate badly needed new audience members in its worldwide readership.
Lloyd and Bacon will join us on 30th November in London at The Bookseller's Author Day event, an issues-driven conference for industry people and for authors of all paths to publication.
Bacon also agreed to speak at Frankfurt Book Fair this month in the Business Club's "Hug the Alien" series I curated and hosted.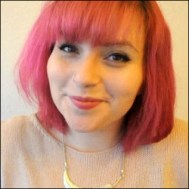 Her report was an eye-opener, not just because she brought in the work of YouTuber and BookTuber (JustKissMyFrog) Leena Normington—whose video gives you a lot of lively hints about what a publisher's booktube channel might be and do—but also because Bacon is bringing serious research and analysis to the potential and pitch of the market in the glow of those screens.
For example, Bacon told us:
YouTubers' books have generated more than 6 million sales already this year.
YouTube, seen only on mobile devices (let alone overall), reaches more 18-t0-34-year-olds than any cable network in the States.
YouTube, with more than 1 billion users, has seen monthly increases in its audience of at least 40 percent monthly since March 2014.
And the number of hours people spend watching videos on YouTube has increased by 60 percent, year over year, which represents an acceleration.
What Bacon at PanMac is exploring with the BookTube production assistance of Normington is the attraction for readers of YouTube celebs' books. Bacon told our audience:
Their books aren't genre specific—[Alfie Deyes'] The Pointless Book is a scrapbook. Zoella had a ghost writer, which hasn't damaged her sales figures in the slightest…It might seem like a contradiction, seeing as they live half their lives online, but Gen Z  has a lust for engagement with real people.
Indeed, Bacon and Lloyd had Normington with them in Frankfurt, taping sights and sounds of the world's largest publishing trade show to interpret for her BookTube fans who understand her as a trusted, traveled guide to the bookish world they enjoy.
"This new celebrity is accessible not aspirational. They are relatable and authentic."
Naomi Bacon, Pan Macmillan
And Bacon's working assumption, the basis for the approach she and her team are exploring, is that this idea of a "genuine" relationship with an online BFF, is at the bottom of the attraction for YouTube fans who buy and read the online celebs' books.
Bacon told our audience, "The experience of watching these YouTube channels is like hanging out with a friend. Many YouTubers to spend 10-20 minutes speaking directly to a camera set up in their bedrooms. The content isn't produced in the traditional sense–the footage is raw, there's no fancy edits which only lends to the feeling of intimacy."
Her understanding of how the YouTube audience bonds with the on-cam persona reflects the hopeful bearing of early adulthood. It's a sense of closeness that cements an assumption of relationship shared by performer and viewer-reader. Bacon said:
This new celebrity is accessible not aspirational. They are relatable and authentic. And this form of fandom is not just relegated to the realm of the teens. Shirley Curry is a 79-year-old gamer. In September, she posted a video of herself playing an action role-playing game, and within days had accumulated 800,000 views. 
BookTubing Specifics
In the video above—which Bacon calls "How To Hire Your Very Own Leena"—there are specific elements of guidance for publishing people interested in working their way toward the realm of YouTubery called BookTube. The term serves not only as the name of an official channel on YouTube, but also as a generic for "vloggers" (an even less attractive term than "blogger," isn't it?) whose main rapport with their audience is as latter-day critics offering word-of-mouth tips on good books.
Bacon quotes Forrester research as indicating that 70 percent of consumers place peer recommendations and reviews above professionally written content in terms of trustworthiness.
And the point of access to all this for publishing, Bacon said, is in the development of BookTubers, whose recommendations are delivered and received in much the same peer-bonding environment that YouTubers' entertainment is.
Working with BookTubers, however, may be new to many in publishing and can require a short list of pointers and cautions. In her presentation, Bacon offered these:
Speaking to the publishers gathered for the session, Bacon also offered suggestions on the development of YouTube content. Pan Macmillan is aggressively developing its Book Break YouTube channel (seems to have an awful lot to do with cookies) and thus is deeply engaged in these principles:
Among some of the practical suggestions Bacon offered to publishing industry personnel at Frankfurt, I found her distinction between online video and old-style television among the most important. Watch Leena Normington's presentation-in-mode on this story and you get immediately that this high-energy, relentlessly upbeat, kicky tone and bearing is decidedly more high-strung-kid-next-door than network television normally produces. Fast cuts give it a frenetic, breathless pace (a Pinter pause wouldn't last a millisecond in this milieu) and new thoughts are pumped at you, hard, to keep you glued to it. No reflection for the weary, we're off to the next point, keep up, keep up, keep up.
In a conversation earlier this year, Bacon and I agreed that one reason YouTube stars tend to favor goofy facial expressions in publicity photos is that their young fans often relate to an idea of feeling or looking goofy, inept, out of place.
Alfie Deyes has perfected this element of the appeal, for example, in his online characterization of himself, heavy on funny exasperation. His fans get this as something familiar and authentic. And in the glowy air of something like friendship between online star and fan is an agreement, a meeting of the minds: We can all make idiots of ourselves 100 times a day, let's enjoy it here together, mate, it's just us, it's safe.
Not a hard thing, surely, for publishers to grasp. And it comes, Bacon told us, with a bonus of high value in the new digital-marketing arena of the industry's evolution—reader contact:
Something I'm relishing since relaunching our new channel is the opportunity to communicate directly with our audience and customers— and to see people returning every time we upload a video.