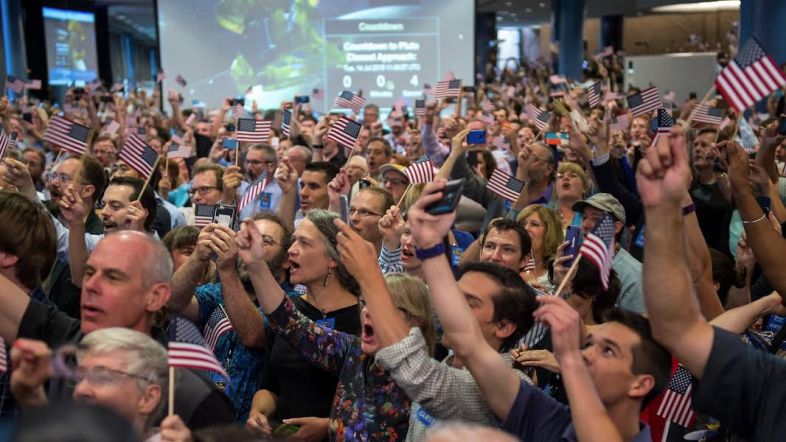 'We Have Visited Every Planet In Our Solar System'
That's one of the lines I got out on Twitter Tuesday evening (14th July) — maybe you did, too? — as soon as NASA Administrator and astronaut Charlie Bolden had said it.
Before Tuesday, we couldn't say that we human beings had in some way engaged with every planet in our solar system. Now we can.
Sometimes you want to raise a glass of Campari to your own species, you know?
I'm not as USA-ish about it as a lot of my fellow Americans are. But I don't begrudge them that point of pride for a minute: we've put a lot of resources and terrific people into our leadership of space exploration, and I do love this part of the Stateside spirit. Watching that huge, can-do team file in for the mission celebration was sensational. I'd like to shake the hand of every one of them.
Maybe I'd prefer to share these moments immediately as human triumphs, not US wins, but I'm the first to say that our flag looked fantastic in so many mission-critical hands. Had I been at Johns Hopkins' Applied Physics Lab in Maryland when this was happening, I'd have waved it, too. We can grin all over ourselves right now, the New Horizons team has earned it for us. Congrats and thanks to every sleepless one of them.
My other favorite line from the evening came from the exhausted but beaming Mission Operations Manager Alice Bowman:
We have a healthy spacecraft and we are outbound from Pluto.
Outbound from Pluto, she said.
"We are outbound from Pluto."
I mean really.
'We Are Outbound From Pluto'
The fastest craft ever we've ever put into space had approached that weird world at speeds of more than 30,000 miles per hour. And then it pinged NASA shortly before 9 p.m. Eastern to say that its hardware, power, and propulsion systems had survived the dive. All is in good shape.
"And we are outbound from Pluto."
Is it a planet? Is it  a dwarf planet? Is it some other big thing in orbit around Sol? Do you care? Me neither. It's Pluto. Not being a scientist, I don't have to care. It's goddamn Pluto. And we're going even farther.
"We are outbound from Pluto." Outbound from Pluto. Outbound. From. Pluto.
Sometimes we get it right. The success of the decade-long New Horizons mission's Pluto flyby, 3,464 days and counting, is about as exhilarating as it gets, even if you're not a NASA geek. I'm not, actually, and since my following on Twitter is primarily folks in the book publishing world, a tweet telling them that NASA had locked onto telemetry coming from a machine more than 2 billion miles away wasn't what they normally get from me.
The nature of the info, though? Perfectly common Porter-tweeterie. And I'll tell you why.
"Around 2009 we made the distinction internally and in the way we started talking about that — rather than a social network, Twitter was a real-time information network."
Evan Williams
By coincidence, I'd just been reading Conor Dougherty's report in The New York Times on comments that Evan Williams made to Walter Isaacson in an onstage conversation at Aspen. @Ev, as he's known on Twitter, is one of the founders of the tweet-feast, you know, and is on the board holding things together during the search for a new CEO. Most of the conversation with Isaacson was about the status of Twitter, its future, challenges, potentials, the usual palaver we engage in around these major online forces.
But Williams said something else, and boy, did it hit home when @NASANewHorizons went screaming through its #PlutoFlyby: "Twitter is primarily a news system."
Any journalist reading this is nodding right now. We've known this all along. London-based broadcaster Liz Thompson and I were just agreeing about it — on Twitter, of course.
The reason we journos think we have the jump on everybody else on this (just humor us) is that for longer than Twitter's nine years, we've either produced or been dependent on news tickers. News feeds. Associated Press, Reuters, UPI, Agence-France Presse, Deutsche Press, you name it. Short, top-line blips. Over a news career, you stop becoming aware that you're even reading these feeds. You can't remember looking at them on a screen. You just know what they've told you. "Has AP moved that update yet?" You know and you answer. "Is Reuters on the flash wire with that?" You know and you answer. "Is AFP wrong again?" It is and you say so.
The reason that some of your journo buddies never get as comfortable with Facebook as they do with Twitter is that we're not used to having to look at somebody's grandchildren when we need to know if the East Room presser on the Iran nuclear deal has been delayed again.
We don't thrill to pictures of your lunch when we need to know if the Pope is wheels up after his South American tour. You want tweetable? "Make a mess that gives us a free heart," Il Papa told a young audience in Paraguay on Sunday, tossing his script aside, "a mess that gives us solidarity, a mess that gives us hope." That's 42 characters of ticker-able gold dust, thanks to reporters Philip Pullella and Daniela Desantis. Enough room left to link it. You bet those kids were tweeting it, and faster than Reuters could feed it out.
Williams was answering Isaacson's question — pretty much the same thing our good friend and colleague Mathew Ingram asks every day or so at Fortune, as he did so faithfully at GigaOm — "Where is Twitter going?"
Ev Williams:
I think Twitter has — I think Twitter primarily is a news system. Early on we didn't necessarily know what it was. We thought social networks. "Microblogging" was the thing a lot of people called it. And around 2009 we made the distinction internally and in the way we started talking about that — rather than a social network, it was a real-time information network. I think the real value of Twitter that we have seen over the six years since then has been applications of that.
A real-time information network. Doesn't have to be news-news, you see. Just info. Something we want to say, something we want to hear, without the sentimental nonsense of strangers' grandchildren in the way — unless you enjoy and follow people who share those endless pictures with you, and if so, I wish you joy of them.
We Are Outbound From Your Grandchildren, Too
Michael Barthel, Elisa Shearer, Jeffrey Gottfried, and Amy Mitchell at Pew Research are reporting a new study with the Knight Foundation that shows "clear majorities" of Twitter and Facebook users (63 percent at each) saying that each of those platforms "serves as a source for news about events and issues outside the realm of friends and family."
These figures are up. In 2013, 52 percent of Twitter users and 47 percent of Facebook users surveyed said they got news from those platforms. Now, 63 percent on each. That's a lot, statistically speaking.
Here, from the full report's overview, is the key point:
Although both social networks [Twitter and Facebook] have the same portion of users getting news on these sites, there are significant differences in their potential news distribution strengths. The proportion of users who say they follow breaking news on Twitter, for example, is nearly twice as high as those who say they do so on Facebook (59 percent vs. 31 percent) – lending support, perhaps, to the view that Twitter's great strength is providing as-it-happens coverage and commentary on live events.
Excerpting from the report:
Twitter news users are more likely than their counterparts on Facebook to report seeing news about four out of 11 topics: national government and politics (72 percent vs. 61 percent), international affairs (63 percent vs. 51 percent), business (55 percent vs. 42 percent) and sports (70 percent vs. 55 percent). Twitter and Facebook news users are roughly comparable for the remaining seven topics covered: people and events in your community, local weather and traffic, entertainment, crime, local government, science and technology, and health and medicine.

The rise in the share of social media users getting news on Facebook or Twitter cuts across nearly every demographic group. Use of Twitter for news, for example, grew among both users under 35 (55 percent to 67 percent) and those ages 35 and older (47 percent to 59 percent). And on Facebook, news use grew among both men (44 percent to 61 percent) and women (49 percent to 65 percent).

When it comes specifically to news and information about government and politics, Facebook users are more likely to post and respond to content, while Twitter users are more likely to follow news organizations… About half (46 percent) of Twitter users [say they] follow news organizations, reporters or commentators, compared with about three-in-ten (28 percent) of Facebook users.
With Twitter's Project Lightning coming (a specialized fed of live events), and Facebook producing Instant Articles with news media and running the "trending" sidebar, Pew's researchers point out that both media seem to be squaring off on issues of "how Americans learn about the world and their communities, and for how they take part in the democratic process."
I like what we're hearing from Pew. No offense to your grandchildren, but the responses of 2,035 adults aged 18 and older to this latest survey conducted in March are echoing what Ingram and others of us covering Twitter and other social media have been tweeting. It's great of Williams to concede that the team "didn't necessarily know what it was" when they cranked Twitter for the first time.
I wish they'd known a little more of this newsy direction in 2006 because it might have prompted them to name it something that doesn't sound like a toy for your grands. That that's okay. It's a richly useful communications medium that we're still sorting out and learning to use. We're getting better at it.
Today Is The Ninth Anniversary Of Twitter's Public Launch
A lot of time is spent by authors complaining that our social media are a "time suck," to use the term that Frances Caballo and Joanna Penn are discussing this week in one of Penn's podcasts. Some writers, I notice, put more time into complaining about it than they do using those media to help readers find their work.
In fact, paying attention to this Pew Research work could yield ideas for savvy authors about approaching their consumers, those often elusive readers.
In his coverage of the Pew Report for Nieman Lab, Joseph Lichterman writes:
While politics reign supreme on Facebook, Twitter users are more likely to directly follow news organizations or reporters. Pew and Knight asked users who get news on Facebook and Twitter about 11 different news topics, and 67 percent of Twitter users said they saw at least six of the topics that were asked about. Fifty-seven percent of Facebook users said they saw at least six topics.
Who's your audience? Can some of this kind of input be useful? — is your readership a current-events crowd? If so, which story are they following? Iran or Pluto? The story about the girl who made it out of a small-plane crash or "El Chapo's" escape from a Mexican prison?
We used to say that you could tell a lot about someone's personality by what titles were on his or her bookshelves. Well, these days, that's a lot harder gauge to see. Our books are on the cloud, and personally, I like the privacy, myself, of electronic reading: I never had any interest in people inspecting my bookshelves.
What's out there for you to see is what your readers are tweeting. What your readers are tweeting is what they're thinking.
For all the expensive courses and how-to books the industry heaves at writers today, the "real-time information" that Williams now knows is the heart of Twitter is right under your touch-screen finger.
And the smartest authors using Twitter as a social medium for readership cultivation today? — are reading and listening, more than they're tweeting and talking.
Watch your feed for a bit and see what's flying by. That's news you can use to find the readers and industry specialists you need. Maybe it was never supposed to be a medium via which you tell people about your book. Maybe it's about taking in what you need to know. News you can use, baby.
Instead of telling everybody about your work, listen to what they're telling you. That's how you can find out, any day of the week, that we are outbound from Pluto.