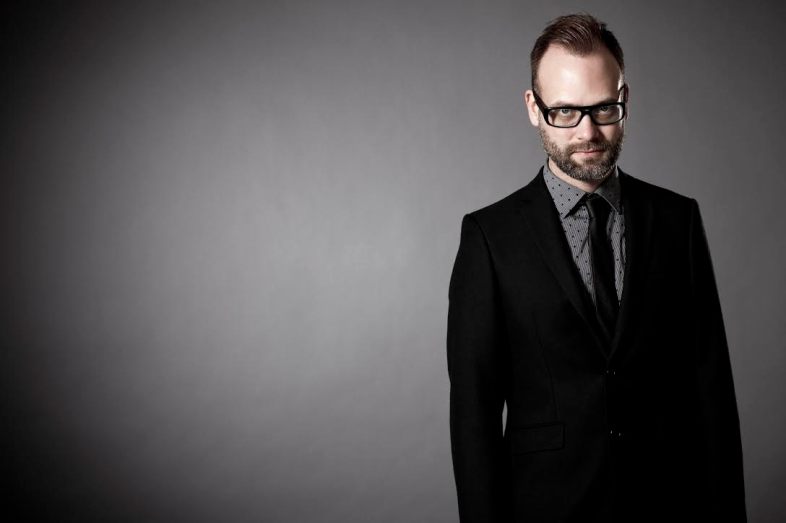 'Translated To Heaven And Spain'
For most of us, it would be a miracle that a single element of aboriginal music survived in our memories from youth to adulthood. For composer Joby Talbot, however, retrieving his teenage hearing on BBC Radio 3 of the Taiwanese Bunan tribe's Pasiputput seems to have been an easy stop on his own Path of Miracles. What he has done with the Pasiputput — which he tells me is pronounced just like it looks — is arresting.
Thanks to New York Public Radio's 24/7 free contemporary-classical streaming service Q2 Music and its Album of the Week series, we've highlighted this new Harmonia Mundi release of a superb recording of the work with the extraordinary precision of the vocal ensemble Conspirare under the direction of Craig Hella Johnson.
Crank your volume. You'll think nothing is there at first. Keep listening. The opening passage of the first section, the Roncesvalles, in Talbot's own plotting of the holy road is a series of devastating glissandi — big, big ones. But they start way down in the basso profundis of a mystery that has driven pilgrims to take on the arduous Camino de Santiago for centuries. You hear the ensemble's men masterfully sliding up and up and up, slowly, weirdly, their overtones glimmering around them until they hand off to the sopranos' "O Santiago / Great Santiago / God help us now /  And evermore."
'Back To The Land That Denied Him In Life'
Richard Dickinson's libretto begins at the end, in a way, at what scriptures say was the martyrdom of St. James at the hands of Herod, a ruler who wanted "to vex certain of the Church."
The great Cathedral at Santiago de Compostela in northern Spain, tradition tells us, holds the remains of James, who was one of Jesus' twelve disciples. And so it is that the ancient Camino de Santiago — which comprises multiple routes — culminates, as does Talbot's work, at the spectacular cathedral. In Dickinson's libretto:
Herod rots on a borrowed throne,
while the saint is translated to Heaven and
Spain, the body taken at night from the tomb,
the stone of the tomb becoming the boat
that carries him back ad extremis terrarum,
back to the land that denied him in life.
The "Way of St. James," as it's sometimes called, is frequently symbolized by the scallop shell, and you'll see such imagery on Harmonia Mundi's typically meticulous packaging. If anything, a custom so hallowed as the pilgrimage and so enjoyed even today, often by hikers who have no specific religious intent but want to travel this legendary route.
Talbot's 2005 Path of Miracles, originally commissioned by Nigel Short's ensemble Tenebrae, is divided into four sections, each representing one of the church towns along the away — Roncesvalles, Burgos, Leon, and Santiago. Sung a cappella, the piece is at times (as in the first movement) breezily syncopated with Latin rhythm and a dancerly, sprightly energy.
"The orchestral music world seems to be the hardest area for composers to break into. It seems to be the most museum-oriented part of the scene."
Joby Talbot
At other times, as in the opening of the Burgos movement, a quiet, tentative sense of melancholy sets in, something in the harmonics reaching right back to the stark, Medieval gravity with which pilgrims of the ninth century might have seen the act of walking the Way: for us today, maybe it's a retreat of sorts. For those before us, this was no holiday highway but a potential approach to immortality. Talbot talks to me of his own exploration of Burgos impressing him with its grisly emphasis on saints' relics, and you hear this in Dickinson's lines — "His arm is in England, his jaw in Italy, / And yet he works his wonders."
By his third movement, named for the town of Leon, Talbot places his listener so rightly on the road that the sequence's warming, rising conclusion is the anticipation of what awaits: something prayerful, transformative, redolent with peace and accelerating with the ascent to the cathedral.
We have walked out of our lives
To come to where the walls of heaven
Are thin as a curtain, transparent as glass,
Where the Apostle spoke the holy words,
Where in death he returned, where God is close,
Where saints and martyrs mark the road.
An ebullient dynamic seizes the rhythmic structure of the Path of Miracles: the choir now is vocally skipping, leaping, bounding into the light of the Galician high ground. An anthemic grace crashes into the revelry at about 11 minutes into the final, Santiago movement. And from there, the work moves a little above the ground. The ethereal solace sought for so many centuries by so many souls is gathered up by the composer into an extraordinary, walking three note continuo created for the altos by Talbot.
And the last words are those that started the journey:
Holy St. James, great St. James,
God help us now and evermore.
In talking with Talbot, what I learned was that he and his young family all but "walked out of this life" — or drove out of it, to be precise — on the Path of Miracles he was researching.
'The Walls Of Heaven Are As Thin As A Curtain'
Joby Talbot, a native of Wimbledon, now in his mid-40s, is a delightful conversationalist, a man whose career spans opera (Dallas Opera's Winter's Tale), ballet scores (Nederlands Dans Theater, Paris Opera Ballet, Royal Ballet, National Ballet of Canada), film work The Hitchhiker's Guide to the Galaxy, 2005, The League of Gentlemen, etc.), instrumental and orchestral composition (Genus for the Calder Quartet, Worlds, Stars, Systems, Infinity for the Philharmonia, etc.).
And, being from the UK, he's accustomed to driving on the left side of the road.
Thought Catalog: I'm sorry to hear that everything nearly came to an end while you were researching Path of Miracles on the Continent on the Way of St. James.
Joby Talbot: And it was totally my fault. We were driving along in the car and my son who was, at the time, only 1 year old, was screaming. We were desperately trying to find some place to stop and get some food, and it all was closed. And finally, we saw this cafe that was open. And by this time, he was screaming spectacularly in the back seat. So I saw this cafe and said, "That's the one," and sharply turned to pull in, forgetting that I was driving on a different side of the road. And here came this Italian driver, winging his way down the other side. He took evasive action and I took evasive action, and end the end we just clipped each other's bumper but half a centimeter away, it would have been a very different story.
My son did stop crying, though.
TC: How long a project was it for you, putting together this hour-long work. And when you and the family went to the Camino de Santiago, did you already have an idea of how this piece would sound?
JT: No, I mean, I went to do the research, to get an idea of what I might do with it. And I began to ask myself about individual locations along the way. What was it  that made each of these places so unusual? And, well, an obivous one might be standing in Leon Cathedral while the sun was setting and seeing this extraordinary quality of light through the beautiful Medieval stained glass. I thought of a lux aeterna.
TC: Were all the key stops so uplifting?
JT: Well, no. Burgos was the exact opposite — dark, gloomy, dripping with saints' relics…your archetypal uber-Catholic cathedral with lots of gilt and lots of shrines and great, big gory oil paintings in various stages of neglect. So I thought, well, then Burgos could be more of my dies irae.
TC: And Santiago.
JT: Santiago, obviously had to be the apotheosis, the arrival at Santiago Cathedral. You know one day I want to go and walk or bike all of it. But even just driving it, arriving in Santiago at the end is so extraordinary. There's a real sense of arrival and completion.
I was standing on the porch of the great cathedral in the pouring rain and this group of teenaged French pilgrims arrived in the main square. And they were so ecstatic that they threw their backpacks into a huge pile and started this impromptu crazed dance around them. And that didn't seem at all odd in that context.
You really get the sense of being part of something hundreds and hundreds of years old there.
TC: Your work covers so many types of music, it's a fascinating body of work. I'm wondering where that comes from , and where is this taking you? Is there a mission here, or are you just taking it one commission at a time?
JT: I'll be 44 this year, I've been doing this for awhile. And I think that Path of Miracles is first really successful big piece. And that was written, what, 10 years ago? Since then, it's all been going really brilliantly.
I started out with this rather traditional path of classical music…but then I had this other life of playing in bands. I always thought it was odd that all the people I knew who listened to classical music listened to nothing else. They didn't listen to pop music. While all my friends at school wouldn't listen to classical music. They thought it was totally boring and square, risible. And I liked all kinds of music.
There was a time when all you had was about 20 records and you listened to them all to death, and you found something to love in them because that was all you had. And when I was in music college [Guildhall under Simon Bainbridge], I was in a band, quite successful, eight years on the road, getting my first commissions and trying to work on those between soundchecks at various rock festivals around the world.
Eventually, I left the band to focus on my own work exclusively. I think that every major effort I attempt, I'm getting better and better. But there hasn't really been a plan.
TC: Had there been a plan, or at least a pathway you could control, which part of your career would you have wanted to concentrate on?
JT: Left to my own devices, I would have written mostly orchestral music. Growing up as an orchestral player, I want to hear my music programmed in concert halls next to my favorites, Mahler, Sibelius, Shostakovich. I think I'd like to be where John Adams is, his music is part of the orchestral canon now.
But oddly, the orchestral music world seems to be the hardest area for composers to break into. It seems to be the most museum-oriented part of the scene. I don't quite understand that, but it is the case.
TC: And yet so many of the commissions that have come your way have been for ballet and now opera.
JT: And you know, I think I'm a much better composer for having had to do those kinds of projects. Evidently I have a kind of theatrical bent.
JT: And that figures into what we hear in Path of Miracles, doesn't it?
TC: One thing about the success of Path of Miracles, I think, is that it's actually a very theatrical piece. It's one thing to listen to it on CD. But in concert, with the sound coming from all around you — the choir moves around in the space — it's a very dramatic experience.