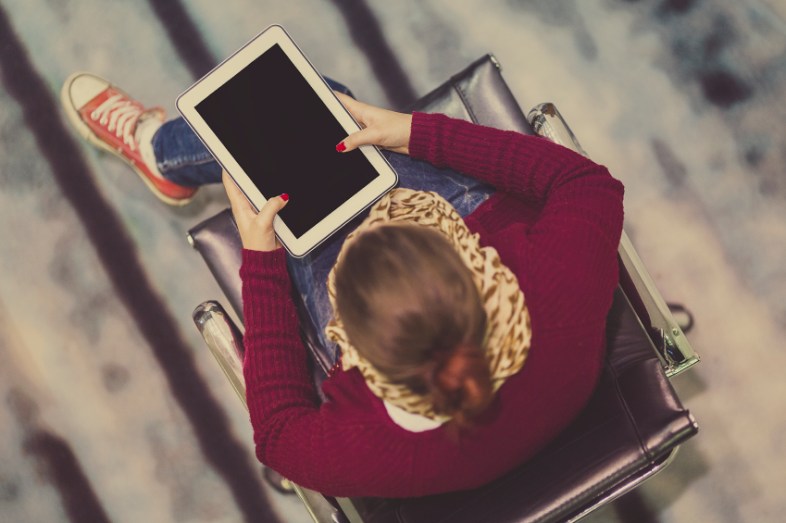 'Judged Purely On Whether We Are Worth Reading'
As the word spreads about independent authors' new avenue into the nation's libraries, the organization behind SELF-e, Library Journal, is launching a contest, the 2015 Self-Published eBook Awards, kicking off today (11 May) and with a final deadline of 31 August at midnight Eastern time for submissions.
Ebook authors in four genres — romance, mystery, science fiction, and fantasy — are invited to compete for a top prize of $1,000 awarded a SELF-e ebook in each of the four categories.
Additionally, winners and runners-up will be given:
A full Library Journal review, published in print and online;
A promotional ad that is to feature all those honored for Library Journal's "Best of Books" edition in December; and
Recognition at Library Journal's Self-Published eBook Awards Reception at the American Library Association Midwinter Meeting in Boston.
As mentioned in our story about the "bookless library" BiblioTech in San Antonio and its use of SELF-e, the program is moving into high gear as libraries around the country sign on as subscribers to SELF-e's collections of independently produced ebooks.
Until now, one of the highest barriers to "discoverability" for indie authors has been the wall of the local library. Frequently, the problem hasn't been that librarians didn't want to include independently produced literature — especially from locally based writers. The dilemma has been in that "tsunami of content" unleashed by digital self-publishing: already harried acquisition librarians have had no way to sort through the tidal wave of self-published work being produced on the major platforms now operating.
Library Journal takes the burden of that deluge of content off the shoulders of librarians. Its readers evaluate each submission. Every manuscript submitted to SELF-e goes into a state-library offering based on the writer's residence. And the curatorial process then also selects a higher tier, a group of books that go on to the national level, providing choices from "modules" of some 200 ebooks at a time to librarians from coast to coast.
One reason I'm working with SELF-e as a consultant, as a matter of fact, is that the entire service is free to authors. Costs of operating it are paid for by libraries that opt to subscribe to Library Journal's offerings. @LibrarySELF_e, as it's handled on Twitter, is endorsed by indie bestsellers including Hugh Howie and C.J. Lyons.
And when I began working with the program, myself, I approached three independent authors I know to see if they'd like to give SELF-e a try and report on their experience — novelist, veteran ghost writer, and editor Roz Morris in London; nonfiction specialist Victoria Noe in Chicago; and North Carolina cozy-mystery novelist Elizabeth S. Craig.
Each of them now has uploaded titles to SELF-e, and each has contributed helpful feedback on how they found the process for Library Journal and BiblioBoard, its development partner on the project.
Noe — whose series of books explores the topic of "friend grief," the loss of someone close outside family ties — sees the value of library exposure for such therapeutic literature as critical to her outreach. She tells me:
There are times when people are lost. Something has rattled their world and nothing will be the same. Or maybe they're just searching for answers to something less dramatic. SELF-e gives self-published nonfiction authors the opportunity to be discovered by those readers.

I didn't have to think twice about submitting. It's  a no-brainer for non-fiction.
Novelist and editor Morris tells me that the key value she sees in SELF-e is in its evaluation of books on their literary merit, not on business factors:
I'm genuinely excited by SELF-e. First of all, because it's fantastic to have this access to America's library users — a huge cadre of enthusiastic readers. But more significantly, because it's curated. Our work will be read and evaluated by book professionals, and accepted only if it's up to standard.

What a breath of fresh air — to be judged at last on our merit, and not on our marketing prowess, suitability for profitable niches, or our price. We will be judged purely on whether we are worth reading. Hallelujah.
Mystery novelist Craig, who will be speaking at the Novelists Inc. Conference in October at St. Pete Beach, focuses on series, as many in mystery writing do. She tells us:
Libraries and librarians are key to helping readers discover new authors and series. The SELF-e program makes catalog inclusion accessible to self-published authors and their books accessible to avid readers.
Not For Everyone
As with almost everything in the field of publishing today, the SELF-e program won't suit all authors' needs.
For example, an author whose ebook rights are controlled by a publisher cannot participate. That's the "self" in SELF-e.
What's more, SELF-e does not pay royalties to authors for loans of their ebooks made by libraries to patrons. No one else profits from library loan fee royalties in this plan, either. Since libraries subscribe to Library Journal's curated collections of SELF-e ebooks, authors pay nothing to participate but also make nothing from their participation (unless they win one of the four genre-based contests, of course).
An advantage that arises from this no-royalty factor, however, lies in how many times library patrons can check out a SELF-e title — it's infinite. This is different from the arrangement that libraries have with some traditional publishers, who may control how many times an ebook copy can be accessed by patrons before a new copy must be bought. The idea behind SELF-e is the greater the readership for a book, the more discoverability it gains through word-of-mouth and visibility, so a higher level of checkouts is good news for an author.
As Morris has found, being outside the United States is no hindrance to submitting ebooks to SELF-e, as long as the work is in English. While US residents will be grouped into state collections, a non-US-resident option is offered (look for "Outside of US") for those submitting from offshore — a kind of 51st state of SELF-e curation.
If you're an author trying to decide whether SELF-e makes sense for your needs, a good place to start is with this Is SELF-e Right For Me? page of information.
For writers in one of the four contest genres, the option of submitting ebooks by 31 August may now be even more attractive. But authors in all genres are welcome to submit to SELF-e and you'll find the option of which way you'd like to submit — through the contest option or not — at the bottom of this page.