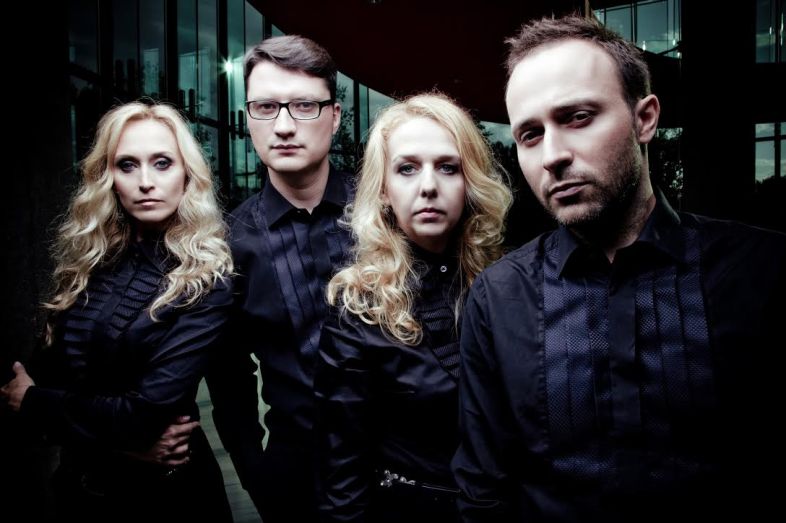 'I Could Talk About It For Hours'
Even if the Royal String Quartet's performances of these works of Paweł Szymański and Paweł Mykietyn weren't exemplary, the sheer enthusiasm of cellist Michal Pepol alone might put these performances right over the top.
When New York Public Radio's free 24/7 streaming service Q2 Music chose the quartet's new album, Royal String Quartet: Szymański and Mykietyn from Hyperion, for its Album of the Week feature, new sound boundaries fell away in the minds of writers who were listening.
Szymański, 60, and Mykietyn, 45, are related, we learned when we talked with Pepol, not just by their Polish cultural leadership but also by having worked together. One result is that happy thing, an album that provides two distinct voices that complement rather than clash with each other.
As violist Doyle Armbrust wrote in his very apt commentary for Q2 Music, our Pawel and Pawel are two "contemporary Polish notables" whose promise is in "surconventionalism" (Szymański) and "hocketed, pitch-bent lines" (Mykietyn). Neither composer is taking any hostages, and yet the quartet leaves far less blood on the stage than mystery. Here are tentative, probing, piercing opening tones that race off into dark distances, the quartet's chords at times gathering the players in wrestling matches of surging force, then suddenly dissipating back toward the eerie, bad birdsong you hear in the opening of Szymański's Five pieces for string quartet. You'll find a free download of this piece's fourth-movement struggle and hear at Hyperion's site — this is one of the gutbucket moments I'm talking about, the players fairly chugging with the give and take of their gathered tussle.
"The Royals," as the Royal String Quartet (RSQ) is called, are one of the newer breed of stylish, photogenic, personable ensembles now working the international listening lanes, touring with indefatigable determination and building a following in the concert halls of Europe with a skill that Armbrust noted should make any US follower wish they had North American dates this year.
A major turning point for the quartet came in 2004 when they were chosen for BBC Radio 3's New Generation Artists program, raising their visibility quickly. Since late 2012, the RSQ has been based at Queen's University Belfast, but is still dear to the home team where Warsaw's Polish Ministry of Culture and National Heritage has created a Special Award for the ensemble in recognition of how much the quartet is contributing to Polish culture while carrying it forward into the world.  From London's Wigmore Hall to Amsterdam's Concertgebouw, Berlin's and Vienna's Konzerthaus and Beijing Concert Hall, the quartet's audiences are legion, and the group's many collaborators include Martin Fröst, another Music For Writers subject here at Thought Catalog.
I asked Hyperion's folks to help me reach one of the quartet's artists, and couldn't be luckier than to be put into touch with Michal Pepol.
My first question to him — with gratitude for his English — is partly in recognition of the fact that the RSQ has a fine track record of bringing to the stage some of the Polish canon's work we don't usually hear.
Thought Catalog: Michal, speaking as a musician who plays this music, what's the attraction of the Five Pieces and Four Pieces and Two Pieces by Szymański?
Michal Pepol: It's such a big question, I could talk about it for hours and still not feel everything was told.
We've been playing Paweł Szymański's music for a long time. From the very start, we felt this is the kind of music we love playing: very emotional, intense, with a remarkable intellectual base and a very carefully planned form.
Everything we look for when we play music is there, plus Szymański is writing new music but knows his origins are in the past. He looks back with a sort of grief or regret that the tonality in the music is over and we, the musicians and the listeners, brought up on consonants in our music schools and concert halls, still somehow miss it. But there is no point in composing in the 21st century in the style of the first Viennese school.
So, knowing all this, he writes his own music, which is modern but doesn't pretend to ignore the past. Actually, we had many very interesting conversations with the composer about the time, the modern approach, about what it means that the music is contemporary. (Is Beethoven contemporary when played now?) Questions that don't have an easy answer.
Going back to your question: all three compositions of Paweł Szymański are different and you can observe the development of his musical ideas and language as the years go by. At the same time, they're all very Szymański-like and it's easy to hear that they were composed by the same person.
TC: Right, to my ear, the Szymański work and the Mykietyn are somewhat similar in sound — lovely, probing isolated tones and thoughtful resolve. Does putting these choices together on this album represent a statement of preference or of general regard for this type of sound-world on the part of the members of the quartet?
MP:  Putting together the music was not accidental of course. Paweł Mykietyn is younger than Paweł Szymański and at the beginning of his career he was a sort of pupil, very much inspired by what Szymański was doing. Of course, soon he had found his own approach and style and became a composer in his own right.
The origin of both artists is similar but the way they are composing now differs a lot. There are still some similarities: microtones, repetitiveness, sometimes a similar imagination or inspiration. It's interesting that both composers have written music for the theater, too.
This question actually makes me want to write an essay on the topic.
TC: Ha! Well, before you start that essay on "the two Pawels" — and I want to read it, so please write it in English — because we don't know your ensemble as well as we should in the States, is there a way to describe what distinguishes The Royal from other quartets? Are there special relationships or affiliations that help define who and what you are on the music scene today?
MP: We are classical musicians, taught be the best musicians in the world, from the Alban Berg and Amadeus Quartets.
But after studying with them, we thought that together with being very faithful to the classical quartet repertoire (Beethoven, Brahms, Schubert), we need to develop and search for a modern music, written not only in the 20th century but also nowadays. And also, what we really want is to play the classical compositions in as modern a way as possible. It is like in the theater when you go to see a Shakespeare play – it's crucial that it is shown as if it's happening now, not centuries ago, so that we can see that the real art is timeless.
We want to do the same with the music – look for work that can be played in a modern way or look for a new form in the old works (being strict with the score at the same time). And of course we want to play works that were written in our times (we commission new works, for example the Four Pieces by Szymański.  Mykietyn has also promised to write a new quartet for us, to be premiered in 2016.
We regularly do new projects with artists that normally are not associated with a string quartet, like the album New Warsaw with actors Stanislawa Celińska and Bartek Wąsik, and with pop singers as we did on Kayah and Royal Quartet. It opens us to all kinds of music and we love it.
TC: Can you talk about the effect of the Internet on today's ensembles like the Royal? For example, I know about you and am writing this article — to be read online — because your new album has been been featured on the Net by Q2 Music. In the past, we might not even have known of your work. I can hardly imagine the old eras when composers couldn't even record their work, let alone hear each other. What does it mean today that we can so easily and readily share in your fine efforts?
MP: I can't imagine our work without the Internet either. So often we share our news on Facebook, listen to Internet radio and announce our live concert broadcasts to our audience around the world. You can listen to fragments of our CD on the Hyperion Web site. You can buy our CDs in the Internet shops. How would I communicate with our agent if not by email? It's so important and I from what I see, all young people today discover the music mainly thanks to the Internet.
TC: Exactly. And lastly, what are the goals of an ensemble like yours? With so many performance dates and travel and acclaim and recordings — and a long track record of such work — what remains for your group to achieve? When a quartet as good as yours dreams of great things, what do you see in your dreams?
MP:  The most important thing in our career is to develop – all the time, day by day, year by year, be better, more open, with new ideas, different approaches, meet other artists, work on new programs and projects, and collaborate with different musicians. I believe it will all happen to us, and as long as it can, there's a reason to do what we do. There's so much unique music to be recorded, so many great works to be played, and so many fantastic concert halls that we still would love to visit.