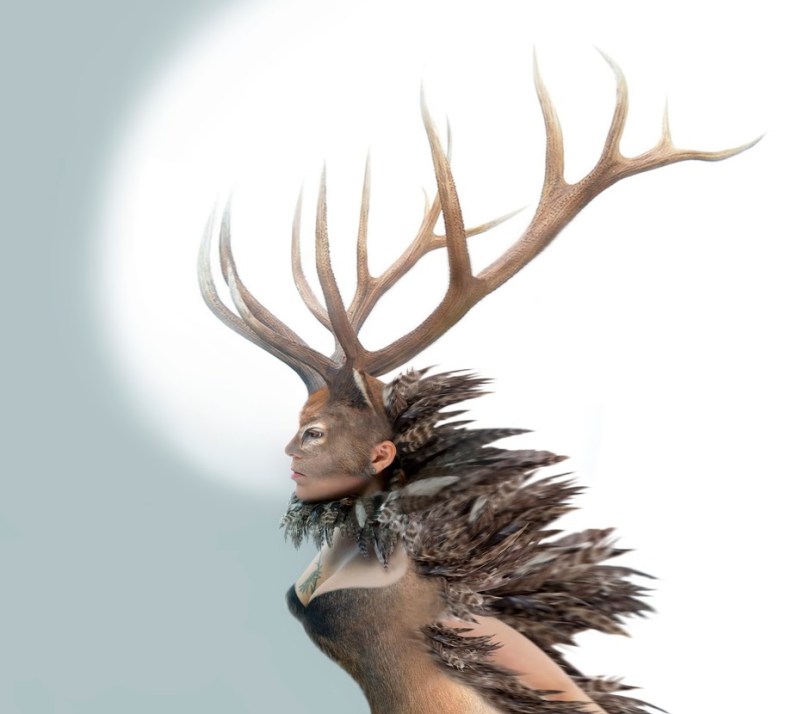 'Deep And Tactile'
As if you're hearing the Earth itself breathe, the Kronos Quartet's new release, Tundra Songs from the Canadian Music Centre can give you the most warming chills you'll feel today.
In Album of the Week at New York Public Radio's 24-hour contemporary-classical stream, Q2 Music, has featured a coming-together of several extraordinary talents. These artists' purpose is, in a way, a matter of trying to emulate each other's sounds. The instrumentalists are searching for the eerie range of a remarkable voice. And that voice is capable at times of walking right into the embrace of the quartet and producing something that sounds like the sighs of a fifth string.
The cellist you hear on this recording, incidentally, is Jeffrey Zeigler, one of our earlier #MusicForWriters interviewees, with whom we talked as he was releasing his own post-Kronos solo album, Something of a Life.
The CD features work of the richly gifted Canadian composer and flutist Derek Charke of Novia Scotia.  Of special interest to writers: the title work, Tundra Songs, features the harrowing lyrics of Laakkuluk Williamson Bathtory based on the Greenlandic creation story of Sassuma Arnaa. I'm not going to tell you a thing. I want you to hear this story for yourself on the album, first in the quaking dynamics of Tagaq's stunning interpretation and then in the equally spellbinding recounting by Bathtory, herself, a kind of bonus track on the CD. Tundra Songs was commissioned for the Kronos by the LA Philharmonic Association under the musical direction of Esa-Pekka Salonen, and premiered in 2008.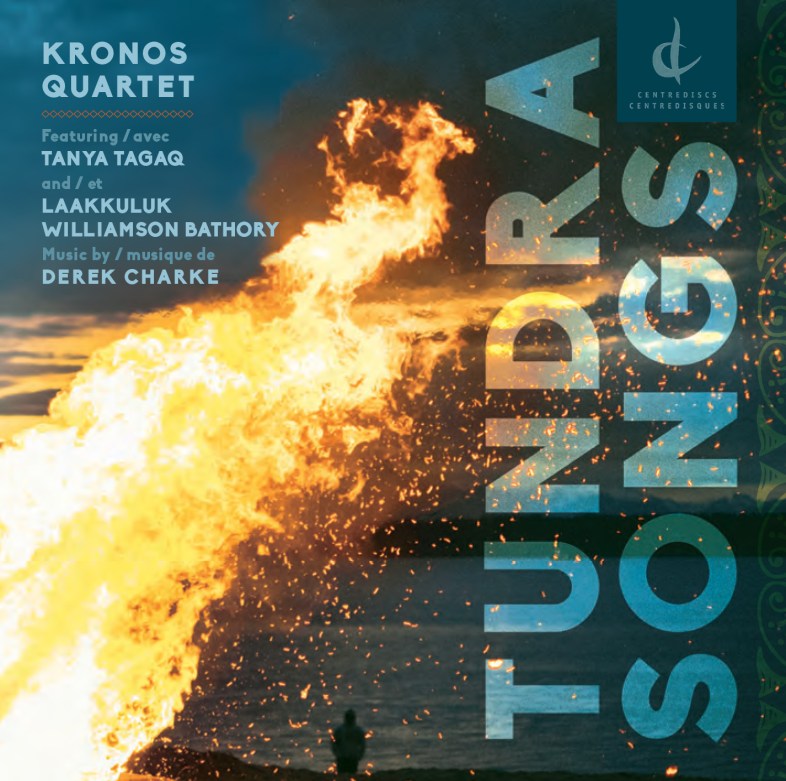 Now over 40 years old, the Kronos may be the most widely recognized and acclaimed string quartet in the world. On the road in performance some 160 days of the year and committed to the interpretation and promotion of new directions in serious music, the ensemble has recorded more than 50 albums. Most important to those of us who focus on the new sounds of living composers, the Grammy-winning Kronos has commissioned more than 850 works and arrangements over the years.
Taking no steps back from that bias for fresh ground, the group recently announced a series of Fifty For The Future commissions of new works from five male and five female composers each year for five years. Designed as a training vehicle, the program will not only see these works premiered by the quartet but will then make their scores and other materials available free of charge, a tremendous legacy of new sound for international education and performance.
And one of the five women in the first year of Fifty for the Future is the extraordinary vocalist standing at the epicenter of the Kronos' new album, Tanya Tagaq. A specialist in "Inuit throat singing," Tagaq's command of this exotic form of native expression has catapulted her into a major international career of her own. She'll perform Tundra Songs live with the Kronos on Sunday, March 29, at Knoxville's Big Ears Festival.
I was lucky to be able to speak with Kronos founder, the violinist David Harrington, while he was at O'Hare in Chicago, changing planes on his way home to San Francisco for a few days before the Knoxville performances.
And the first thing I had to know from Harrington was how this urbane, world-traveling ensemble of four of the best musicians in the world came to encounter the gutteral beauty of Tagaq's arrestingly primal vocal work.
David Harrington: I heard Tanya first on a CD years ago, a music sampler from fROOTS Magazine out of England. She was on this sampler. And I'd never heard of her before. And we were flying back from Europe and I was listening to this music, and all of a sudden Tanya came on. And it was one of those electrifying musical moments that will always remain unforgettable for me. I had heard Inuit throat singing at least 20 or 25 years before that. So I was aware of a certain sound world. But I'd never heard anything like what Tanya was doing on that recording. And after hearing that track maybe 25 or 30 times, I realized I needed to be in touch with Tanya. When I got home to San Francisco, I started trying to track her down, which took a little while.
Thought Catalog: And you began to work with her directly then?
DH: No, it was on our second Under 30 call for scores [a project in which the quartet has searched for commissionable composers under the age of 30]. Derek [Charke] was one of the composers who sent us music. I was very taken with the work, we all were. It was clear to me that while Derek was technically under 30 — by about a week — he was well over 30 in what he was doing. So I said, "Let's find a way to work together independent of the Under 30 program."
Derek was very interested in Inuit music and had made these fabulous arrangements. You hear a few of them on the album. So that was the first contact I had with this music.
But I was already in touch with Tanya, and we were thinking of working together and how to do that.
TC: So this is how Derek and Tanya and the Kronos came to work together.
DH: Yes, the first piece Derek wrote for us was Cercle du Nord III, which you hear on the CD. And then Tundra Songs.
TC: It sounds to me like there's something in what Tanya does in Inuit throat singing that might relate to Tibetan chant?
DH: Well, yes, it's this very deep and tactile, and physical kind of [sound] that the body can produce. I've heard it in chanting from Tibet. You can hear it in the great bass voices in Russia, that lowest note in Rachmaninoff's Vespers.
'The Bow Makes A New Kind Of Sense'
TC: We don't always encounter this voice in a woman, do we?
DH: That's right. And I asked her how she learned to sing like this — the first time I heard Tanya, I realized she sounded like two people singing at the same time. She told me that her mother, when she was in school, sent her cassette tapes of traditional Inuit singing. She started practicing in the shower and began to sound like more than one person — and she thought that was just the way it was.
She found a whole new form all by herself. And frequently that's how amazingly great musical discoveries happen. Just practice and practice. People use their imaginations and their ears and their passion and they find new things. With Tanya, the result is truly remarkable.
TC: And in terms of what you're doing in Kronos to get these sounds? Talk to me about how you play this music from Derek Charke.
DH: We're using the hair of the bow to create all kinds of sounds that have undertones and overtones. We're drawing the bow in a circular way, not in a lateral way. Depending on how much weight we put on it, you can create all kinds of sounds.
It's very natural for us to play with Tanya because it's so clear to me, the "stringiness" involved in her voice.
The bow makes a new kind of sense when we play with Tanya. I feel like this is a new enhancement in our work.
TC: Is this taxing to you as a musician? — is it hard to play this way?
DH: No, it's not. It's not something we were taught to do by our teachers, so we had to go outside our own training. There have been other examples of this kind of sound, and this kind of approach, but never in the the same way of matching Tanya Tagaq — or matching those recordings I've heard of meetings of elders. For us, I think it's an enhancement of our work and our sound.
TC: I'm glad to hear you say, "matching," David, because as a listener, what I hear is the quartet honoring this extraordinary range of sound and color of sound and kind of sound — as you say, the "strings in her throat" — by emulating her, as if emulating nature itself.
DH: And Tanya would be the first to say that she's trying to emulate us. That's the wonderful thing about performing together: We're all getting a little closer to what the other can do. You learn new things. It's like being a painter and discovering a new color or being a sculptor and discovering a new stone, a whole new area of inquiry.
TC: And more of this kind of range is going to come from the Fifty for the Future program, I'm sure, in addition to a new work from Tanya. When you speak of Tanya composing, does she have the training to get the notes onto paper, as we would in standard Western music?
DH: The way this will work in the cases of people who don't specifically read or notate music, is that they will sing in their shower, play on their keyboard, play on their guitar and sing, into a recorder of some sort. And we will then find the best person available to translate that musical information into a form that we can make use of.
For example, the very first of the Fifty for the Future pieces has arrived for us from one of the great musicians of Mali. His name is Fodé Lassana Diabaté and his instrument is the balafon. And he sent us four unbelievable movements. They're solos for each member of Kronos with the other members accompanying. And he doesn't need to read music. It would be a distraction for him to read music. Someone else can do that. We will find someone to translate this into some of the most beautiful music you will ever hear.
 TC: Sounds amazing, I can't wait to hear this. And after all these years, you guys in Kronos just keep surprising us.
DH: Good.
TC: So much time in travel — you're at the airport right now. All of you in Kronos have to love this travel in order to make it work, right?
DH: We love playing for our audience and we love playing the music. [But] there are times, yes, in the days and weeks and months when it would be great if our audience flew to us in San Francisco.
TC: Well, if we can have Fifty for the Future, why can't we have 30 Million for the Kronos? — and we'll all come to you.
DH: That's a great idea. In fact, I may steal that idea.