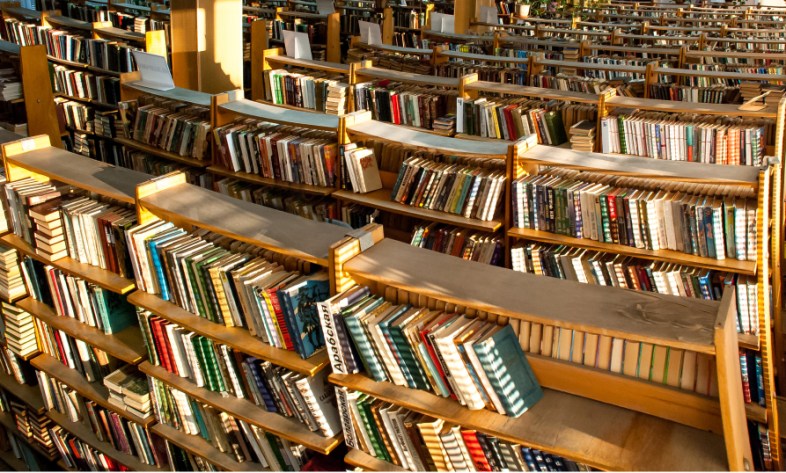 More Than 17,000 Library Buildings
You'd think — who wouldn't? — that libraries were the place to find everything bookish.
The assumption gains new interest with the news that the Cleveland-based OverDrive, leading distributor of ebooks to libraries, has been bought by Tokyo's Rakuten, which also owns the Canadian ebook retailer Kobo and its self-publishing platform, Kobo Writing Life.
And yet at times, the library market has been a relatively contentious place for the lending of ebooks. And although major publishers now seem to have come to terms with a need to make ebook access available to library patrons, the large subset of independent authors has found little joy among the stacks.
This does not seem to be because of resistance from librarians. Many of them, maybe most of them, might well like to be able to include self-published ebooks in their offerings to patrons, particularly works by local authors. Everyone knows that being supportive of the home team is good business. But no one, least of all harried librarians, has time to try to wade through the mountain of ebooks being heaved onto the market by self-publishing. And most of that pile does need serious sorting.
So it was with special interest that many at Charleston's Pubsense Summit conference — which closed Tuesday evening (March 24) — heard from representatives of the Library Journal. They were on stage Monday  to talk about a recently activated service called SELF-e., created by Library Journal and the Charleston-based BiblioBoard — a product of BiblioLabs, which is known for developing an app in association with the British Library.
Re-Stacking The Odds: $115 Million On Library Ebooks
SELF-e is an answer to the unintentional shut-out of self-published ebooks from many library systems.
And if you're an independent author — without a publishing house to put some marketing wind at your back — it's hard to imagine you not being interested in library patrons' growing fondness for ebooks.
During the course of the hourlong presentation at PubSense, Library Journal's Ian Singer laid out some tantalizing numbers for the conference audience, citing information from an American Library Association Fact Sheet and Library Journal's own Material Survey and Budgets Survey of late 2013:
Those 17,000 library buildings are operated by 9,700 US library systems.
As many as 299.9 million US library system patrons may be out there, representing more than 95 percent of the population.
Libraries are reported by Library Journal to spend over $1 billion on books annually, $115 million on ebooks.
A library reader, Library Journal's Ian Singer reported in Charleston, may read, on average, some 29 books each year, as compared to non-library readers who, Library Journal reports, read 11 books on average in the same time frame.
Singer told the conference that 73 percent of print readers and 78 percent of ebook library borrowers bought a book in the last six months. They don't just borrow.
Singer's  report also included the artfully worded line, "Library acquisition processes and ebook platforms create constraints to demand … but there is demand."
That genial term "constraint" probably refers to the "friction" that some publishers prefer you encounter so that ebooks, a form of book they can neither see nor touch, can be controlled in their movements, much as  physical book can be controlled. Some of the measures providing such "friction" might include, for example, sharp limits on how many time an ebook copy can be checked out without having to be bought again.
"How many of you have library cards?" Singer asked the PubSense audience, explaining that Library Journal is an industry trade publication not affiliated with the American Library Association.
Coming as it did after a presentation by several fee-based book review services that charge authors to create reviews of their books, Singer stressed that Library Journal's position has been that authors shouldn't have to pay for reviews of their books.
How Authors Get Into SELF-e For Libraries' Attention
SELf-e is free to authors.
It invites independent writers to submit their ebooks — as long as they, the authors, control the rights to those ebooks — for evaluation by Library Journal's staff.
Any US-based author will find her or his submitted work listed for librarians in his or her state. And so far, two state "modules" (Library Journal's term for collections) have been launched, one in California, the other in Ohio.
There are as many as 10 more state collections coming by the middle of the year. The SELF-e team is also working on developing a "state" for non-US-based authors evaluated by SELF-e.
Additionally, ebooks deemed of especially high value by the Library Journal team are made available to subscribing libraries in periodically released collections available for the entire national library system to consider lending. The first of these "curated modules" should be offered to librarians around June 1.
The site for SELF-e (@LibrarySELF_e on Twitter) includes information both for authors and librarians, as well as an explainer to help writers determine whether the free program makes sense for them.
Knowing how heavily weighted the self-publishing world is toward genre fiction, I've asked Singer whether romance, as an example, is normally welcomed by librarians. He tells me that romance is very much wanted, along with other genres, in libraries, which are mindful, of course, of popular trends.
"Libraries are becoming user-experience providers," he told  the audience at PubSense. "Library patrons are [a form of] content discovery" and thus of strong marketing value to writers as well as publishers.
And the intention of Library Journal's SELF-e is to open that traditionally active site for patrons' discoverability to books written by independent authors.
'A Curation Service'
Writers get no review from the SELF-e system, nor do they get royalties when patrons check out their books. They do get their work into place to be found by library patrons on a DRM-free platform that can outstrip the "friction" of constraints in traditional formats. A SELF-e ebook, for example, can be checked out many times at once, no waiting lines.
Mitchell Davis of BiblioBoard tells me that he hopes later this year to be able to roll out buy-buttons on SELF-e ebooks.  Those buttons can bring direct sales to authors when patrons check out their ebooks and like what they read.
And meanwhile, "what SELF-e is," Singer clarified in the Charleston session, "is a curation service. We're facilitating discovery" by librarians and library patrons.
"We are getting from authors a non-exclusive library-market-only license to distribute the content" through this curation.
"Libraries need to be sure that whatever they spend money on" is material chosen that will engage their local communities, Singer said, and he cites a growing list of libraries and/or library systems formally joining the SELF-e program in these very early days so far, systems in:
Arizona
California
Connecticut
Massachusetts
New York
Texas
"Every title that comes in to SELF-e," Singer said, "will be evaluated. " And the program will then be paid for by libraries' subscriptions to these collections, or "modules," of ebooks put together by the Library Journal team.
Singer and Davis were joined in their session in Charleston by St. Martins Press editor Elizabeth Lacks" by Michelle Bickert, Digital Content Coordinator for the State of Arizona; and by agent Michelle Brower of Folio Literary Management.
It was Brower who painted librarians as hand-sellers, people whose influence on readers can be profound, while Lacks described them as word-of-mouth specialists needed by authors, including independent authors who might want to use SELF-e.
In her comments, Brower urged authors to cultivate their relationships with libraries and, of course, SELF-e provides a way for writers to bring their work to the attention of librarians  beyond  the standard cold-call at the front desk, book-in-hand. She told the attendees at PubSense:
Librarians are incredibly important, and that's because people really care what librarians think. Librarians are experts in their fields. When librarians recommend something, people listen…Librarians, themselves, are often more important than the libraries. These are people who are…usually keen on active reading and sponsoring that in other people.
As Singer summed it up: "Indie authors need inclusion in engaging discovery systems that bring them a base of local readers" along with a potential national library-patron audience.
If librarians can use SELF-e as a curated marketplace to find the right ebooks, then the system, its patrons, and authors all can benefit.