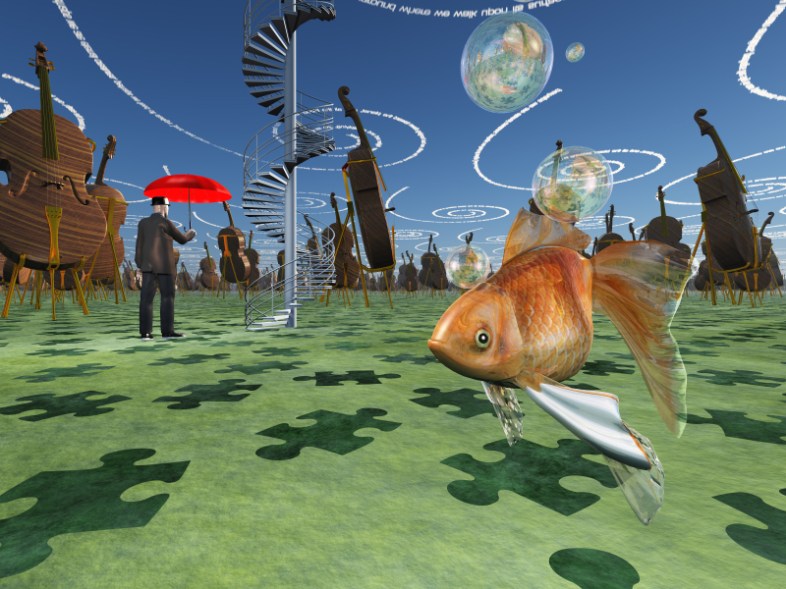 2014: 'A Bumper Year For The Peculiar'
Publishing has a tendency to do things in waves. For example, certain conference organizers who shall remain nameless seem to take a reckless delight in scheduling their events much too close to other conferences and trade shows. This ensures that special bleary-vacant stare you see in the eyes of conferees, many of whom by late May will look like they're going to hell in a tote bag.
And the industry! the industry! has a similar approach to awards. Second only to going to conferences, publishing people love to give each other awards. And they do a whole lot of it around this time of year.
That might account for the awards fever that seems to have swept through the newsroom of The Bookseller. There, my good colleagues at this time of year issue an announcement — heavily embargoed, as important press statements everywhere always are.
The heading on this news release:
The Bookseller Is Delighted To Announce The Shortlist For The Diagram Prize For Oddest Book Title Of The Year 2014.
And you can be involved. The shortlist announced at 12:01 a.m. London time Friday, February 27 (that's 7 p.m. Thursday evening New York time) now is up for a public vote, at The Bookseller's sister consumer site, WeLoveThisBook.com.
Voting closes after three weeks, at 11:59 p.m. GMT (6:59 Eastern) on Friday March 20.
The winner is to be announced a week later on March 27.
And what a list you have before you. These are the selections provided to us by the prize coordinator, Tom Tivnan, who in more serious moments is The Bookseller's features and insight editor. I believe that "insight" refers to the short comments you see below with each of the nominated entries.
The award is tongue-in-cheek, but these books — you may be appalled to know — are real. I found everyone of them in Amazonia.
The embarrassment knows no boundaries, either. Tivnan confirms to me that this is an international award: the Diagram Prize committee apparently will seize on the weirdest content, wherever it may be found.
Here are the seven shortlisted contenders. It may be wise to sit or stand well back from your computer screen.
The Shortlisted Titles
Advanced Pavement Research: Selected, Peer Reviewed Papers from the 3rd International Conference on Concrete Pavements Design, Construction, and Rehabilitation, December 2-3, 2013, Shanghai, China,  Bo Tian (editor),(Trans Tech, 9783037859575).
Souvenir guide to a two-day pavement symposium.
Nature's Nether Regions, by Menno Schilthuizen, (Viking, 9780670785919).
What links men and stamen? This fascinating history of the evolution of genitals is an essential addition to the field of research, because, as one online reviewer notes: "Sex is one of the things we humans find really worth doing."
The Madwoman in the Volvo: My Year of Raging Hormones, by Sandra Tsing Loh, (Norton, 9780393088687).
A roller-coaster trip through "the change". (This is not your grandmother's menopause memoir.)
Where Do Camels Belong? by Ken Thompson (Profile, 9781781251744).
A riveting investigation into the contradictions of "native" and "invasive" species – the notorious Japanese knotweed is among the latter. Could camels be the next invasive species to give British horticulturalists the hump?
Divorcing a Real Witch: For Pagans and the People That Used to Love Them by Diana Rajchel, (Moon Books, 9781782796312).
"Fills a huge gap in the resources that Witches and Pagans have in the areas of family and relationships," according to its publisher.
Strangers Have the Best Candy by Margaret Meps Schulte, (Choose Art, 9780991607600).
A chronicle of Margaret Meps Schulte's experiences of talking to strangers, including Carrie, "the topless runner who popped out of the woods at Crater Lake  with a bag of flour."
The Ugly Wife is a Treasure at Home by Melissa Margaret Shneider, (Potomac, 9781612346946).
An essential expose of how romantic love and sexual freedom came to be considered revolutionary acts in Communist China under the rule of Mao.
Before thinking that 2014 was really a far more challenging year than you'd realized, you may want to know that this is the 37th year of presentations of The Diagram Prize For Oddest Book Title Of The Year.  Apparently, books people are capable of producing this sort of strangeness on an annual basis. No wonder they keep congratulating each other on how creative they are.
The name "Diagram Prize" comes from the Diagram Group, a real company based in London.  As Tivnan tells it, the Diagram Group's Trevor Bounford and Bruce Robertson in 1978 found themselves so bored at the Frankfurt Book Fair that they devised this annual odd-title prize.
The first award was presnted in 1982 for the title Proceedings of the Second International Workshop on Nude Mice.
I know we're all sorry we missed that one.
Still Avoiding Huge Ships
Easily one of the most memorable winners of past years is the 1992 Diagram Prize recipient, How To Avoid Huge Ships. Now out of print, this title, by Capt. John W. Trimmer, can be had from Amazon.com third-party sellers for $64.89 used, $126.08 new. Oddity pays.
In his commentary on this year's award, Tivnan — who writes like someone bitten by a Man Booker Prize laureate — tells us in his prepared statement:
The past year has been a bumper one for the peculiar, especially in the areas of relationships and science.

Nature's Nether Regions is a long-overdue look at the genitals of the birds and bees (and everything in between), while Where Do Camels Belong? is the existential question that has plagued philosophers for centuries.

Along with its real-life applications for those who have loved and lost in the Wiccan community, Divorcing a Real Witch could also serve as a guidebook for Harry Potter fan-fiction writers who are focusing on the statistically inevitable end of the marriage of Hermione Granger and Ron Weasley.

The Ugly Wife is a Treasure at Home, meanwhile, is a sentiment which will perhaps resonate with many readers—if they travelled back to the 1950s."
And yes — independent authors, who frequently complain that is that awards programs don't recognize self-published work, will be happy — maybe — to learn that The Diagram Prize is an equal-opportunity mortification: odd self-published titles are welcomed.
The author of the title chosen as the absolute oddest of the year gets nothing, as it turns out.
"But," says Tivnan, "a 'passable bottle of claret' is traditionally given to the person who nominates the winning entry."