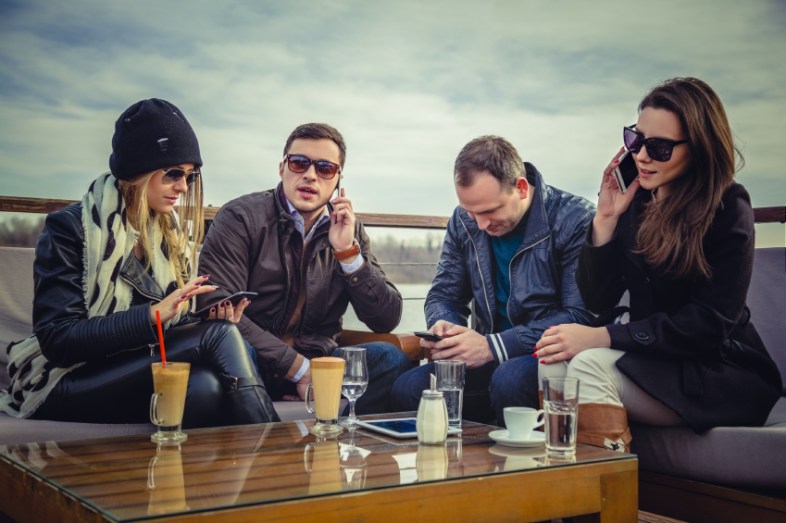 Can You Hear Me Now?
No, it's not just you. Among our favorite confusing topics in digital publishing these days, mobile really gets around (sorry). And that's because it's thought by a great many people to be the coming thing. Maybe the already here thing. Maybe the you are so late thing.
Forget plastics. Graduate to mobile.
After all, you can find reports of supposedly well-documented trends that will tell you anything you want them to say. Such as:
Young people adore mobile, they're reading everything on their phones
Young people hate mobile, they want print books to get off their phones
Just worry about iOS, forget Android
Just worry about Android, forget iOS
Optimizing your books for all the mobile platforms is easy
Optimizing your books for all the mobile platforms will kill you
Nobody can read for more than 25 seconds on a mobile device because of digital distractions
Nobody can read for more than 25 seconds on paper, either, because we're all wading ankle-deep in Nicholas Carr's The Shallows thanks to the Internet, here in the twilight of human intelligence
We won't know for some time how digital publishing finds its footing in mobile technology. And conversations about it tend to cross the jargon line way too frequently. Device specs and sales figures are like brambles in the pastures of literature, really. When you want to know how your audience will read your novel next year, the number of pixels in a smartphone camera just isn't what you sat down to think about, is it?
But this is part of the problem: a lot of good technology (and some of the other kind, I'm sure) is meeting a lot of good publishing (and we've all read the other kind)…and if the line of ascent is taking us from paper books to laptops to e-readers to tablets and on to smartphones, you're going to need to get a firm grip on which part of the whole thing means the most to you:
Maybe that's author earnings
Maybe it's device design
Maybe it's subscription models
Maybe it's advertising-revenue potentials
Maybe it's eye care for the squinty-jiggly subway readers
So I'm glad to find new commentary from a couple of our most diligent observers of the scene. And because your attention span is being challenged there on your own mobile device — I'm waving to your earphone jack — I'll give you just a few thoughts to roll around in your overtaxed mind. Not full arguments or issues. Just ways into the whole conversation.
These points are by no means final, foolproof, definitive…I did mention confusion, right? But they'll give you an idea of why the issues seem so fraught.
Thad McIlroy is a consultant in publishing based in Vancouver. Ahead of the May 27-28 International Digital Publishing Forum (IDPF) Conference that opens BookExpo America, he and I have been talking about the social implications of what he characterizes  as "the explosion in mobile technologies and mobile adaption."
McIlroy will also be speaking to authors about international expansion on our First Word team and in other sessions at the Novelists Inc. Conference in early October. And as for mobile, he "wrote the book on it": Mobile Strategies for Digital Publishing: A Practical Guide to the Evolving Landscape is just out from Digital Book World.
And Marcello Vena founded Italy's RCS Mediagroup's digital division in trade books and now runs his own Milan-based consultancy, called All Brain. Vena will be speaking at Klopotek's highly regarded Publishers' Forum, being directed this year by Rüdiger Wischenbart for April 27 and 28 in Berlin.
You may remember our coverage here at Thought Catalog of Vena's concept of what's happening to the theory of the "long tail," crushed as what he calls a "lost tail" under the unprecedented number of books being published by a digitally cranked-up industry. Vena will give a free seminar, "Dispelling the Myth of the Long Tail in the Economy of Digital Books," at London Book Fair on Thursday 16th April, 11;30 a.m.
The points I'm pulling out for you here come from two articles out just this week. One is put together by Digital Book World's (DBW) Rich Bellis in New York, Android, Apple and Mobile Ebooks: A Roundtable. The other is from the Geneva-based International Publishers Association (IPA), and it's a Q&A with Vena, The Digital Economy: What Happens Next?
10 Fast-Moving Points on Mobile
1. Debate sans frontières: Somebody seems to say "global," "international," or "worldwide" within the first 90 seconds of any conversation about mobile. That's because mobile is mobile is mobile: In terms of moving beyond national and territorial issues, mobile is by definition, a fence-jumper.
2. Born on the grid: It's the way much of the world first encounters the Internet. For example, Justo Hidalgo's Madrid-based 24symbols ebook subscription service is part of Internet.org, Internet-expansion program led by Mark Zuckerberg because 24symbols is a mobile service.
3. It's like comparing Apples and Androids: At DBW, Bellis asks Vena a good question about where the Apple-vs.-Android issue leaves publishers and ebook distributors.  Vena replies that while Apple's iOS is a proprietary operating system, Android is open-source with more than 10,000 devices connected. And these two gardens — one walled and one not — leave the books industry between a rock and a hard place. As he puts it:
If you're going to develop an Android app for ebooks, how many devices do you need to support in order to be successful at scale? Will big hardware manufacturers feature your app among the very few pre-installed ones? It's doubtful. There are already millions of free apps in most app stores. This isn't a great starting point. With Apple, all digital content sales are subject to iOS's restrictions. Even Amazon doesn't sell ebooks directly from its iOS Kindle app.
4. Mad dogs and English speakers: McIlroy agrees with Vena on "uncertainty about Android's role in the ebook ecosystem" and goes on to mention — what did I tell you? — the international angle:
Yes, publishers should optimize their content for Apple devices. But that's a limited strategy. eBooks have turned book publishing into an international business, and that means easily reaching English-speaking readers not just in the U.S. but around the globe, where foreign rights deals have historically restricted international sales.

There are also at least as many people who speak English as a foreign language as speak it as their first language…And outside the U.S. Android is almost always the top platform, usually by a large margin.
5. We'd better step up: In his interview with the International Publishers Association, Vena points out that mobile commerce — "m-commerce" — is expected to constitute 60 percent of global e-sales by 2017, according to the Boston Consulting Group. But is the bookish industry ready to compete with others in that huge, rich marketplace?
He writes:
Even the most successful book retailer, Amazon, offers a very limited m-browsing experience on smartphones. Look at the m-homepages of 4 leading ebook stores as displayed on the latest iPhone 6 devices. [See the illustration above.] It's appalling.

This is "m-commerce" for books today. The fundamental idea of having a homepage as a starting point to enter a bookstore in a mobile environment is one that should be heavily questioned, as the screen size shrinks and people's attention time becomes scarcer and scarcer. One-click payment and delivery works fine if you know what you are looking for, but m-commerce should be much more than just m-payment and m-delivery. Both e and m commerce of books have a long way to go yet.
6. Numbers game #1: McIlroy at DBW looks at where the aggregate audience figures lie:
Let's take the negative view—that only half as many Android users are interested in reading ebooks as are iOS users. Just in the U.S., that market would still be a potential 20 million+ readers. How can a publisher justify ignoring a market opportunity of those dimensions?
7. Numbers game #2: Vena looks for traffic rather than for user counts:
Even if Android becomes the No. 1 OS in the U.S., iOS still accounts for the most Internet traffic (in pageviews)—59%, while Android is around 36%.
8. "A long goodbye": e-Readers were a kind of bridge — so the thinking goes — to bring digital reading into the mobile space. The idea now, Vena says at IPA, is that new e-reader growth isn't ahead. He says:
The e-book business has great growth potential; the eInk reader business doesn't. E-reader penetration has already peaked in US households. Those who appreciate e-Ink readers will keep using them and maybe replace them with new ones, but those who haven't switched to e-readers yet, hardly will. Why should they when they have smartphones, tablets and phablets, not to mention notebooks and pcs?…

It might be a long goodbye for eInk readers, as addicts will keep using them, but the best opportunities for growth lie in the past. It's over, forget it. Innovation moves on, new technologies are taking over.
9. Aren't we all selling door-to-door now? It might surprise you to hear Thad McIlroy say that "D2C" — direct-to-consumer, as publishers are being urged to market their wares — just isn't an available concept anymore in the Android world. And guess who got there first. He tells Bellis:
I don't believe that there's a significant direct-to-consumer opportunity for existing ebook content on mobile devices either. Realistically, no one can unseat Amazon, Apple, Nook or (to a much lesser extent) Kobo and Google.
10. But one thing is constant — timing is still everything: Marcello Vena at DBW agrees with McIlroy that efforts in D2C in the Android world won't "move the needle in either the US or the UK any time soon." He sends us off with a word of caution: if you mean to make a move in digital, now would be good. Or would it?
The lesson is that in seizing a real mobile opportunity, timing is everything; it's easy to be too early and too late. "Impossible" and "possible" aren't eternal categories any longer.