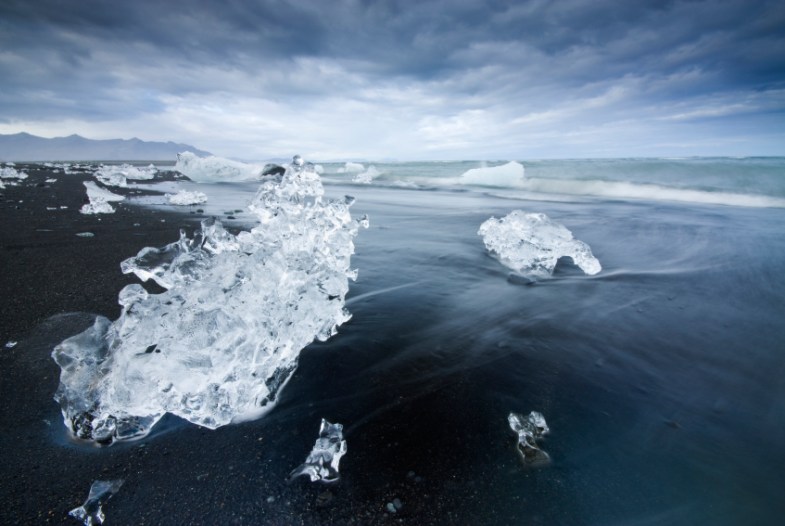 'The Sheer Sensuous Pleasure Of Sound'
Having heard and re-heard the three movements of John Luther Adams' The Wind in High Places  many times in its new recording from Cold Blue Music, I knew exactly what I wanted to ask the composer about it.
His speed. These ineffable tempi. Like Robert Wilson's best moments, in Adams' work you hear a profound comprehension for the pace of the world. Not the world of my keyboard and your screen, those two sweet instruments that provide the intimacy of my words lying in your mind right now as you read them, no. The world outside us, way outside, tundra-and-butte outside, where momentum can be measured in mountains' movements.
Adams speaks the natural world. He is fluent in the fields, conversant with the cries of animals and aeons. It shouldn't surprise me, but it does, every time I hear him: he knows the pace.
So I asked him: Is it his own preference, I wanted to know, for the slow-twitch of these raw, righteous sounds the JACK Quartet makes in this piece about The Wind? Or is this aura of unhurried grandeur imposed on his work by his natural-world subjects?
Speaking to me from a "desert by the sea," Adams told me:
I'm captivated by the sheer sensuous pleasure of sound. As a listener, I want to lose myself in strange, beautiful sounds. As a composer, my work is the same. I listen as carefully as I can and do my best to let the sounds be themselves…to breathe naturally and resonate fully.
There's more at New York Public Radio's fine 24/7 stream Q2 Music, in an Album of the Week write-up and in the first of Q2Music's fine Meet the Composer programs, which focuses on Adams, with host Nadia Sirota.
'Meticulously Specific'
Regular readers of our #MusicForWriters columns here already know The JACK. We had a cool interview with violist John Pickford Richards a few months ago. And just this week, I was lucky to see Richards and his JACKly colleagues in performance — they were featured in a private workshop performance of Paola Prestini's work-in-progress, The Aging Magician in New York City, with the help of producer Beth Morrison Projects.
In The Wind in High Places, the JACK is playing — as the 2014 Pulitzer Prize-winning Adams writes in his notes for the album — in a highly unusual mode: "Over the course of almost twenty minutes," Adams writes, "the fingers of the musicians never touch the fingerboards of the instruments."
The Wind, Adams writes, "treats the string quartet as a large, sixteen-stringed harp."
Relying more on fretting, maybe, than frets, the quartet is working without its usual mechanisms of tone control. And, writes Adams, "If I could've found a way to make this music without them touching the instruments at all, I would have."
If he could've found that way to do this without the players touching their instruments, I'm sure the JACK — possibly the closest thing we have right now to athletes of stringed music — would be game, too. Their adventurous repertoire is prized for just that.
What you hear blowing in this Wind is the sort of mind-widening lift that the best of the late György Ligeti achieved in such works as the iconcic 1961  Atmosphères. Adams knows that when his tones come close together and cluster, like richly wrought words meeting each other at close range, an "opening" sense, an expansive grace takes over.
A small ensemble playing a three-movement work to the four winds begins to sound very big, timeless and familiar in a primal way, resonant with the reaching harmonics of a concept like Adams'.
He has named his movements for three High Places:
Above Sunset Pass
Maclaren Summit
Looking Toward Hope
I asked him if, when he writes music for an ensemble in such an unusual way — no finger work in this instance — is it surprising what he ends up hearing when it's performed? He told me:
There are varying degrees of surprise in my work. Pieces like Inuksuit [2009] and Sila [2014] vary in their moment-to-moment details, from performance to performance. But The Wind in High Places is meticulously specific, and the JACK Quartet performs it with flawless precision.
'Where Human Awareness Meets The World Around Us'
While the JACK returns for the charm and antic mystery of the album's Dream of the Canyon Wren, another ensemble, Hans Jørgen Jensen's Northwestern University Cello Ensemble is at work in Four Canticles of the Sky. Here are 48 cellists working together to evoke the work's four movements:
Sky with Four Suns
Sky with Four Moons
Sky with Nameless Colors
Sky with Endless Stars
Such tenuous, gathering gravity there is under these several skies. Again, as in The Wind, you slow down, you find your breath, your place, and so many points of sonic support rush to you. Underneath these slowly revolving canopies of sound, you can sense that signature authority with which Adams conjures the magic most of the rest of us miss in the world.
Here is solidity, and knowledge, generated by legato hovers, one string after another, glistening by you, one tone effortlessly sheering off near another, then nestling in the shared light of a fine friction that holds it all together.
Adams tells me:
For me, the magic lies in perception itself, in that place where human awareness meets the world around us.
'To Resonate With The Wind'
Do you know the Aeolian harp? It's designed to be played by air currents. Aeolus was the ancient Greeks' keeper of the winds.
My first experience of the instrument was unnerving. During Spoleto Festival USA, years ago, I was walking the city in the evening with a friend, and a subtle strum was in the air. A wild, persistent, curious strumming underlay everything, a basso hum with edgy, nervous overtones.
We kept walking until we found the source: A shopkeeper near the Dock Street Theater had placed several large Aeolian harps on the cobblestones of the street. The frame of each was about as tall as I am. The sound was archaic, rumbling, pulsing — alien to be made by natural occurrence, because we rarely hear wind "play" an instrument.
I remember years ago standing on the Arctic coastal plain, not far from Sunset Pass, holding a small Aeolian harp on my head, feeling the music of the wind pass over the strings and enter my body.
John Luther Adams
In working with The Wind in High Places, a writer can be in touch with that peculiar experience of having an idea, a phrase, a word arrive for the first time, a new thought breezed into your consciousness without your seeing it coming, and from a place you'd usually never go to listen.
The Wind's artistry, after all, is borne of something we can't see. Invisible powers are difficult for us. When they land with such beauty, there's a kind of relief built right in to your perception. These are things Adams knows, he learns through direct experience, and then he operates in a sonic space, as writers perform in verbal vistas.
There's just such a nourishing newness to each moment of the title piece on this album, gusting right past loneliness and on to communion, communication — it's what writers do, after all. Different intent, yes, but a nearby impulse.
And this, of course, makes someone like me ask a very writer-ish question of a musical intelligence like Adams.
I hear this work, I tell him, more as a conversation with The Wind than as his evocation of it. So, JLA, I ask him, what do you want to say back to The Wind?
I'm not really interested in personal expression or "saying" anything in music. I remember years ago standing on the Arctic coastal plain, not far from Sunset Pass, holding a small Aeolian harp on my head, feeling the music of the wind pass over the strings and enter my body. Ever since then, I think I've wanted to resonate with the wind…to become an Aeolian harp myself.