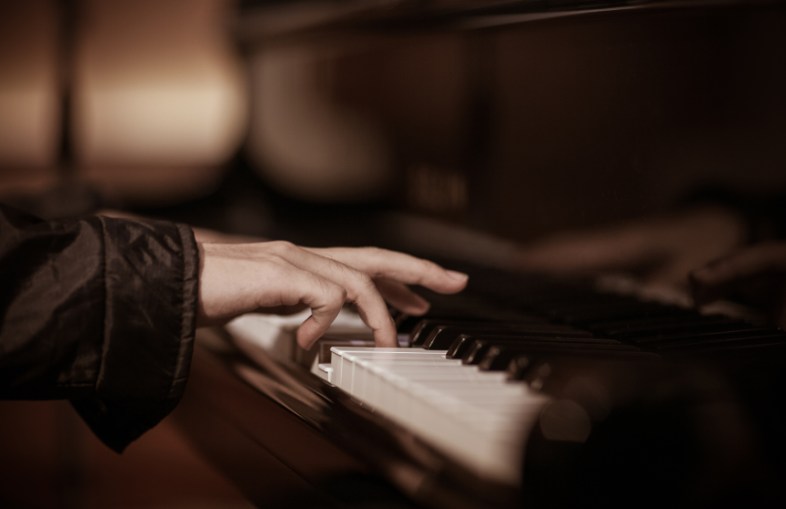 'The Trouble With My Career'
Once when I interviewed Philip Glass, he told me:
The trouble with my career is I'm finally doing what I want to do. And the reason it's a problem is that I'm doing it all day long and don't have time to do anything else.
And maybe the most remarkable thing about pianist Maki Namekawa's new recording of all 20 Philip Glass études is the sudden clarity with which her authoritative sensibility outlines just what he meant by having no time for anything else.
Speaking to me then for CNN.com, he said:
You spend your whole life pining for the moment when you can play as much music as you want to, and write as much as you want to, and interact and collaborate with anyone you want to, practically — and it's taken me 40 years to get to this point from the time I was a student — and the trouble with it is that it's a very demanding but very exciting life.
If this is what "be careful what you ask for" sounds like," I'll have what Glass is having.
And if you're in New York City this weekend (December 5 and 6), you may want to consider the Brooklyn Academy of Music's Next Wave Festival presentation of the full canon, which features not only Namekawa but also Q2 Music stalwarts Nico Muhly and Timo Andres, as well as Bruce Levingston; Sally Whitwell; Anton Batagov; Aaron Diehl; Tania León; Jenny Lin; and Glass himself. More information is here.
Through the Album of the Week series — from New York Public Radio's Q2 Music — we've been listening to a remarkable tracing of the arc of Glass' celebrated voice.
As Daniel Stephen Johnson reminds us at Q2 Music, Glass started creating this bravura set of works in 1994, in part as an exercise for his own artistry: he wanted to become a better pianist.
Pianist Namekawa, however, points out that Études 1 through 6 "were written for Dennis Russell Davies, my husband, on his 50th birthday in 1994." Davies, as noted in this article from Q2 Music on Glass' Naqoiqatsi, has championed Glass' work in some of his most ambitious premieres and most lasting work.
Namekawa tells me:
Philip gradually added to these pieces over the years, seeking to develop his own piano skills, but more in importantly using these "studies" to solve a compositional problem.
That is why each piece needs to be approached on its own merits.
Johnson draws the line between the first and second ten pieces, the latter group both technically and conceptually advanced to a shimmering level of mastery probably beyond what the composer's performance capabilities can handle.
And that's why one wants Namekawa at the keyboard. She tells me:
Having known Philip through my husband personally for more than 10 years and having played and recorded much of his piano music, I feel comfortable when I meet a new work.
Thanks to that comfort with which she can approach the composer's material, Philip Glass: The Complete Piano Études  from Glass' Orange Mountain Music is important as music for writers for several reasons.
The Progression
What an array of progress from 1994 to now. Twenty years in the making, the études, taken as a whole, are their own study in the self-discovery and development of a singularly powerful artistic personality.
How lucky we are to have Namekawa to purvey them to us.
And how focused she is on the fundamental nature of her own role here. She tells me:
While I am aware of the impact emotionally that his music can have on its listeners, it is not an issue for me as I prepare each work.
I am interested in the composer's values and being his voice, so to speak.
Within a few bars of the opening of Étude 1, you hear the trademark Glassian arpeggios, those rippling evocations of awe that have captured vast world audiences in much larger, signal works, such as Akhnaten, Koyaanisquatsi, and Einstein on the Beach. Of all things, in Étude 11, Glass opens with a return to this radiant device, the restless, scampering arpeggios of popular attention — and quickly starts expanding the work into triumphant, grand vistas of majestic procession.
Just taken as a hop from No. 1 to No. 11, you hear an artist's grasp of his own idiom so assured that — in Namekawa's formidable hands — it becomes a remarkable telling of the tale of where this man's understanding of his own musical vocabulary has taken him.
Many writers may struggle to find such clear explications of their own bodies of work and artistic pathways. Glass' ability to get his head around the vast range of his output this way is a lesson, both daunting and hopeful.
The Challenges
Years ago, I sat down to critique a Glass Ensemble performance for a newspaper as its staff critic. I had a terrible headache going in — it had been a long day — and I worried that I wasn't going to make it through the show. When I saw that circle of artists get into position and started hearing what now sounds in my memory a lot like Étude 12, my headache was gone. So was the fatigue. So was any idea of leaving that concert hall.
Writers can find real energy, exacting ebullience, daring drive here, sustenance for their own efforts.
I told Namekawa last week that it's almost impossible to do anything else while listening to her delivery of this curiously syncopated, sharply difficult étude, the 12th. While much of the music we feature in #MusicForWriters is such that you can use it while working, this may not be the case in this particular piece, its peculiar walk popping through dappled sunlight, major, then minor, major, then minor.
Stop and listen. You'll go back to work with new attack of your own.
The Rising
Another thing I mentioned to Namekawa was how intensely she catches the sheer sense of wonderment in Glass' work.
Go to Étude 18 to hear immediately what I'm talking about. In a lovely revolving motif, you hear a resolution almost like one of the signature passages in Glass' The Secret Agent. Even with the downward tilt of that button-up — rather rare in much of Glass' work — the general trajectory of his work has always been upward.
Here, in the vastness of Étude 15, you'll hear some of the expansive grandeur that Glass has brought to so many films. By my count, he has contributed music now to nearly 50 motion pictures, including The Fog of War, Bent, and The Hours, the last based on Michael Cunningham's book.
And in Étude 16 listen for the sleek evocation of colliding waves, as pertinent as anything your work is trying to accomplish in its plotting, story, characterization, and voice. Namekawa cinches a tight filigree above a relentless moving line. This is a narrative structure lesson in itself.
An Era
If anyone defines the kind of music we look for in Music for Writers — the "contemporary classical" work of Q2 Music's generous focus — it's Philip Glass. His work has been a kind of score for so many of us for so long that there's a sense you know this work, made all the more palpable by the unstinting energy of Namekawa in her unassailable grasp of this complex idiom.
As Johnson notes in his comments for Q2 Music, this album is a terrific place to start if you're looking to try to get a handle on Glass prodigious body of work. So much music of so many kinds and forms, all with such impact. "The sheer quantity can seem baffling or intimidating," Johnson wrote. So true.
And Namekawa echoes this, saying to me:
These pieces summarize one aspect of Philip's work , but only one. I hope your readers can also learn about his wonderful symphonies and string quartets, for example.
She's right. If this is your first exposure to Glass, please look farther. If it would help, drop me a comment below, I'll be happy to guide you to some other fine listening to this pivotal composer.
For now, consider listening to these 20 luminous études and letting them speak to your own work as you write.
Gracious to a fault, Namekawa tells me: "The emotional side will take care of itself if I do my job."
She has done her job, so well. This is a landmark recording.
And as for how the man, now 77, has given us so much music, here's what he told me years ago — it's something any story-filled writer will understand when confronted with the wonderment of his own imaginative impulses:
I'm thinking about three or four pieces from now. You know what the trouble is, don't you? It's like the weather, you can't control it. You can't say, 'I want a little bit of rain.' You get whatever the rain is. You can't say, 'I want a little bit of the sunset.' It just doesn't work that way.

Especially in the arts, things have a momentum of their own. You have more work than you want at one time and then you don't have enough work at another time. It's almost like natural phenomena. Pacing it? Pacing it is impossible.

Just when you think you have all the work you can handle, then a piece you were waiting for comes along.