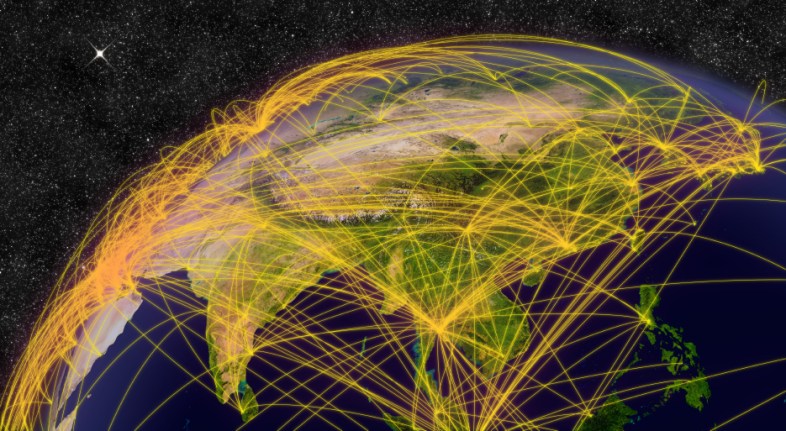 Non sum uni angulo natus; patria mea totus hic est mundus
The usual translation of this old quote attributed to Lucius Annaeus Seneca (4 BC to AD 65), is:
I am not born for one corner; the whole world is my native land.
It's the kind of line that gets people like me going, avid travelers who have lived and worked in several countries. You may have read author Jodi Piccoult recently in The Telegraph, talking with Bryony Gordon about how she feels Americans should travel more. I couldn't agree more, I think Americans need to get out of the country on a regular basis, rub up against the other animals, get some stamps into those passports, some ouzo down their gullets, and some frequent flyer miles under their belts.
So I was interested when the 2015 London Book Fair announced a new element for its Publishing for Digital Minds conference on April 13 at the Olympia London complex: multilingual social media experts.
I'm looking forward to being joined that day by a special corps of backchannelers whose jobs will be, in a way, to answer Seneca.
First, what is backchanneling at a conference?
'I'm Wearing My Pink Top'
Years ago, I'd turned up at one of my first author conferences, a Writer's Digest confab in New York City. Sitting near the back of the room, I was monitoring tweets from the session I was watching — the author James Scott Bell was discussing plot in fiction, and how it works with other elements of a story.
I watched in fascination as a tweet scrolled up my screen from an attendee in the room:
I'm in the best conference session ever on plotting a novel. And I look great in my pink top.
Having done a good bit of live-texting of network news events, I realized there was a job for a journalist there: someone who could move out fast, accurate quotes and summations of what actually was being said in a conference session — and put them across so that readers could tell who was speaking and in what situation.
And I never brag about how I look in my pink top.
Okay, almost never.
As soon as I'd been hired by conferences to live-tweet their key sessions, I began getting notes from as far away as Tokyo, Reykjavik, and New Delhi: publishing-house workers overseas were following the hashtagged Twitter stream and kindly dropping notes to say thanks for the coverage I was relaying as official tweeteur. At the same time, messages were coming from inside the hotel ballrooms, too: followers were keeping up with simultaneous sessions they couldn't get to, or sitting in the same room I was in, using the live tweets to confirm what they'd just heard, comparing notes, debating the points in front of them.
Years earlier, while based in Rome, I'd seen some of this near-reach/far-reach effect in Florence, Italy, where I'd live-texted a United Nations World Food Programme Country Directors conference, projecting comments from the podium up onto screens above the stage in real time, to reinforce what was being said — especially helpful to delegates whose first languages weren't English.
So it's in the context of this far-flung conversation that I've engaged in for years from conferences that I see the value in what LBF's Digital Minds conference is doing.
Attention, Book-Industry Polyglots: Putting Out The Call
You have to love this line in the news release:
Publishing for Digital Minds' 'polyglots' will be drawn from the markets most widely represented in the conference's international audience, which welcomes large delegations from China, India and Latin America as well as Europe and North America.
As baffling as that marvelous word may be if you don't know it, a polyglot, from the Greek polyglōttos, is simply one who speaks or writes in several languages.
Chris McCrudden of Midas PR — working with Digital Minds' faithful programming director Orna O'Brien — tells me, "We've already recruited people to tweet in Turkish, Spanish, and Portuguese, and another to microblog the conference in Mandarin for Weibos," the many Chinese microblogging sites said to be followed by several hundred million people.
Conference officials say they also have a German-language speaker who will be reporting through Google Plus and Xing.
Are you interested? LBF is looking for "publishing polyglots" to cover the conference as native speakers in Danish, Norwegian, Swedish, Italian, French, Hindi, and Malay.
A "publishing polyglot," by the way, means you're in the book-publishing business. Pink-top polyglots are not what we're after here.
If you think you might like to provide coverage from the conference in a social medium that's regularly used by the publishing community in your country, you're asked to contact: chloe.modaberi@reedexpo.co.uk — explain your qualifications for the role and how you see yourself handling it on the day of the conference.
If you're selected to do coverage, you'll get free admission to the conference, tickets for which are now on sale at early-bird rates.
Normally, my "Porter Table" is set up for me either at the rear or side of a main conference hall. In this case, I've begun talking with McCrudden about the possibility of creating a larger desk arrangement for this expanded social-media team. It may well be helpful at times for us to be able to confer so that the output from this multilingual group is as accurate as possible.
I'm seeing a vast comms center…world domination at last…okay, I'll move on.
The Shadow Conversation
Conferences in the UK — particularly Digital Minds and The Bookseller's annual The FutureBook — are among the most avidly tweeted in the world. A kind of shadow conversation rises behind the event itself and can be loudly, and silently, raging along as a speaker holds forth or a panel debates a point.
Intriguingly, you can find yourself not only outputting the commentary from a conference stage but also discussing that material with people both in the conference chamber with you and two continents away.
It's this garrulous, vast collegial exchange that LBF's O'Brien wants to capture with the expansion of the "Porter Table" to a much larger, multilingual squadron.
In a prepared statement, she says:
Increasingly the social media backchannel has become the voice of a successful conference. It provides a platform for attendees to air their views and expertise, and gives an event an international presence as tweets, microblogs, blogs and other update fan out over the Internet. It makes perfect sense for us to complement our international audience with a truly global social media backchannel. We're looking forward to recruiting a team of tweeters and bloggers who will give voice to the world's major publishing markets.
So there you are. London is calling. If you can be there on April 13 and help raise the conversation with your publishing associates in one of the languages needed, consider getting a note to Modaberi about your interest.
And if you show up in a pink top, I'm keeping my eye on your tweets.