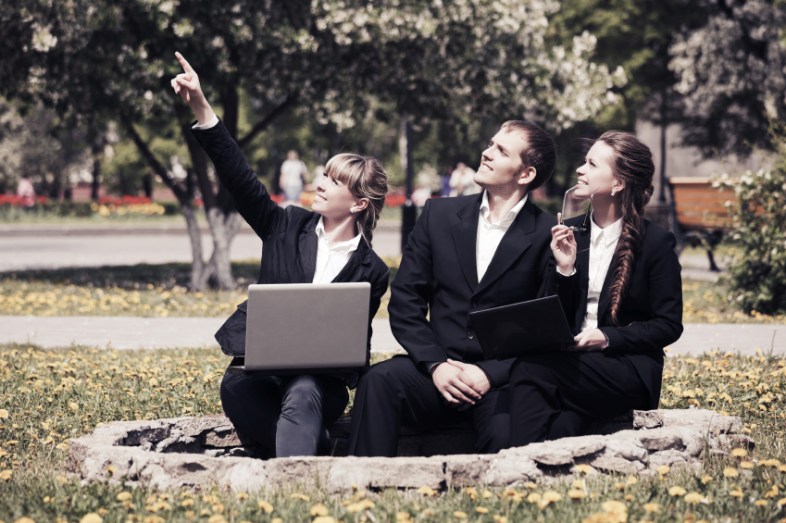 When 3.3 Million People Vote On Their Faves
Aside from reading — we have to hope — nothing seems to entertain Goodreads more than surveying its vast self, and this is good news for the rest of us because we get some interesting insight into reading habits.
The newest round of "Goodreads Choice Awards" — now in their sixth year — were voted on by 3.3 million platform members, according to Jessica Donaghy in her column announcing the results of the voting.
What you see and click into at the awards page is interestingly put together, too, in terms of how the nominees are positioned for the vote. My thanks to Goodreads' Suzanne Skyvara for this explainer:
We analyzed statistics from the 275 million books added, rated, and reviewed on Goodreads in 2014 to nominate 15 books in each of the 20 categories.

These must have an average rating of 3.50 or higher and people then vote on these in the first round of voting. In the first round, people can also make write-in votes for books they think are the best of the year that should be included.

In the second round of voting, we add the top five write-in vote winners for each category, offering a total of 20 books per category.

Then in the third and final round, we narrow it down to the top 10 in each category.
Donaghy notes that the total pool of title/author nominees numbered 400 and spans 20 categories.
We won't look at them all here, but let me give you some quick highlights of the results before you dive in.
In the "fiction" category, by which Goodreads refers to what many term literary fiction — or "general" fiction, if you'd rather not be beaten up on the playground — Rainbow Rowell's Landline is the voting contingent's favorite, and by a long lead.
With 46,154 votes, Rowell's closest competitor for the pick here was Liane Moriarty's Big Little Lies, which drew 32,853 votes.
Emily St. John Mandel's fourth novel Station Eleven, which I've written about here and here — a National Book Award finalist — came in at 9th place in this category, with 11,608 votes.
In the historical fiction category, Anthony Doerr's All The Light We Cannot See took the honors with 41,512 votes. The Invention of Wings by Sue Monk Kidd was next, with 32,095 votes.
In science fiction, Andy Weir's fine debut The Martian (being made into a film with Matt Damon for a November 2015 release) won with 30,561 votes, the next favorite being John Scalzi's Lock In with 14,953 votes.
Hugh Howey's Sand was third with 14,410 votes.
In the horror category, One of my own favorites of the year, Josh Malerman's debut Bird Box came in fifth, with 8,420 votes.
Anne Rice took top honors in that category with her Prince Letstat at 21,909 votes.
The YA fiction category was taken, no surprise, by E. Lockhart's We Were Liars with 33,943 votes. This, by the way, is one of the five books written by women that Goodreads men are reading.
And while leaving you to peruse further winners in the 2014 Best Books vote at Goodreads here, I think it's worth making a few points that arise from that last note about male members of the big community reading Lockhart.
Where Are The Guys?
The many insights Goodreads brings to us have to do primarily with the reading habits and interests of women.
There's nothing at all wrong with that, mind you, far from it. But it would really do us good to know more about the reading habits of guys, too — and for that we need more guys reading.
One commenter here has thought that I'm talking only of the Goodreads universe here. That's not my intention. My interest is in what Goodreads members might do, as specialists in book-recommendation, to help us get more guys reading in the world-at-large.
Relevant to Goodreads' last round of publicized information with an excellent infographic headed up by co-founder Elizabeth Khuri Chandler (we reported on that one here in Goodreads Reviews 'Sex And Reading' On The Big Platform), our largest community "for readers and book recommendations" has a membership that its administration tells me is 70-percent female.
That translates to about 21 million women and 9 million men, the total size of Goodreads' membership being currently reported at 30 million, roughly equal to the population of Venezuela.
And while I'm unable to bring to you anything on the reading preferences of Venezuelans today, I can tell you that an interestingly proportionate thing occurred in terms of the genders of the authors named as writers of these Goodreads Choice Awards Best Books of 2014: The books chosen are the work of 13 women and 7 men.
The majority gender of the membership, in other words, matches the majority gender of the authors who were voted as favorites.
I wouldn't draw any quick inferences from this. Chandler's infographic did nicely highlight five books by female authors that men are reading, and five books ostensibly by male authors that women are reading.
I say "ostensibly" because one of the five listed as being by men is J.K. Rowling's The Silkworm by Robert Galbraith — not a man, at all, but Rowling's pseudonym.
With a jaunty note, "Good one, J.K. Rowling!" attached, it's hard to know whether the intention is to suggest that Goodreads women don't realize that Galbraith is Rowling or whether it's a fun way to say that women would rather read women. If anything, the graphic makes us feel that men are reading more books by women — actual women, that is — than women are reading books by men.
Is there any truth to that idea? It's interesting, if inconclusive, of course, to look at some stats from the five categories of the awards I've cited here. Remember that, as Skyvara explains, the books voted on in each category are mainly put together as high-rankers in the year's reviews. The 100 books in these five categories turn out to be 44 books by men, 56 by women.
In the fiction category — six nominated books were by men, 14 by women.
In historical fiction, the same — six books by men, 14 by women.
In science fiction, I count the reversal you'd expect — 17 by men, only three by women.
In horror– 15 men, five women authors.
And in YA fiction — unless I'm mistaken, the entire field of 20 books is by women.
While these five prominent categories show women authors having more books in the running than men overall, genre has plenty of effect on the ratio, as is clearly obvious, and the over-arching discrepancy is not so large as the 70-30 percent female-male ratio of Goodreads membership.
There's no contest here —  intended or in fact — of who's "better" in terms of writing or of reading. Nor, again, is there anything wrong about any signal whatsoever of robust reading and writing by women — to the contrary, it's great.
In fact, a lot of folks looking carefully at gender issues in literature these days are delighted to have each and every woman who reads and/or writes aboard, myself adamantly included. If you're a woman, please keep up what statistics tend to suggest is a healthy reading habit. If you're writing, too, more power to you.
All I'll ask you to do is pick out something you've liked — and hand it to a guy. Don't stand there and wait for him to read it, just leave it with him. Don't ask him every day if he's read it, just let it lie. Many men seem not to share their reading experiences as readily as some women do, which is fine. The important point is that your guy will read it, he'll at least try it, if you point it out to him. And we need that to happen.
The problem is not that so many women are reading and writing. The problem is that so many men are not.
Figures from the Nielsen-Bowker-ProQuest 2013 U.S. Book Consumer Demographics & Buying Behaviors Annual Review indicate that in the States,
Women are buyers of books over men, by a factor of 60 to 40 percent.
Women buy more books than men by a ratio of 65 to 35 percent.
Women spend more dollars than men on books by a ratio of 58 percent to 42 percent.
And in statistics from Pew Research, we see survey indications that 82 percent of women asked say they've read at least one book in the past year — 69 percent of men say this.
Young male readers are in particularly difficult straits. As Jon Scieszka's Guys Read research tells us:
The U.S. Department of Education reading tests for the last 30 years show boys scoring worse than girls in every age group, every year.
A wise friend mentions that one of the most important things to have happen in the home is for fathers to read where their sons can see them doing it. Boys need to get that reading is not only OK but practiced by male role models.
The more times they hear the toxic phrase "men don't read," the more likely they are to embrace that as guidance. For reasons that need a good bit of thought and honesty to address — with that malicious line as a centerpiece — we're leaving many, many men behind both as readers and as writers. This couldn't be a dumber mistake.
And when we look at the grand expanse of Amazon's Goodreads, now in its sixth year of these awards, the only disappointment is that more men aren't along for the ride.
Whose "fault" this is, is not an issue.
Whose chance it may be to help us change things is Goodreads' own book-loving membership.
In 2015, it would be great to see a lot better than 30 percent of the platform's membership in the male column — men reading men, men reading women, and men reading all the pseudonyms that J.K. Rowling would like to offer us.