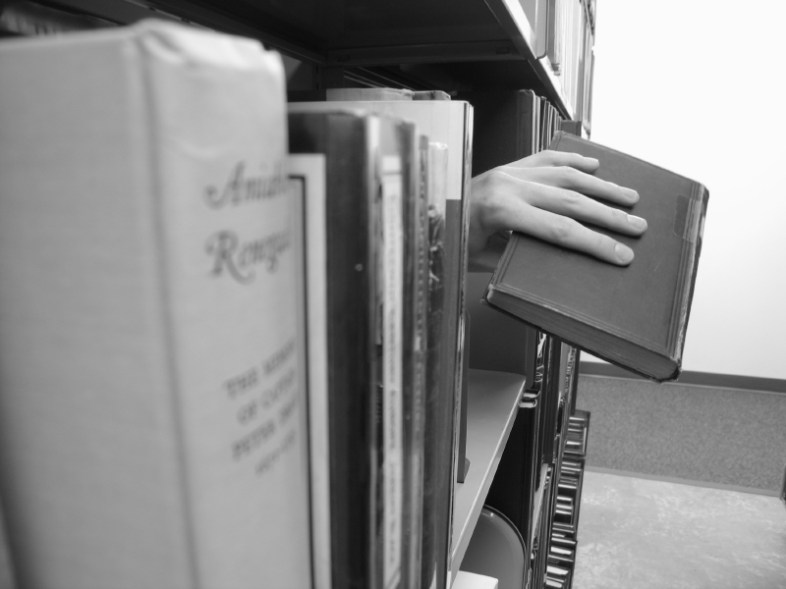 Is A Picture Worth A Thousand eBooks?
So there I was the other day, putting together a story for The Bookseller's The FutureBook about Vancouver's BitLit.
That's the young start-up company that wants you to have ebook editions (free or at a discount) of books you'v'e already bought in print. A lot like when you buy a CD and you get an MP3 free, right? Of course right.
In talking with Peter Hudson, BitLit's CEO and co-founder (with Marius Muja), the story kept getting more interesting. Not just because of what you can learn about your own books but because of what BitLit is starting to learn about a lot of shelves.
A "shelfie" is BitLit's term for a photo of your shelf.
Hudson's BitLit is working with some 200 publishers to offer you ebook editions of print books you already own. A participating publisher will decide whether to offer it to you free or at a discount. Also whether it has any DRM (digital rights management) software on it. If the ebook you're looking for is available on the program — and BitLit has some 40,000 titles so far — then you can request to claim that ebook by writing your name on the copyright page and sending the shot to BitLit. It's both the lowest and highest tech moment you'll have simultaneously all day.
When the BitLit team decided to make it easier for you to find out if any of your print books were available through their "bundling" program, they created the "shelfie."
Full details are here, but basically, you take a photo of about 20 books on your shelf, send it to them, and they'll "read" it for you and tell you what's available.
The "shelfies" are read electronically in most cases, a cool bit of font-character recognition going on as the system scans your book spines and reads their titles.
As Hudson told me for The FutureBook:
The way it works is the divide-and-conquer approach. The first thing we do is separate the books. The first pass we make over it is segmenting. We try to find the individual book spines. Once we find the individual book spines, we do some pretty advanced optical character recognition. Then we mince up the characters into words. And then we match those against the Bowker Books in Print database.
And as a byproduct of this process, BitLit is able to start making some really early but really interesting observations about the books on the shelves it's seeing. Tens of thousands of shelfies (I know, that's a lot of pictures of book spines) have come in to BitLit as it pushes this new approach into place. Along the way, some interesting bits of info are emerging. I asked Hudson if he's tell us about a few, and he has come through.
There's an important caveat here, Hudson reminds us:
We're in the "innovator" part of the adoption curve on this technology, so it's not surprising that we're seeing a large percentage of users who tend towards fantasy/sci-fi and popular nonfiction,  as these are typically male genres and our user base is currently 3:1 male to female.
With nothing but respect for our women readers, it sounds pretty great to me that there's an area in reading, any area, with a three-to-one ratio of men to women. We need more men reading. You know that, right? Study after study shows women in general doing more reading than men and buying more books than men (or at least copping to it more than men) — and we need to level up.
Before stepping down off my soapbox here, I'll even go so far as to say one of the biggest mistakes publishers are making is in not developing major, aggressive campaigns to get more guys to read — because why leave half the population's money on the table, right?
Suffice it to say that in this case, while BitLit and the shelfies are so new, the initial calls for shelfies have gone out through tech-industry channels, so for now things are skewed toward the guys. Women, that means start taking shelfies and send them in.
And the bottom line is that nothing Hudson is telling us here is meant to be scientifically accurate about the population at large or small or in-between. This is just what's being spotted in the shelfies.
This is for "entertainment purposes only!" as our fine colleague Nathan Bransford likes to put it.
'They Really Are The Big Five'
In the FutureBook piece, you'll find Hudson telling me that the "Big Five" major US publishers "really are the Big Five."
"Duh," you say.
Well, here's what he means: when he and his colleagues analyze what they're seeing in the shelfies and average it out over all the images, they really do see the biggest of the Big Five on top (Penguin Random House, or PRH), and the "Following Four," as industry commentator Mike Shatzkin calls them, coming in at numbers 2, 3, 4, and 5.
"It's amazing that PRH has more than 25 percent of the shelf space," Hudson says. And those four als0-bigs start at quite a distance behind PRH, too. Hudson sees:
Hachette at about 13 percent
HarperCollins at some 9 percent
Macmillan at 4 percent
Simon & Schuster at about 3 percent
Here's a chart he put together for us this week:
Something to note: Near the center of the chart notice that Amazon's CreateSpace is holding its own with some mighty well-established houses such as the venerable Oxford University Press, McGraw-Hill, and Scholastic operations. While thesse are only registering at about 1 percent or less on the averaged shelfies, it's still interesting that Seattle's print outfit (based in Charleston, South Carolina) is pacing the rest on these shelves.
Those of us who follow British publishing will agree easily with Hudson, too, when he adds, "It seems to me like Jamie [Byng] from Canongate must be savant if a press as small as his is on the list considering how few books he publishes."
Hudson is right, in that the Edinburgh-based Canongate publishes only some 40 or so books per year, and Byng, it's chief, has made a great point of saying that publishers need to put out fewer books, and put them out well. "Fewer orgasms," is his way of saying it. As for the success of that house? Three words: Life of Pi. And many other fine titles.
King Is King
When Hudson ran the numbers on the authors showing up most frequently on the BitLit shelfies, he got a nice picture of his user base out there.
"No huge surprises here," he tells me. Stephen "King is prolific and [JK] Rowling has done pretty well off those wizard books."
Yes, she has.
"But the rest of the list tells a story about where BitLit is in the adoption curve," he says. "Clearly we're still in the nerd section that likes to try out new apps" like BitLit's. "But it is amazing to think that Stephen King has sold over 1% of all the books we've seen in shelfies!"
You'll notice that Tolkien, George R.R. Martin, Douglas Adams, Heinlein, Vonnegut, Gaiman and — hey — Dan Brown are hanging out together in the respectable-showings range on these shelves.
Clusters Of Readers, Data For Publishers
While still running these early numbers on the shelfies, Hudson and his folks are putting together some of the "clusters" of interests they see.
For example, they can run word clouds to see how prominent interests seem to gather on one shelf or another — you see the word "butcher" turn up on a largely sci-fi shelf…you see "character" coming up a lot on a shelf that's otherwise dominated by "cooking"…and a history-heavy shelf renders the name Hornblower.
A breakdown of Hudson's shelfie clusters:
Academic / Professional (5%)
Christian (8%)
Literature (9%)
Fantasy / Sci-Fi (26%)
Lifestyles (cooking / music / travel) (9%)
Popular Non-Fiction (Biography / History) (20%)
Romance (8%)
Teen / Young Adult (2%)
Mystery / Thriller (15%)
And what we're really watching for next is to see which publishers will cluster around BitLit, realizing that these shelfies are rendering up otherwise lost data as to where their print copies have ended up. One of the biggest problems that publishers face is a lack of sales data.
Many print editions of books went out the door without their publishers having a chance to track. Well, as soon as reader-owners of those print copies turn up for their ebook editions, that data is reborn — and, this time, captured.
There was a day when it was said you could know a person by his or her library.
Now? Just have a look at some shelfies.