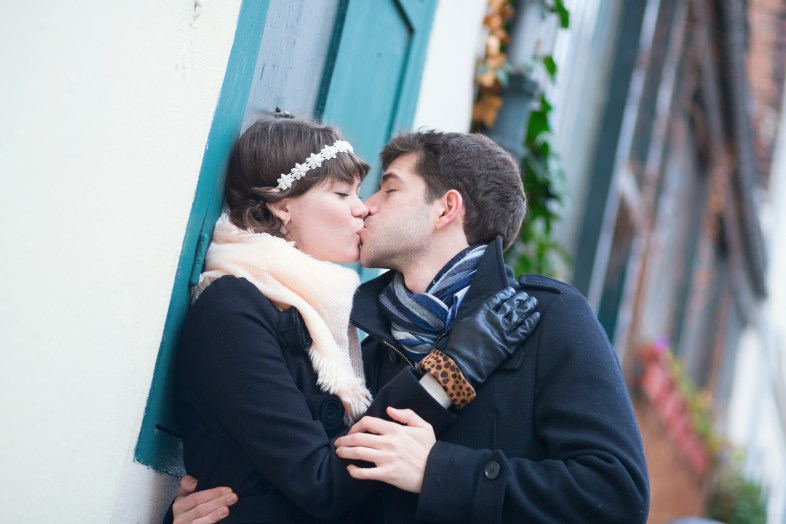 Is The Romance Market Really Bottomless?
An innovative independent publisher in New York City, Diversion Books has announced a new venture: EverAfter is described in its inaugural press release as "the first bookstore experience exclusively dedicated to romance ebooks," offering "in-app purchase."
The consumer copy on the app's landing page puts across its information in this customer-facing language:
Always there for you. Knows all the best new titles. Special deals for subscribers, plus tons of free titles. Over 100,000 romance eBooks, perfect for every taste. No monthly fees, no commitments, no strings attached….unless you're into that.
And boy, is that logo pink, almost what we used to call "pank" in the Deep South, so deeply hued that  it could symbolize the current trend in romance: saturation marketing.
The romance binge in books has been running for a long time, of course. And we've seen plenty of outfits jump onto the pink sled as it skidded past.
Sourcebooks has created the Discover a New Love "community for romance readers" in the States.
In May, not long after HarperCollins' parent NewsCorp announced its acquisition of Harlequin — considered the grandmother of romance publishers — HarperCollins in the UK held a virtual romance festival, considered quite a success in many reports.
And Diversion, itself, is hardly a complete stranger to the popularity of what I call "shirtless men kissing beautiful women" books, easily spotted by the squirming stereotypical artwork on countless covers-in-the-clench. The 400+ Diversion backlist titles — a part of the company's growing library of new and previously released material — are referred to in its own material as "old school bodice rippers." Which might lead to speculation about new school bodice rippers.
Diversion's Mary Cummings is the vice-president and editorial director of EverAfter, and is quoted in the news release saying:
Romance fans read more books and buy more books than almost any other reader. We thought such dedicated readers deserved their own dedicated app, where they can discover, buy, store and read the books they enjoy. With our flash sales, special pricing, recommendations and thousands of free eBooks, romance fans finally have an app where they can read what they love.
It's probably correct that she says romance fans read and buy "more books than almost any other reader," the emphasis mine. Mystery/crime/suspense/thriller work, in fact, makes such a strong showing in many surveys in the US that quiet voices occasionally, and bravely, question whether romance is, actually, the largest genre in the States, as many of its fans insist it is.
And in the UK, there's a decided advantage to the mystery crowd — romance simply doesn't have the same traction there that it does in the American market. Readers there eschew ripping bodices for R.I.P.-ing, it seems.
I asked Diversion CEO Scott Waxman why he and his associates had decided to launch the EverAfter app now.
Is it, I asked, an opportunity play based on the track record of the long-running Ellora's Cave operation? One of Ellora's features is a deep collection of subgenres, and Diversion's EverAfter release talks of "curated EverAfter Essentials categories like 'Alpha Male Essentials' or 'Love at First Sight.'"
EverAfter alpha male Waxman's response was interesting:
There is evidence that some of the large retailers are featuring their exclusive titles, making discovery harder for publishers and authors. EverAfter is a new outlet through which authors can reach eager readers who love romance and gain new fans.
That's the exclusivity card. As The Bookseller's The FutureBook community discussed in a recent #FutureChat, requirements for exclusivity in subscription venues — Amazon's Kindle Unlimited, in particular — are giving many authors a headachy dilemma.
Waxman was telegraphing one of the key elements of his new "vertical" (meaning a readership specialization, in this case romance): EverAfter appears to be agnostic in the provenance of its content.
In the EverAfter news release, Seth Kaufman — formerly with Barnes and Noble and now leading merchandising for EverAfter — emphasizes one-stop-shopping:
We feature titles from all leading romance publishers, including Harlequin, Avon, Kensington, Forever, Samhain, and Ellora's Cave, and we sell everyone from Nora Roberts, E.L. James, and Georgette Heyer to Sylvia Day, Nalini Singh, and Debbie Macomber. But we also want to create space to sell new authors and titles that deserve to be discovered.
And, similarly, when I asked Waxman how EverAfter can vie with the deep discounting that makes Amazon such a formidable rival, Waxman referenced EverAfter's focus on specific promos:
There will be some exclusive promotions on a title-by-title basis. For instance each week we will have Author Spotlight where a bestselling authors will feature a free book exclusive to EA (Alessandra Torre's [2013] Sex, Love, Repeat is our inaugural title).
All His Children
When I asked Waxman whether EverAfter will carry both traditionally and self-published material, I got an adamant yes: "We are working with traditional pubs, indie pubs and self-published authors."
And this may be a key element in EverAfter's favor. The romance community is both loyal to its interests and widely diversified in its purveyors. It may be the most accepting genre readership, overall, of self-published ebooks, even with the uneven production values that this sometimes entails. Quality of content, it seems, may be less a concern for some readers than quantity, convenience, and low prices, as evidenced even in such vaunted cases as the fan-fiction-to-traditionally-published Fifty Shades of Grey trilogy. Waxman's plan to carry a mix of traditional, self-publishing, and "small" publishers' material should support the breadth of that pattern.
"I think readers will have an embarrassment of riches when they search the EverAfter catalog," he tells me.
And it's that anti-exclusivity appeal on which Waxman clearly is banking in creating the new romance pitch: with its direct-to-your-device purchases, EverAfter is running away from exclusivity and toward a broadly inclusive pink embrace.
Waxman, in the news release is quoted making a none-too-veiled reference to draw the attention of writers:
We think romance fans will love the ease and convenience of downloading eBooks to their phones and tablets as well as the enormous amount of great deals we are curating for them regularly. For authors, this is a breath of fresh air in ebook retail, where the largest platforms have become more focused on the discovery of their exclusive titles.
If you're interested, you can see the newly released EverAfter iOS app here, and the Android app here.
Michael Cader at Publishers Lunch reports that the EverAfter app is created by mobile ebookstore app-maker Page Foundry, which does indeed list Diversion Books among its clients.