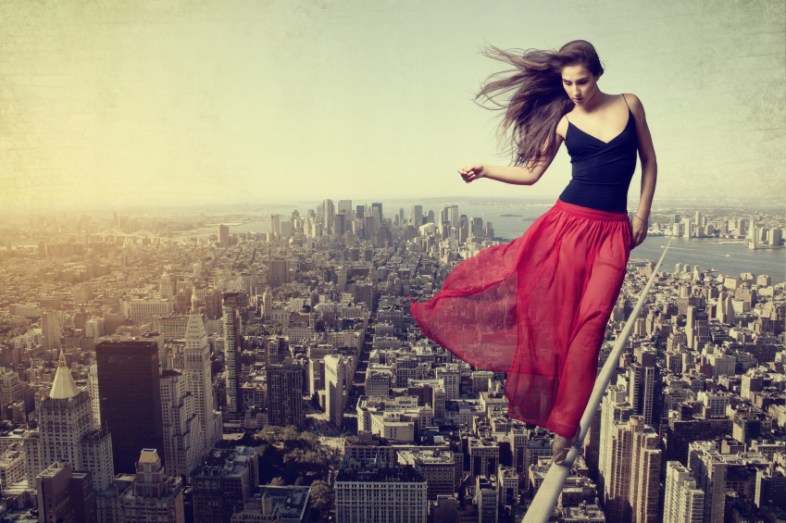 'I wish our conclusions could be more . . . conclusive'
But all things being equal? Authors are working without a net right now.
As with so many things in publishing at this point in its encounter with the digital dynamic, the potential contradictions loom large in the new AuthorEarnings.com report, just out today from the author-activist Hugh Howey and his unnamed technologist associate informally known as "Data Guy."
Howey and his colleague have again provided an accounting of their latest quarterly observations — the October 2014 Author Earnings Report — and, for those interested, access to the figures.
It's likely that he will be discussing some of the new findings later this week when he speaks on panels and in a workshop at the Novelists Inc. 25th Anniversary Conference in St. Pete Beach, Florida. There, hundreds of seasoned, veteran authors — many of them strong players in US genre midlists — will be discussing ways forward in a landscape that at times tend to look healthy only for authors of publishing houses' blockbusters and high-earning outliers of the independent-author corps.
The purpose of the AuthorEarnings project, Howey reiterates from previous releases, lies in the challenge for many authors in trying to determine whether it makes more financial sense to self-publish or to pursue traditional routes of publication. His quick explanation also includes a reference to why Amazon figures so prominently in these surveys:
As with our previous reports, we are looking at projected sales and author earnings by pulling data for over 120,000 ebooks off Amazon's product pages. Using known rank-to-sales rates, we are able to estimate the daily share of earnings by publishing path. The goal is to provide a deeper understanding of the ebook market than is afforded by reporting from major publishers or by tracking ISBNs, which many self-published authors do not use. Amazon is our focus by dint of controlling an estimated 60%+ of the ebook market.
As it happens, the level of Amazonian control is being sharply questioned by Paul Krugman in a Sunday New York Times op-ed, Amazon's Monopsony Is Not O.K.
Kruger's piece, having attracted more than 800 comments at this writing, does not end on a Seattle-friendly note:
Don't tell me that Amazon is giving consumers what they want, or that it has earned its position. What matters is whether it has too much power, and is abusing that power. Well, it does, and it is.
Even at the Times today, however, a countervailing sentiment about a part of Amazon's books business.
Commentator Farhad Manjoo, never one to pull a punch, refers to Amazon's Kindle as "a tech-industry miracle. That sounds over-the-top; it's not."
He goes on to write:
Now, with its newest Kindle, the Voyage, Amazon is refining its e-reader once more. The Voyage's main trick is a high-resolution display that mimics the look of a printed page. Text on its screen appears at a resolution of 300 pixels an inch, which is on par with the high-resolution displays now found on most of our other mobile devices.
For that matter, Krugman seems to feel he needs to shrug off a couple of conflicting sentiments on his way to decrying Amazon's business practices:
Amazon's defenders often digress into paeans to online bookselling, which has indeed been a good thing for many Americans, or testimonials to Amazon customer service — and in case you're wondering, yes, I have Amazon Prime and use it a lot. But again, so what? The desirability of new technology, or even Amazon's effective use of that technology, is not the issue.
A Softer Voice For Self-Publishing
In his AuthorEarnings studies, Howey is not, of course, trying to tackle the larger issues of Amazonian dominance in the marketplace. Since the retailer doesn't release sales numbers, his mission is to try to use its book sales pages and authors' actual revenue figures to develop a picture of what 's profitable in the Amazon ebook ecosystem and what authors might expect as potential results of their decisions to self-publish or try to traditionally publish.
In another interesting bit of timing, the new report also follows closely Howey's last-week essay — covered here at Thought Catalog — on his belief that it's time for independent authors to "back off a bit on the arguments for self-publishing."
Even there, we find controversy. Mark Coker of Smashwords — a competitor self-publishing platform to Amazon — has left a comment on the Thought Catalog piece in which he condemns the "tactics of the Amazon partisans, of which Howey was a ringleader."
Coker writes:
The Amazon partisans brought a level of bullying and animosity never before seen in the short history of the indie movement. The ugliness of indie authors attacking fellow authors was unprecedented and so unfortunate. I'd argue it harmed the indie movement because a large number of watchers — media, authors and readers among them – now see indies as angry, envious, bullying and blindly pro-Amazon, and this simply isn't the case. The Authors United group of traditionally published authors – a frequent target of the Amazon partisans — were mercilessly attacked simply because they were asking for more respectable treatment from Amazon.
Howey may see such commentary as part of the ad-hominem phase of resistance he discussed in his original piece.
In in his new AuthorEarnings essay this time, he does seem to follow through with a tone consistent with  his call for a less belligerent footing. His conclusion, for example, includes these lines:
We'd like to remind those who read our reports that our results are not an indication that everyone in publishing is getting rich. As we warned in our very first report, self-publishing is not a gold rush. Publishing in general will disappoint most anyone who enters into the endeavor in order to make piles of money…However you publish, the chances of earning a full-time living are not great. Our contention, however, is that the chances have never been better.
The intended value of what he's doing, Howey writes, is to get some light onto a data-starved marketplace that, as Bookseller editor Philip Jones has said, publishing must try to understand "by candlelight." Howey writes:
What does it mean to see that, on average, more daily ebook revenue is flowing to self-published authors than traditionally published authors? This isn't a game or a competition. It's merely a glance at a massive sector of the industry that remains in the shadows due to an incredible dearth of data. Amazon won't share this information. Publishers don't have their hands on this information. Publishing experts have no clue about the size of this hidden sector of their trade. And Bowker can't track it, because many of these titles don't employ ISBNs.
Timely Input On Subscriptions, Exclusivity, and Hard Choices
This time around, Howey's key interest is the effects of Amazon's Kindle Unlimited (KU) subscription program on author earnings.
While Howey's careful explanatory text in this new article is as helpful as always, there's a quick way to get at what's on his mind this time, a short blog post at his site, also headlined October 2014 Author Earnings Report. In it, Howey writes:
This is our first look at the effects of Kindle Unlimited — we'll be diving in further in coming months. I wish our conclusions could be more . . . conclusive.
One controversial aspect of the Kindle Unlimited (KU) subscription program is its method of paying self-published authors. As Howey writes in the introduction to the new report:
Traditionally published ebooks downloaded from Kindle Unlimited earn the same amount as a sale, but for self-published authors, a "borrow" pays out differently than a purchase. The amount paid per borrow is independent of price and depends instead on how much Amazon funds a shared pool. The rate per borrow has averaged $1.62 over the three months since KU launched.
The more daunting consideration for authors trying to sort out whether KU makes sense for them is the requirement by Amazon that authors participating in the program must submit to the exclusivity requirements of the Kindle Direct Publishing (KDP) Select program.
As Kobo chief Michael Tamblyn warned authors on Friday of Amazon's author-exclusivity requirements in a much-discussed series of 32 tweets — covered at The Bookseller by Lisa Campbell — Howey in this AuthorEarnings cycle has focused on this exclusivity question as a new factor that authors must take on board in assessing their best course.
Howey has written in the past of the fact that he and other "Kindle Million Club" members — a group of high-earning self-published bestsellers that includes Barbara Freethy, who has a new distribution deal with Ingram — have been given an opportunity to experiment with Kindle Unlimited for a limited time without the exclusivity restrictions that are placed on other authors.
In his blog piece about the new report, he writes:
I've been leaning toward exclusivity and staying in KU once it [his exclusivity waiver] expires. I'm now leaning the other way. Even with the potential of All-Star bonuses [offered by Amazon for KU authors with high borrow+sales rates], I'm not keen on a system that rewards the top and bottom but leaves out the middle.
'I'd love to see Amazon drop exclusivity as a goal'
Coker and others who say that Howey frequently is soft on Amazon as its "partisan" will want to take note that in this case he is taking his place now beside other critics of Amazonian exclusivity.
I'll quote him at a bit of length here, since this is a notable moment:
What I'd love to see is for Amazon to drop exclusivity as a goal. They already have (by far) the best marketplace for discovering ebooks and purchasing them. They have the best lineup of devices (having seen the newest e-ink display). They have one of the best upload and stat dashboards (after having revamped the latter).

So why not make KU elective for all authors? Why not set the pay scale by page rather than reward shorter length works? Compete for readers in all the other ways that Amazon excels (customer service, one-click, search, also-boughts, recommendations, reviews, etc.) and let authors publish their works far and wide. I have a feeling most authors would continue to share Amazon links by default. I have a feeling Amazon would be just fine and continue to dominate in this space. And everyone else would be a little better off.
We have to assume that this is not the response the Amazon administration expected when it placed its bestselling self-publishers into the KU program to test it out without the burden of exclusivity. Here is Howey, perhaps Amazon's most articulate and frequent author-defender, saying what Mercer Street didn't think it would hear.
The report, itself, similarly is replete with uncertainty. That is the nature of publishing at this point. And the more that authors share in the industry's fortunes and future, the more they, too, must parse some tea leaves to move forward.
Let's look at some points from the new report.
'A lower overall share of daily author earnings'
This chart, writes Howey in the new AuthorEarnings report, "highlights the roughly five times difference in earning rates between Big Five and indie ebooks."
Howey and his associate have elected to assume a 50-50 buy-borrow split for ebooks, after testing several scenarios, from all-borrows to all-sales. The adjustments create only minor changes in how the calculations allocate revenue.
And Howey is careful not to overstate can be inferred from this outcome of testing. He writes:
Despite what appears to be a dwindling share of ebook earnings for traditionally published authors, it's too soon to discount seasonal variations and other effects. The next time we do a quarterly report, we'll be able to compare year-to-year differences for the first time and might be able to say more.
There also is a rise detected in this quarter's report for revenue on Amazon Publishing (APub) titles. Howey writes to that this way:
It's too early to suggest trends for indie authors, but one might note that the share of earnings was on the rise until this last report, and that the big jump this time around has been for Amazon Imprint authors. It could be that KU is having an effect or that promotional and merchandising efforts are being reallocated. It could also simply be that Amazon's publishing efforts were in their infancy when we began taking these snapshots and the number of titles are on the rise.
 '2,908,475 Kindle eBooks In The Amazon store'
Howey's assessment of a total Amazon-store inventory of 2,908,475 is cut by 744,181 books that were eligible for Kindle Unlimited. This is a 25.6-percent quadrant of the total field.
With some 30.5 percent of all daily author earnings on Amazon's Kindle store going to KU per the 50-50 borrows-vs-sales split, Howey and Data Guy tell us:
Thus we can estimate that KU borrows alone are generating 14.0% of all daily author earnings on Amazon. Keep in mind, however, that authors in this program are giving up income from other outlets, which must be taken into account and may mean a decrease in earning potential for some or even many authors.
Independently published titles, according to the AuthorEarnings calculations, accounted for 49 percent of KU titles. Amazon Publishing titles made up 2 percent of the KU field. Big Five publishers, of course, had none — to date, they're not participating in Kindle Unlimited.
When AuthorEarnings assessed how titles in its July report fared as KU titles in its October report (KU was launched in July), here is what was found:
After comparing both the question of download increases and download decreases for the independent KU  titles and independent non-KU titles, Howey comes up with this:
Daily author earnings of the 4,234 KU indie titles on average dropped 26.0%
Daily author earnings of the 3,073 non-KU indie titles on average dropped 34.7%
The hard indication for independent authors, once an average three-month decline in author earnings is taken into account is this, emphasis Howey's:
If we assume that Amazon has even as high as 70% of the market for indie ebook sales, authors may be giving up 30% of their potential earnings in order to reap 13% more from a single outlet. And Amazon's market share for indie ebook sales might be lower than 70%, which means giving up an even higher percentage sales.
What it all comes down to, writes Howey, is this, again with his emphasis:
For indie authors as a whole, Kindle Unlimited likely means a lower overall share of daily author earnings going to artists' pockets. (Similar to the effect music subscription services have had for those artists.) The boost in sales do not seem to make up for the lost market share of other sales outlets. If exclusivity was not required to participate in KU (or if indie authors were paid the same as traditionally published ebooks), this would not be the case.
And thus we read Howey in his blog post, writing of how he now leans against staying a part of Kindle Unlimited after his non-restrictive trial period. He points out that "those just starting out and those at the very top" appear to be most rewarded by participating in Kindle Unlimited: "The former get more visibility. The latter get more money. Those in the middle benefit less."
Howey's is the clearest response to date to the quandaries presented authors by the advent of Kindle Unlimited with its exclusivity restrictions.
And a decision on how to proceed, for many authors, as he points out, is still far from obvious. In his blog post, this line takes on considerable meaning:
The best advice may be to experiment.