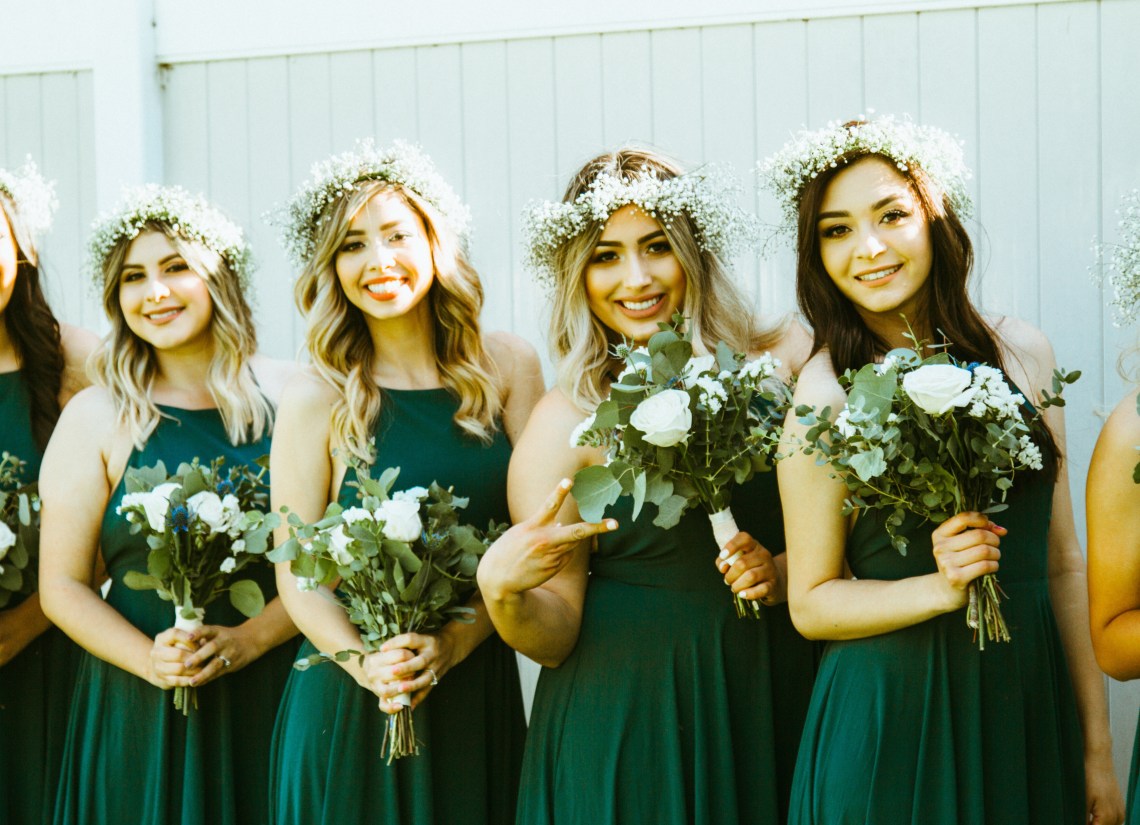 She squeals on point, cries on cue and struts on command. Put any color on her: navy, plum, black, even that gaudy orange and she totally rocks it. She speaks with eloquence, smiles with charm and never leaves the house without her pearls, lace and itinerary. She has life together. Everyone wants to be her—until they become her: the maid of honor.
That's me. But I'm about to put in my two-week notice because:
1. Being at the top of the invite list isn't cool anymore.
The party life follows the party girl who's always invited first and rolls out last. But I'm the "it girl" rolling out of all the parties last because I'm the one lugging around a trash bag and cleaning up people's fingerprinted wine glasses, burnt out sparklers and left behind wedding favors.
2. I can't mask the shock anymore.
I know exactly when they're getting engaged—the groom sends me pictures of that chunk of a rock about five months in advance. Then I'm the one who gets stuck chauffeuring the bride to the rose-covered picnic blanket, or I'm the one hiding behind a tree for two hours waiting to snap a picture of her thrilled face.
3. The hair on my head is no longer my own.
This marks the end of my ability to make my own personal life decisions. Do I want to get my hair cut? Yes. But wait, that's a no-go because the bride wants my hair in a side-twisted, French-braided bun, and those bangs that I've been wanting for about three months will just have to wait. I'll stand out too much in the pictures.
4. The cell phone blows up about stupid stuff—like fake dead leaves.
It never fails that for the first few months of the engagement I receive a continuous stream of picture messages filled with color swatches for the bride's honeymoon lingerie, or a link to a template filled with various table runners. And when I'm really lucky, I receive picture messages asking my opinion on fake dead leaves as reception decorations. Fake. Dead. Leaves.
5. My home is rioting to never host another bridal shower.
Do I like inviting strangers into my home? Doesn't matter. I get to plan the bridal shower and invite all of these random people into the place that used to be my only sanctuary from all the crazy, arbitrary people of the world. People I don't even know use my toilet and ask where I buy my antique chalk paint.
6. I'm tired of the bustle talk.
As text messages flood in and time marches on, the big, climactic stuff happens. The engagement highlights begin when she finds her dream dress. It's all new and exciting for everyone—except me—I am on a first-name basis with the alterations lady at David's Bridal in Columbus, Georgia. Esther doesn't have to explain the bustle situation anymore.
7. The tourist charade is killing me.
Following the dress hype is the exciting privilege of touring the venue with the bride. I don't like playing the role of a tourist while some stranger walks around and tells me what picture frames must stay where during our stay at his place. I just don't care, bud.
8. The D.D. life is no longer mine to live.
Then, there's the bachelorette party: Half-naked men in bowties intimidate me and drunk people annoy me, so I usually end up hiding in a corner with my hands over my eyes or dragging my stumbling friends to the car. Either way, it's a nightmare.
9. I'm tired of being hired for jobs that weren't in the contract.
By the time the big day gets here, I'm no longer just a member of the bridal part. No, I decorate the dessert table, direct guests when they arrive way too early and reassure the bride that she has chosen the right man. I don't like being an interior designer, usher and counselor. That wasn't part of this deal.
10. Quit making me host the reception.
After the ceremony, I have the honor of attending a reception where everyone and their mother will learn just how weird I am: I can't dance, but I try. I nail my little "Yay, you're married" speech, clumsily try to catch the bride's bouquet and kindly prod everyone outside to keep this show on the road.
11. No vaca for me.
Literally—I want this couple on the road. I wave pompoms, sparklers, a wine glass, my hands, anything that will send these two off into a lovely oblivion. But once the new Mr. and Mrs. are flying first class over the Pacific Ocean, I'm standing in my bathroom, staring at the makeup smudges on my face and pulling eighty-something bobby pins out of my hair while massaging the bleeding, stinging blisters on my toes. Total paradise, right?
12. The "Ooohhh, it's your turn next" crap is getting old.
My favorite part of this whole experience is when someone finds it necessary to laugh, shake his/her head, and tell me, "It'll be your turn soon." My turn? My turn to what? Give my best friend the opportunity to watch her hair turn gray and her skin break out from all of the stress? No. I wouldn't dare do that because I'm a true friend. It will never be my turn to inflict burlap and lace torture on another person for such an extended period of time.
I'm eloping, thanks.