Producer's note: Someone on Quora asked: Is PF Chang's any good for authentic Chinese food? Here is one of the best answers that's been pulled from the thread.
---
My cousin's mother was a famous restaurateur in San Francisco who owned The Mandarin restaurant in Ghirardelli Square, which was very popular for introducing non-Cantonese banquet cuisine to non-Chinese Americans (from 1958 to 1990) who did not have much experience with Chinese food. She also had a restaurant in Beverly Hills, also called The Mandarin.
Her son worked at the restaurant and got tired of Chinese banquet food, and wanted to introduce simple Chinese worker's food to white and other non-Chinese Americans.  In order to do this, he went to small hole-in-the-wall restaurants in Hong Kong and Taipei to do some menu research. He then opened a small restaurant in Los Angeles called The Mandarette. While there, he developed the idea for cheap friendly simple Chinese fare for Americans in a simple but friendly setting. Most importantly, it had to be clean and presentable.
Eventually, he found an investor and opened the first P.F. Chang's in Scottsdale, Arizona in 1993. They deliberately chose a city with few Asians so that they could test the menu and see if non-Asian Americans would go there. As they gained traction, they opened in affluent areas such as Newport Beach, CA. Now, they have gone international and have opened in cities such as Beirut, Istanbul, Manila, and other cities. Here is a map of their international locations: P.F. Chang's China Bistro.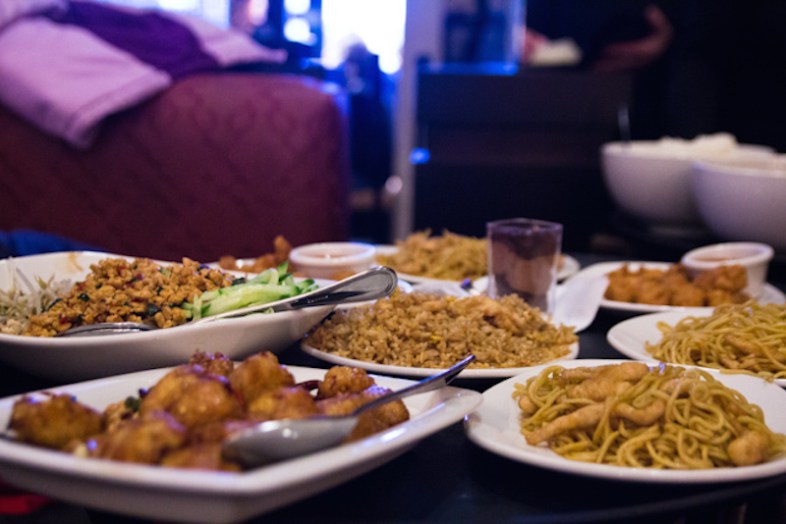 The funny little secret is that it deliberately avoids opening in areas with large Chinese populations because Chinese are likely to compare it with the traditional Chinese cuisine they know best, and find it lacking. Another funny little secret is that they tend to avoid hiring Chinese chefs: this is because Chinese chefs will change the menu to fit what they think it should taste like, when instead P.F. Chang's caters mainly to a non-Chinese clientele. If you walk into a P.F. Chang's kitchen anywhere in the US, you will find that most of the kitchen staff are Mexican.
As the chain has grown, the menu has departed more from the original concept of Chinese worker's cuisine, adding in modified dishes found in Thailand, Malaysia and Indonesia. Basically, the whole idea is to sell Asian cuisine which Americans and other non-East Asians feel comfortable and safe eating. Many non-Chinese Americans who don't know much about Chinese food would consider going into Chinatown for a pricey meal a small adventure; P.F. Chang's is designed to remove that anxiety.
In the process, P.F. Chang's has become a successful business. It went public in 2007, and then was later bought out by a hedge fund. Now it even sells frozen pre-cooked dinners.

This answer originally appeared at Quora: The best answer to any question. Ask a question, get a great answer. Learn from experts and get insider knowledge.