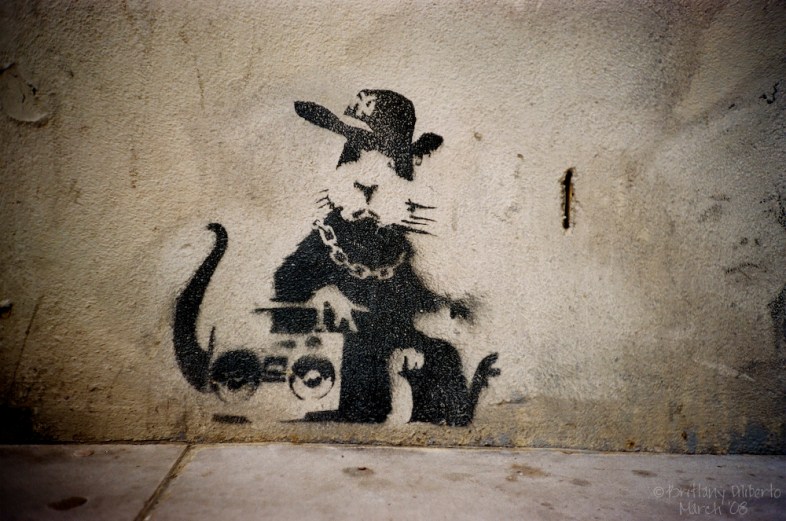 You know, I could begin with the postulation that most people who look like me profess an affinity for hip-hop (or rap, if you're not up to date on the five elements: breathing, sleeping, eating, shitting, and fucking[1]) as some exercise in irony; that the interest is merely one in a long line of the appropriation of Black American culture by people who… look like me (whether intentional or not), but such a hypothesis would be disingenuous. Because in this context, if I'm excoriating those who look like me, I might as well lump myself in there as well. And besides, I'd never want to be accused of being a polemicist, would I?
No.
However, I will own up to being an appropriator. Recently, I completed a three-month long (LOL) endeavor to almost exclusively post to Facebook 30 of my favorite rap tunes. This was by no means an original idea as my friend—and sometime artistic collaborator—Guido had done the same on at least two other occasions for reasons that are obscure to me.[2] I figured I'd give it a shot, especially since the most consistent thing I'd ever done on Fb up to that point (and still, really)[3] was post pictures of my son.
Observations before Overview
I tried to do things with my postings Guido didn't do; sometimes adding bonus videos that were related somehow to the artist or song.
The posts themselves didn't receive many LIKES or COMMENTS.
There's not a whole lot of variety and only a minimal amount of eclecticism in the posts. The most obscure is probably the Badnooz Boogz video.
There are only two female rappers represented, and one is in a cipher. Strange considering there are a lot of good young ones out there I like.
Nas, Kweli, Monch and Das Racist (and Heems and KOOL A.D. solo), appear frequently as fuck.
There's only one white rapper. Please don't make me talk about white rappers. My mom said I didn't have to!
August 4th (the first post), to November 22nd (the last) is 103 days. 31 videos is roughly the equivalent of 1 video every 3.325 days. Don't hold me to that, though. My math is pretty shitty.
Day 1 was Simon Says by Pharoahe Monch w/Lady Luck, Jay-Z, Kanye West, Method Man, Redman, Shabaam Shadeeq, and Busta Rhymes. My favorite verse is Monch's, and of course I'm always moved by being told to "GET THE FUCK UP!" whether at concerts or in the privacy of my own home.
Day 2 was Hot Thing by Talib Kweli. I've always identified with the whole "I'll make describing your beauty my sacred duty/I will write a song, write a book, make a play, make a movie" line.
Day 3 was Shut Up, Man by Das Racist w/El-P. I don't know. I like the beat and air-rapping to all the verses.
Day 4 was Tha Whip by Le1f. I'd already posted my favorite of his tracks previously, and thinking that maybe people actually paid attention to the shit I post, I put this one up.
Day 5 was That's Gangsta by Shyne. I don't think I like anything else on that record.
Day 6 was Nastradamus by Nas. Because everybody hates this record and because apparently it was one of the songs that set off the whole Jay-Z beef. And no, I didn't poster Ether.
Day 7 was Paragraphs of Love by Ghostface Killah. Whoever posted the video spelled the title wrong (Paragraphes), but the song has Starks' trademark narration and a good hook. A lot of people hate this record, too. I love it.
Day 8 was not a song at all, but a spoken word poem by the late Amiri Baraka entitled Why is we Americans? Ever read The Dutchman? If not, you should. What that has to do with the poem or with hip-hop in general… well, you'll just have to figure that one out because I've been drinking way too much.
Day 9 was Sound of da Police by KRS-One. KRS is a legend and a pretty nice dude if you ever meet him. I think I posted this one as some kind of reference to current events. Or ever-recurring events. Or the perpetual state of things in general. I don't know.
Day 10 was Push Thru by Talib Kweli w/Kendrick Lamar and Curren$y. Everyone talks about the Control verse, but I think K-Dot's here was better. This one was largely overlooked, I think, because Kweli isn't a mainstream draw.
Day 11 was Rage by Jarren Benton and The Dillinger Escape Plan. I'm a huge DEP fan, but I'm kind of over Horrorcore, and honestly, this slot would've better been reserved for a classic or newcomer or something. My only real regret on the list.
Day 12 was Gangsta Rap Made Me Do It by Ice Cube. Cube is pretty facetious and condescending here, and in a good way. I think I posted this one when it was first released, but my rationale here was that I'd gotten enough new friends and enough time had elapsed and no one follows me closely enough to remember that anyway. Once again, no one cared.
Day 13 was Blood on the Leaves by Kanye West AKA Yeezy AKA Yeezus. Probably my favorite track off Yeezus, an album it took months acclimatize my ears to and blah, blah, blah. Death Grips blah, blah, blah.
Day 14 was Broken Again by Pharoahe Monch. At first I thought I was hearing Foreign Exchange (not on this list), which is always a good thing, but it was Monch, so that was an equally good thing.
Day 15 was Outta Control by Joell Ortiz. If you search "Control response" on YouTube, there are several "diss tracks" or "responses" aimed at Lamar's verse. Of those, I think I like Ortiz's is the best. It's boastful, punchy, and a little silly, but it's gotta be better than Lupe's track that always comes up on the search but doesn't use the same beat or really make any sense to the naked ear at all.
Day 16 was Money over Bullshit by Nas. Nas is probably my favorite MC—err—rapper. Here he talks about having money that I don't have and in all likelihood never will, but I still air-rap to it. And of course, I am in agreement with Nas re: hip-hop.
Day 17 was Who's that? Brown! by Das Racist. The "official video" for this track is awesome, but what always sticks in my mind is when someone, somewhere asked Heems if he thought a lot of their white fans weren't really fans of hip-hop and were just jumping the bandwagon because they were an acceptable shade of brown. I think his answer, in the short, was yes.
Day 18 was—speaking of Hima—Adina Howard by Heems. I wonder if Adina Howard ever heard it.
Day 19 was This is Why I'm Hot by MIMS. If you couldn't wrap your head around 2 Chainz calling her big booty 'cause she got a big booty defense, you probably won't buy MIMS' reasoning here.
Day 20 was Kill Screen by Jean Grae. She's kind of a go-to for a lot of "conscious" dudes when they need some estrogen on the track. But of her own merit, she's one of the best. I was hoping I'd get a like for the video alone. No such luck.
Day 21 was Smile no More by Badnooz Boogz. There's like three tracks on YouTube. Can't really find more quality stuff from him than that. It's sad, really, because he's good. I think he decided to do something else with his life.
Day 22 was Swimming Pools by Kendrick Lamar. Being a low-key alky, I love the idea of a swimming pool full of liquor.
Day 23 was C.R.E.A.M by Wu Tang Clan and some live version of Barely in Love by Kamaal the Abstract AKA Q-Tip w/The Roots. For some reason I Groundhog Day'd day 23. It's cool, because I couldn't have picked a better day to live the same shit over again but with totally different tunes. Sorry for the crappy analogy.
Day 24 was I Gave You Power by Nas. Yes, I love Nas. And any time I hear dudes lamenting the "death" of the second amendment, I'm always glad Nas describes an uncut cock when talking about how he's like a gun.
Day 25 was Trapper Keeper by Weekend Money w/Fat Tony. Kind of surprised I didn't have more Fat Tony on this list. He's great on the mic and I remember him once performing live off a cd Walkman with like, 11 people in the room.
Day 26 was Jesus Piece by Lakutis. Forget the Star Trek reference for a name, this white dude can rap when he wants. But mostly it seems like he just vamps in his friends' music videos.
Day 27 was The Proud by Talib Kweli. Probably Kweli at his best. This was another current events statement.
Day 28 was the Tupac song Dave Chappelle did in season 3. It was probably the best thing out of that season, and if you bought those lost episodes, you're a dick.
Day 29 was Ms. Jackson by Outkast. Big song when I was in high school. I like the video because Big Boi is rocking a Dallas Cowboys jersey, and I'm a huge Cowboys fan (shut up).
Day 30 was Mathematics by Mos Def. He's way better at math than I am, and it's like, the 5th or 6th political video I posted. I don't know, I can't count, so my son's got a long five years of high school ahead of him.

---
[1] Or if you view the music as not being music at all or you focus strictly on the negative aspects of the work of some artists, saying the word "rap" with disgust; an outright dismissal.
[2] It may have been a #hashtag movement on Twitter at some point; I don't know. People are strange and move in mysterious ways much like the god they always talk about.
[3] I'm almost certain August-November constitutes quite a bit more than 30 days, and when you see the list, you will notice there are 31 videos.