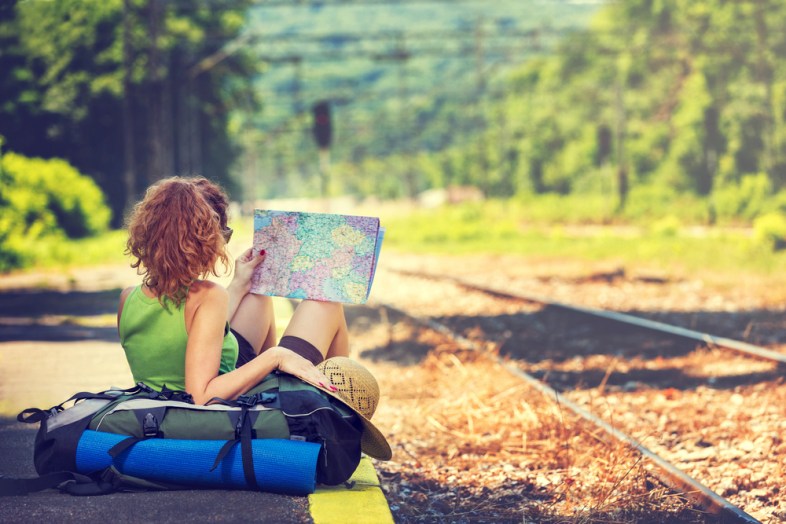 Traveling alone and on a budget is something I started doing when I was nineteen, the summer after my freshman year of college. France was the country of my dreams and I had never been before, even though one of my majors was French. I had savings from spending part of junior year and all of senior year of high school working as a Pharmacy Tech at a local CVS, so that was going to have to be my budget. What else would I need? A cheap flight, a cheap language program, and money to buy baguettes. Since that first trip, I've traveled abroad alone more than 15 times, always on a budget, and always having a great experience. Here are some things I've learned:
1. You need to find a flight deal.
Start looking at least 8 weeks in advance, and (if it fits your schedule) book a trip during an off-tourist season. You can use Kayak or Skyscanner to search for cheap flights and set price alerts, or you can go directly to a low budget-friendly airline like Norwegian Air. Two one-way tickets are sometimes cheaper than a round-trip ticket, and don't be afraid of a layover or two. If you're ready for something expert-level, you can try finding a flight deal from JFK to Edinburgh, for example, flying from there to Paris with Ryanair, booking a cheap one-way flight back out of Paris with Easyjet, and then flying back to JFK via another airline. This might sound like a lot, but it can save you a few hundred dollars right away, so it's worth putting the time in, researching, and looking at all of your flight options before you buy a ticket.
2. You need to pack light.
You're on a budget and you're going alone, so once you're beyond the airport, you'll be using public transportation by yourself. Can you haul two suitcases up and down the Parisian metro alone? (No.) Can you run after a bus with a giant suitcase and a carry-on? (No). Even if you're going for a full month, you really don't need that much stuff. Lay out all the stuff that you think you need and then take one-third.
3. You need a guidebook.
A lot of people use apps instead of guidebooks, but I combine forces and bring a guidebook if I'm going to a city I don't know. When your WiFi fails you, a guidebook will have street and subway maps, useful phrases in the back, and other info that might come in handy.
4. You need a place to stay.
Hotels are rarely for low budget travelers, and places like hostels can actually be expensive in some cities (like Paris during tourist season). Right now, Airbnb seems like the best deal in Europe. Depending on what city you're going to (for instance, Amsterdam books up fast on Airbnb, but Copenhagen doesn't), you might need to start your search a few weeks in advance. Look for Airbnb hosts who are verified by the site and have lots of positive reviews from other travelers. If you don't know anything about the city that you're going to, Google the neighborhood where the Airbnb home is located to make sure you'll feel comfortable and safe in that location.
5. You need to tell your bank you're going abroad.
If you don't, you run the risk of being blocked at the ATM when you try to withdraw money or have your card declined when you go to pay for food. Along the same vein, you need to get a bankcard that doesn't charge you foreign transaction fees. Otherwise, you'll get hit with a 2 to 3 percent charge on top of each purchase. Your bank probably has one they can offer you, but you need to give them a few weeks' notice to process your application and mail you the card.
6. You need to scan a copy of your passport and your travel itinerary and e-mail it to yourself and someone responsible at home.
In case your passport gets lost, stolen, or damaged, it makes it that much easier if you have a copy of it scanned and saved. Also, someone back home should know where you're going to be traveling and staying just in case of an emergency.
7. You need a creative outlet.
Bring a sketchbook, a journal, a camera — anything that lets you express yourself. You'll be spending lots of time alone walking the city streets, trying tasty foods, and wandering in an out of museums and castles. You'll want to remember some of it or jot down your observations for later. Plus, if you do start to feel lonely, sketching or writing will help relax and calm your thoughts.
8. You need to shop at the local grocery store.
Buying food at a café or restaurant every day is just not sustainable if you're a low budget traveler. Airbnb hosts are usually okay with you sharing their kitchen, so head over to the local grocery store and stock up on food for the week.
9. You need to use public transportation or just walk everywhere.
European cities are very walkable and have great public transportation systems, which are usually a combination of an underground rail, an aboveground rail and a bus system. Hopstop.com works really well, and integrates the bus system into your trip planning. There are usually daily, weekly, or monthly bus, rail, or combo passes available so research this before you go (and where to buy tickets).
10. You (might) need to hang out with some locals.
This depends on how long you're going to be abroad. One of the easiest ways to do this is by meeting up with friends of friends who you trust. Another way is to look at the Meetup.com groups that are hosting a trivia night (or anything you're into) when you're there. A third way is to sign up for a class, like cooking, yoga, or a sport. And, if you're there even longer and have time, you can join a culture and language exchange club (like InterNations.org) to start meeting expats and the locals who hang out with them.
11. You (might) need to be in touch with people.
This goes for either people back home or the locals in #8, above. Download the Skype app to your phone before your trip and make your mom (or whoever) do it, too. This way, you'll have free calls to your loved ones. Also, Skype is great if you need to make a quick phone call locally, like to the airport to check on the status of your lost luggage. You'll pay pennies per minute for the call and have peace of mind. Download Whatsapp to message with friends at home and locals over your WiFi connection, which you might have to get at a café although some cities do have public WiFi (like hotspots in Warsaw). If you're abroad for a month or longer, consider getting a cheap pay-as-you-go flip cell phone to make calls.
12. You (might) want to take a language class.
This also depends on how much time you'll have abroad and what your budget is. The cheapest way to do this is to skip going through a US agency or, in some cases, your college, and sign up directly with the university abroad. All of the sign up information is usually on their website, just make sure that you give yourself enough time to get all of the required paperwork in before the deadline (and if you're going for a semester abroad, make sure you give yourself enough time to get a travel visa from a consulate in the US). If a full-on class is out of your means, look into local language exchanges, which usually have a FB fan page to keep things organized.
13. You (might) want to research local fashion trends.
Not everything that is happening in the US right now is happening in Europe, fashion-wise. Black will always be in, but flannel and distressed jeans might not be. If you want to somewhat blend in when you're abroad (or just not look like a tourist), do a quick sweep of the internet to see what stuff you should leave back home while still bringing clothes that are true to you.
14. You (might) want to learn some experiences that Americans have had abroad in that country.
Depending on the country, the material available online can be anything from e-books to YouTube videos to blog posts. The important thing is to get some information and insight on where you're going. You might also learn to avoid the typical blunders that Americans make when they arrive in that country.
15. Don't do things abroad that you wouldn't do back home.
If you're not already walking on the wild side at home, being alone in Europe might not be a great first time to experiment with this. Plus, if you ever feel the creepy vibe from someone, trust your instinct and run away.