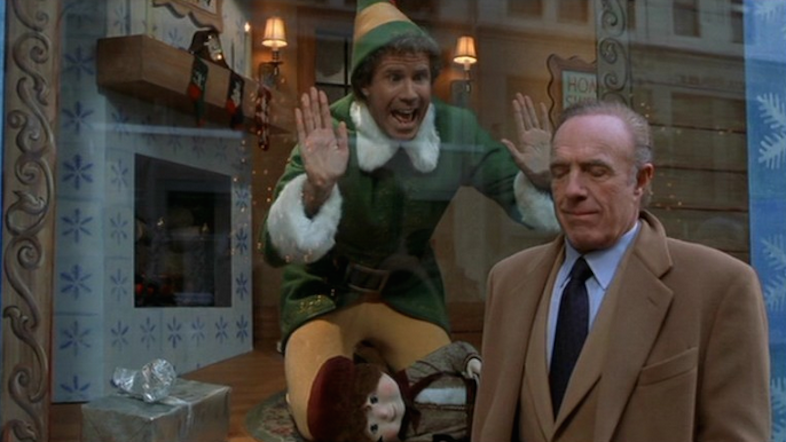 1. Quoting Elf
Arguably one of the greatest movies ever created… Quoting Elf brings me much more happiness than it should. This will be demonstrated by a related quote for points 2-16.
2. Christmas music
Whether you're one of those people who listens to Christmas music in October (me) or one of the people who refuses to start listening to it until Thanksgiving night, you have to agree Christmas music makes you happy and gets you in the spirit!
"I'm singing! I'm in a store and I'm singiiiiing! I'm in a store and I'm siiiiiiiiingiiiiiiiing!"
3. Christmas movies
A Christmas Story, Santa Claus, The Polar Express, Frosty the Snowman, Home Alone, How the Grinch Stole Christmas, Love Actually… and Elf.
"I'm sorry I ruined your lives… and crammed eleven cookies in to the VCR."
4. Christmas lights
Driving suddenly becomes way more enjoyable than any other time during the year because there are beautiful lights popping up everywhere!
"It looks like a Christmas tree!" (referring to elevator buttons)
5. Holiday cheer
People are happier (unless they're more stressed) during the Christmas season. It's about giving, not receiving! So go spread cheer and make someone smile.
"Deb, you have such a pretty face, you should be on a Christmas card!"
6. Decorations
Seeing the decorations around the house gives me the feels. Garlands, mistletoe, Christmas trees!
"It's just nice to meet another human that shares my affinity for elf culture!"
7. Santa
Milk and cookies, all the reindeer, sleigh bells… and of course…  presents.
"SANTA! OH MY GOD! SANTA'S COMING! I KNOW HIM! I KNOW HIM!"
8. Candy canes
You know that once candy canes start showing up around the grocery stores and convenience stores, it's time to start celebrating!
"We elves try to stick to the four main food groups: candy, candy canes, candy corns, and syrup."
9. Family
There's no place like home for the holidays…
"I'm a human, but I was raised by elves." "I'm a human, raised by humans."
10. No school
SCHOOL BREAKS WOO! Without school there's time to do everything!! Or at least plan out everything you want to do…
"First we'll make snow angels for two hours. Then we'll go ice-skating. Then we'll eat a whole roll of Tollhouse Cookie dough as fast as we can. And then… we'll snuggle."
11. Yummy food
Omelets for breakfast, Grandma's ham for dinner, and of course, Starbucks holiday drinks.
"It tastes like a crappy cup of coffee… it IS a crappy cup of coffee."
12. Snow
I'm a winter person and I'm a snow person. But even if I wasn't, there's still something so magical about the first snow of the year dusting the Earth in white.
"Son of a NUTCRACKER!" (snowball fights too)
13. Winter clothes
Scarves, hats, UGLY CHRISTMAS SWEATERS! Need I say more?
"Why is your coat so big?"
14. Christmas themed dates
Ice skating, seeing lights, watching Christmas movies… all with hot chocolate (a must).
"So… do you wanna eat food?"
15. Christmas smells
Cinnamon, vanilla, sugar cookies… you know those Yankee Candles I'm talking about.
"You smell like beef and cheese, you don't smell like Santa."
16. It's a season, not a day
Christmas is more than just December 25th. It's a season of happiness, love, and anticipation… if you haven't started celebrating yet, you're LATE!
"The best way to spread Christmas cheer is singing loud for all to hear."