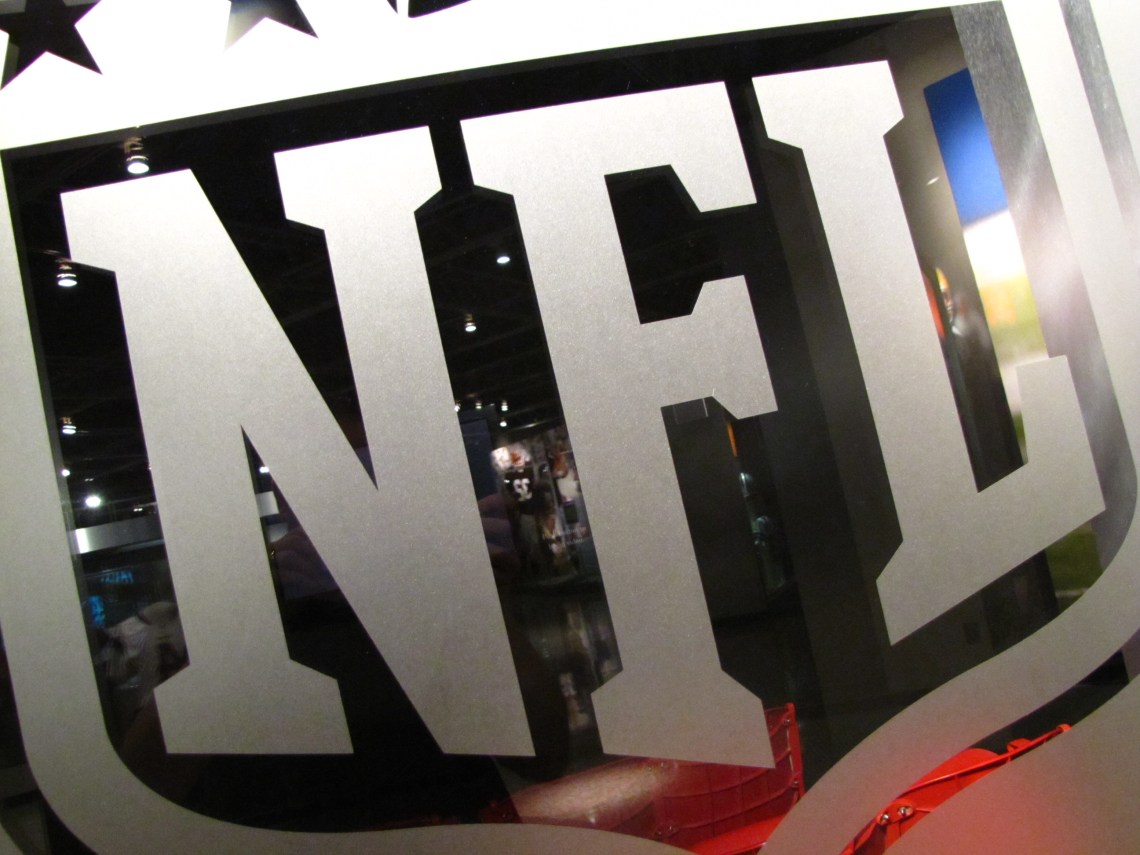 Dear Fellow Football Fan,
For decades I have been defending my love of watching the National Football League (NFL). My job and hobbies put me in close and constant contact with activists, liberals, and self-proclaimed free thinkers. Generally, these individuals are puzzled by my Sunday commitment to drinking alcohol, eating pizza, and screaming at the NFL's television broadcast. They tell me "football is a spectacle that distracts from real things that matter" or "football exists to build patriotism and advertise goods not needed by the consumer" or "it is a sexist bunch of criminals being paid to hit each other" or "it is an activity where poor people destroy their bodies to generate profits for the wealthy." As these phrases are uttered, I roll my eyes and explain that watching the NFL is a ritual of friends and family. I remind them that football is a sport, and like all sports it is based on competition. My attraction to football is rooted in watching my team's coaching, drafting, and strategizing leading to a winning season.
Since I can remember, I loved to watch the San Francisco 49ers. They played in five Super Bowls throughout my life-time and I watched every play. They had a team stacked with hall of famers such as Jerry Rice, Joe Montana, and Steve Young. It is a tradition in our home, since my childhood, to wake up early on a Sunday morning, stuff our faces with food and drink as we cheer on our teams. As a 49ers fan, that included sitting through 8 straight losing seasons. But loyal fans do not abandon their team during the poor years, because sitting through those losing seasons somehow makes the winning seasons that much better. In fact, during those eight seasons, I watched every play. I have spent tons of money on gear, tickets, and bar tabs to take in every minute of NFL action. Annually, I watch every playoff game and Super Bowl to see who would to hoist the Lombardi Trophy at the end of a grueling season.
However, I have become increasingly disillusioned by the NFL. In just the last few years, the NFL has shown that my colleagues were correct. The NFL is a spectacle of consumerism and patriotism posing as culture. It is a sport that abuses the poor and weak; just look at the refusal of Washington to change their name from "Redskin." The NFL is about profit, and their commitment to profit often comes at the expense of the competition.
Competition is dependent upon two teams strategizing and playing their best. Only the team best prepared and built wins the game. However, in the NFL that is not always the case. The team who best undermines the rules wins the game. In fact, Hall of Fame Wide-Receiver Jerry Rice has admitted to cheating by using a sticky material on his gloves to catch balls easier in games. Hall of Fame Quarterback Joe Montana admitted that his offensive line used silicone on their hands to better protect the quarterback. All teams cheat. They cheat so much a website called Your TeamCheats.com was created. It is complete with a list of the hundreds of known cheating scandals in the NFL. However, when it comes to cheating in the 21st century, no team can hold a candle to The New England Patriots, who made cheating an art form. Since 2001, when the Patriots became one of the most dominant franchises in NFL History; they have been entangled in scandal after scandal. They have been caught using cameras to spy on other teams A.K.A. Spygate, deflating balls in an AFC Championship game to get an edge on their path to the Super Bowl A.K.A. Deflategate, bugging locker rooms, and in 2001 illegally clearing the field of snow for a field goal kick and having referees overturn a call that enabled them to continue on a path to their first Super Bowl victory of the 21st century A.K.A. The Tuck Rule Game.
This is where the NFL shows that it is all about profit and not competition. The NFL cannot be responsible to catch every infraction nor stop them before they happen. However, in the case of DeflateGate, Patriots Quarterback Tom Brady was caught red-handed with phone messages to the person who ultimately deflated the balls. However, the NFL only gave him a four-game suspension because he is the face of the league and his jerseys sell like hot cakes. He is on the cover of magazine and video games, and stars in commercials for the NFL. This is because the NFL unlike other major sporting organization values profits from merchandise not competition. For example, Major League Baseball's Pete Rose is one of the all-time greats and his on the field ability has surely earned him a spot in the MLB Hall of Fame. However, because he gambled while playing baseball, he is banned for life. But the NFL could care less about the offense; they are more focused on expanding and preserving their viewers. Thus, they maintain the illusion that the game is not rigged and star quarterbacks and coaches like Brady and the Patriot's Head Coach Bill Belichick do not cheat.
The NFL's dedication to profit allows for severe player punishments only if those punishments do not threaten profit margins. For example, the NFL has tried to champion itself as a league that opposes off the field criminal behavior. Recently, the costly negative press over quarterback Michael Vick taking part in dog fights to the death, running-back Adrian Peterson beating his children, and running back Ray Rice beating his fiancée, now wife, on video in a New Jersey Casino elevator led to all three players being cut from their respective teams. However, these players were only fired because they are causing the league to get flak over the crimes their players commit. Hundreds of players commit crimes every year and remain on their respective teams. These players were all stars so they drew media attention. The attention was negative, costing time and money in lost merchandise, ticket sales, and potential advertisers. Thus, the accused players are cut before the league could incur heavy costs.
Once the press stops covering the incidents the league keeps these criminals on the field. For example, Vick came back to the NFL after a jail stint and has played as a starting quarterback. Peterson will return to play for the Vikings Rice sued to get all of the remaining $3.5 million paid from his original contract. It is reported he succeeded in getting nearly all of that money returned in an undisclosed settlement. Furthermore, league rumors claim that the Cleveland Browns are discussing adding Rice to their roster. While the league and the teams are lauded for cutting these players, the cuts are actually strategic. Teams only make the cuts when the flak is too heavy or the team does not shot at a playoff victory. For example, 49ers defensive tackle Ray Macdonald was charged with domestic abuse in 2014. The 49ers kept him on the team for weeks and finally cut him one day after a loss which made it mathematically impossible for the team to advance to the playoffs.
The NFL maintains carefully constructed propaganda campaigns to keep their fans loyal and their profits plentiful. For example, the NFL broadcasts of commercials which argue that they oppose domestic violence. However, in the last year alone, ten players have been arrested for domestic abuse. Furthermore, in the 2015 off season, the Seattle Seahawks have signed 6 players with domestic dispute charges against women. Similarly, the NFL has lied and pressured sports outlets, such as ESPN, to not cover the relationship between playing football and concussions.
Furthermore, the NFL has been caught spending funds to silence the 2015 film Concussion which illuminates the dangers of head injuries by people who play football. The NFL also prides itself as a supporter of the US military. However, the US military is an advertiser for NFL. The NFL annually receives millions of dollars for US military for advertisements to promote patriotism to the working class fans who will undoubtedly fight the future wars. The NFL also blocks out ads it believes will hurt its profits; such as a gay dating website which tried to produce a Super bowl ad.
The focus on profit over competition has gone beyond the league into teams, players, coaches, and owners. For example, players like wide receiver Randy Moss have long been known for giving up on plays when a season is in jeopardy. That way he can keep himself in shape and avoid injury. Players' lack of commitment to their team or the art of competition will likely worsen as players such as 49ers tight-end Vernon Davis allow individuals to purchase stock in them. This is will make the team sport of football into a game focused on individuals and their profits. Teams have shown their disregard for competition and love for profit in scandals such as "bounty-gate," where the New Orleans Saints players were paid to injure other players rather than defeat them with talent, skill, and strategy. Probably the most famous act of profit at the expense of competition was when Los Angeles Raiders owner Al Davis re-signed the great running back Marcus Allen. Allen had been holding out in his contract for more money, Davis signed and benched the future hall of famer. This was to serve as a sign to other players that demanding a raise in pay will result in severe punishment. Allen's time on the bench meant less time to accrue the player statistics which are paramount for cementing a bigger contract or entering the Hall of Fame. Luckily for Allen, he made it to the Hall of Fame. However, it hurt Raiders fans who lost their star running back.
Recent behavior by NFL Ownership in the San Francisco Bay Area demonstrates how owners put profits above competition. In the 21st century, the owners of the Oakland Raiders and San Francisco 49ers have both dismantled winning teams for reasons that have nothing to do with competition. Meanwhile the fans who attend the games and spend their hard working cash on those teams end up watching a dud of a team. For example, In 2001, Al Davis fired his head coach John Gruden, most likely because Gruden would be receiving a larger contract. This resulted in the Oakland Raiders facing twelve straight losing seasons. The dismal team partly resulted from talented players and coaches refusing to come to the Oakland Raiders because a fair pay day was seen as impossible. They recognized that if the Raiders could fire Gruden, one of the greatest football minds of all time, clearly anyone could be fired in lieu of a pay raise. Ironically, the Raiders are known as having one of the biggest and most loyal fan bases of time. Their loyalty was repaid with football mediocrity.
In 2015, history repeated itself in the Bay Area with the San Francisco 49ers. By 2011, the San Francisco 49ers built a team that was the envy of the league. Many believed Head Coach Jim Harbaugh was the glue keeping the franchise together. The team owners made a ton of money off their four years with Harbaugh's coaching. Harbaugh ended the team's eight season losing streak, and brought them to three NFC Championship games and one Super Bowl. Team owner, Jed York, leveraged the funding and team popularity to buy a new stadium in Silicon Valley, far from the fans who provided the revenue for the team through those eight losing seasons. The new stadium was in the most expensive part of the Bay Area, complete with luxury boxes. The seats were expensive and fans signed into decade long contracts known as Personal Seat Licenses (PSLs). For thousands of dollars the PSL guaranteed a fan that they would have a seat in the 49ers Stadium for the next decade. The eye soar monstrosity of a stadium was too far away and expensive for most of those loyal hardworking fans – parking is $75. Within a year of the stadium being built and the PSL's purchased, Harbaugh was fired and replaced with Jim Tomsula. Rumor has it that Tomsula was known as being obedient to the will of team ownership, while Harbaugh liked to debate and challenge the ownership. The team was dismantled as frustrated and outraged players left in droves for other teams or in some cases retired. Being competitive is clearly not your focus when you fire a coach with a 44-19-1 record, including three NFC championship and one Super Bowl appearances.
The fans were rightly outraged as well. They wondered, what am I getting from watching the NFL? I can invest my time and money to watch a team suffer, suck, build, improve, compete, and make it to the top. Then one owner can dismantle it over personal conflicts? What am I watching for? That means the future of the team only matters to the owner. A fan's economic support is needed, but irrelevant. It is a futile exercise to align the pockets of profit driven shallow owners. In fact, this is obvious every Super Bowl. The Lombardi Trophy is given to the owner, not the players, even though it was their blood, sweat, and tears that made it possible.
The 49ers are not alone. The commitment to profit over competition is a league problem. A problem my colleagues and confidants were aware of years before myself. Unfortunately my fellow fan, it will be tough for you to realize what I am explaining in this letter. The NFL inundates its fans with a hefty dose of propaganda. Much of it disseminated through the NFL approved mega-phone known as "sports media." On radio, television, and internet, the insiders, reporters, and former players take part in a game of verbal diarrhea over what will or will not happen in upcoming games. This over analyzed minutia will not serve to expose the NFL, because "sports media" profits from viewers. The viewers tune in to be convinced that the NFL is committed to competition. To report on anything else would be like pro-wrestling insiders reporting that a match's outcome is pre-determined. All I can say is that I will not watching the NFL. I still love football and the competitive aspects of the game. But the NFL is not football. It is a for-profit spectacle appealing to the patriotic emotions of hard working folks. I anxiously await your response, which I hope will include a plan for future Sundays.
Sincerely,
Nolan Higdon