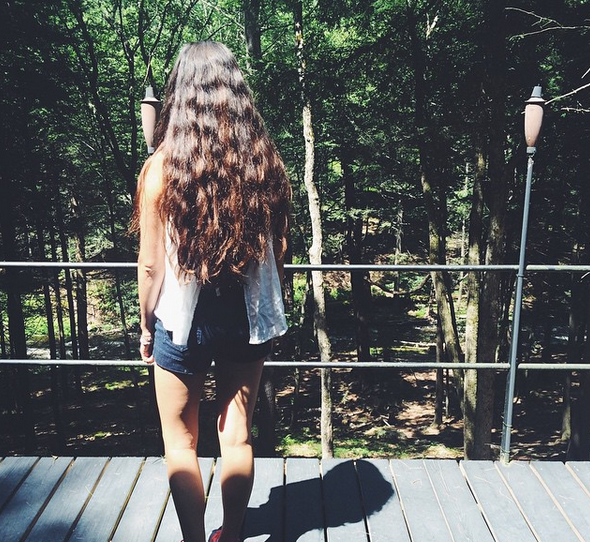 1. Moroccan oil is my best friend
When my hair feels frizzy and dry, moroccan oil adds moisture so that I don't have to straighten my waves or curls to look presentable.
2. Leave-in conditioner
Similar to moroccan oil, this adds moisture. I look for leave-in conditioners with natural ingredients that I can pronounce and understand. Leave in conditioners with harsh chemicals are like an oxymoron, don't use them. This one is perfect for curly hair, and you can find it in basically any drug store. I apply leave-in conditioner to my towel dried hair after almost every shower.
3. Hair masks
You use masks for your face, so why not your hair?! Hair masks make your hair feel super soft and while I'm not 100% certain they reduce damage done by curlers or straighteners, they sure make it seem that way. If you want your split ends to look less split and feel more healthy, hair masks definitely help, and most of them only take 5 minutes so having a busy schedule is no problem!
4. I don't shampoo every day
This isn't gross, it's healthy! You can still wash your body, just skip your hair. You don't need to shampoo every time you shower, I've noticed this adds shine and moisture!
5. I avoid heat as much as possible
I try to keep my curling and straightening to a minimum. I usually only use heat to style my hair on the weekends. It's understandable that you need and want your hair to look presentable for various reasons (work, dating, special events), but you don't need to damage your hair while doing so. Find a cute style that requires no heat at all. I love wearing my hair up because A) it's easy and B) it looks descent without requiring me to literally fry my hair.
6. I don't cut my hair as often as professionals tell me to
My hair dresser tells me to cut my hair every 6 weeks (or something along those lines), but if I'm being honest, I get my haircut every 6 months. GASP! All hair stylists are probably cringing while reading this, but my hair is relatively healthy, and definitely long. It has worked for me, but you probably know your hair better than anyone. If your hair has gotten to the point where it is no longer growing, you probably need to cut off those dead ends.
7. I eat healthy (most of the time)
I love fruits and veggies, and the vitamins included definitely help my hair, skin, and nails. Eating healthy has infinite benefits, body, mind…and hair.
8. I don't color my hair
A lot of people find it a necessity to dye their hair, and some women look fabulous with their colored locks, but I think the fact that I don't dye my hair definitely helps it grow longer, faster. I've gone through phases of just wanting a different color, so I've used temporary box dyes that are ammonia free, they actually make your hair feel really soft and silky, and the color washes out within a few weeks.
9. I don't blow dry my hair (unless I have to)
Again, avoiding heat as much as possible, I always let my hair dry naturally. If I have to wake up early, I shower the night before and sleep on my hair wet. I don't know what exactly I do in my sleep, but sometimes the crazy bed head waves look better than when I actually try. It's literally an 'effortless' look.