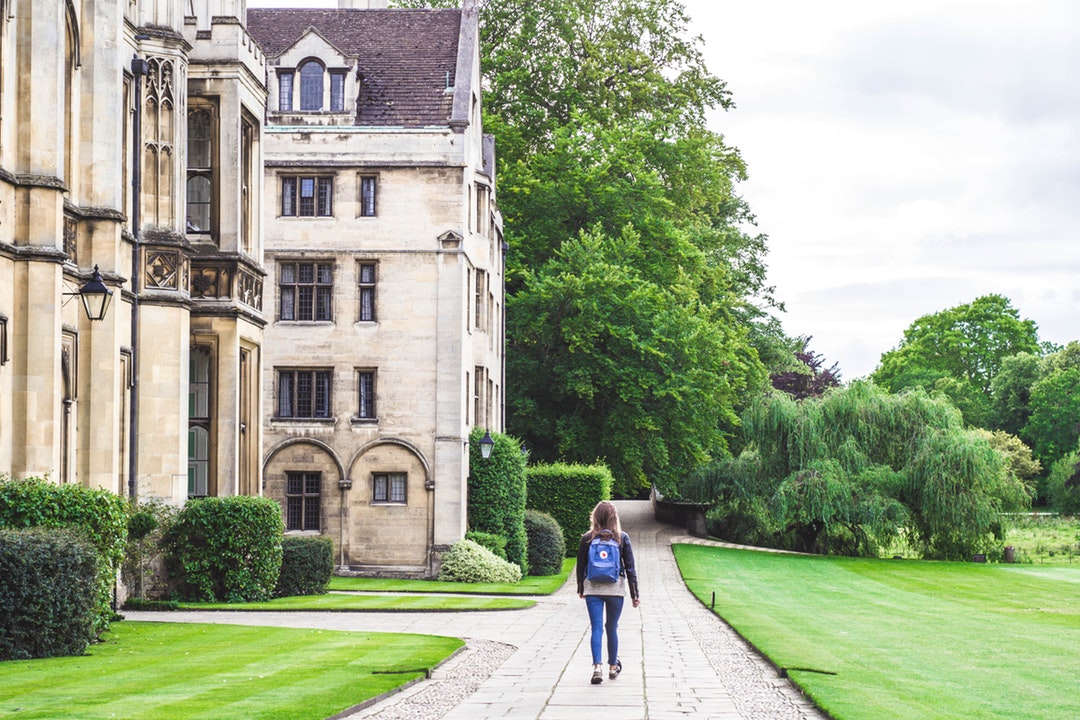 I am almost alone on the Yorkshire moors, in the heart of Brontë country.
Almost alone, except for the company of the tour guide I've hired for a guided walk, or is it a hike? No, I am quite literally traipsing my way across one of the most famous settings in literary history. It is antiquity. Canon. And I am surrounded by it. Enveloped. Realizing more and more every second that this place is as real as Cathy and Heathcliff have been in my mind. I breathe it in, and am reminded of the London cab driver who promised me that the air here would be so much cleaner. It is. And for the first time in a long time, I remember what it is to feel alive.
Shortly before, minutes after arriving in Haworth, inching my forty pound, or should I say twenty-two kilogram, suitcase up a sharp, steep incline, towards the place I'm staying for the night, I chuckle to myself. I had been sure the theme song of this leg of the trip would be Kate Bush's "Wuthering Heights," but instead it's one of her other songs playing in my head, "Running Up That Hill."
The walk with my tour guide, Johnnie, is less strenuous. He's warned me this will feel like walking with my grandad, and he could not be more right, but I haven't told him yet that my grandfather has Alzheimer's and hasn't had the eyesight to traverse this kind of terrain in years. My grandfather, the man who smoked his last cigarette driving himself to the hospital after a heart attack, who carried his bicycle back to his car after flying over the handlebars and breaking his pelvis, who bartended into his eighties, staying out later than I do in my twenties. Who taught me to love the smell of cigars, to connect with art on an emotional level, and that it's okay to miss someone.
Johnnie contains the same kind of wisdom. Factual, historical, emotional, spiritual. He feels like a guru, like a guardian angel. He relates to me stories of the Brontë family verbally, and I am reminded of a book I read about storytelling as healing. He makes it somehow personal and asks me if I've ever had someone, a teacher perhaps, who believed in me, who encouraged me. I answer yes without hesitation, but do not explain to him how a college recommendation letter I saved from the teacher who pulled me out of class to read with her in Kindergarten was the encouragement I needed to turn my life around at twenty-five. How it had been years since anyone had said anything that nice about me. That personal. How it had made me cry because I didn't feel like I deserved it anymore. How this trip was partially me trying to earn it all back.
He tells me how Patrick Brontë met his wife, Maria. How it had been fireworks, magnetic, an instant connection. I relate to that too, but do not tell him how or why.
Days later in Inverness, I find the walled garden open, so I don't have to use my hotel key to get inside and am slightly disappointed. A locked garden, a secret garden that brings to mind Frances Hodgson Burnett, Bruce Springsteen, Eden. My curiosity peaked for biblical references, I wonder if there is an apple tree nearby. There is, and I think to myself, "All stories of temptation begin in an orchard. Even mine." There is nothing special, original, or different about it. There is only one story.
I look up that phrase after the trip, to remember where it is that I've heard it before, in some English classroom long ago, or maybe it's that storytelling book again. The internet attributes it to Steinbeck's East of Eden. Fitting, but I've never read it, so I think of Atreyu from The Neverending Story instead. How I used to climb off my bike and roll it down the sidewalk as a kid, pretending to drag Artax through The Swamps of Sadness. Even fictitious settings are ones we end up traveling to in adulthood.
Johnnie is painting a picture with words, in a setting that should be a painting, but I pause in the middle of it all to admire a stone wall. I don't know what it is that calls my attention to it. They are sprinkled all around, snaking their way through the landscape. He's already mentioned that the moors sit on top of sandstone, that there is a quarry nearby, but there is something special about this low stone wall, and I stare at it, trying to figure out what it is, until I realize I can see no mortar, no cement, holding it together, and ask Johnnie why. I wish with all my heart that I could quote him word for word, but I did not begin this walk looking for a story. I'm not jotting down his every word in a notebook, though I wish I had because it would be something I'd reread for the rest of my life. His answer, or my paraphrased version of it, is no, that "it all depends on how the person builds it."
In the first pub I walk into in Edinburgh, I have to ask the man sitting next to me to repeat his question five times because I can't understand a word he's saying. I'm trying to down my Stella, working up enough courage to follow the directions on my menu and ask the bartender for a Scotch recommendation, when I finally realize he's asking if I'm "trying to put that away." We start up a conversation, not because he has the bluest eyes, bluer than mine, I think, or because once I get the hang of his accent I realize he sounds just like Jamie from Outlander, but because there's nothing more attractive than an observant stranger. I've always loved being told things about myself instead of asked.
Outlander marked the beginning of the end of my last relationship in a way. It was the Leonardo DiCaprio that first made me question the concept of love conquering all, the inception that made me wonder if I could fall in love with someone else, and more importantly, love them more. Afterwards, when I thought it could be happening, they'd always joke with me and say we'd have to wait twenty years, which coincidentally, and unbeknownst to them, is the one plot point I hate most about Outlander. There's time travel involved, and all she had to do was pick up a book to find out if Jamie is alive. It's entirely within her power, but instead she waits two whole decades to do it. So of course I was equally as frustrated when they told me later, "I can't wait this long," as if it wasn't a self-imposed time limit.
My Edinburgh Jamie gives me the Scotch recommendation I had been looking for, and I end up liking Balvenie so much that I keep coming back to it for the rest of my trip. I sip on three of them before realizing that if I want to keep enjoying his company, I need to slow down. His conversation is like the whiskey, it's sweetness the most prominent quality, with a noticeable warmth to follow, but containing an alcoholic bluntness nonetheless. He is not apologetic in his dislike for bagpipes, and confesses how uncomfortable it is to wear nothing under a kilt, the one thing the internet has advised me not to ask the locals. He admits to giving a friend his honest opinion about a girlfriend he later married, and shares the experience of what he justly refers to as a "reverse Harvey Weinstein," and I'm reminded that the ability to be in touch with your feelings is not exclusive to women. He walks me home at the end of the night, around the corner to my hotel, without making a pass, without asking for my phone number, my Facebook, my anything. I thank him for a wonderful time, and he departs with a "Cheerio..
It reminds me what it is to be interested in someone else's stories, how crucial it is for that person to be willing to share them in the first place. The openness that is required. I am so moved by this level of intimacy from a complete stranger, in a foreign country, that this time I head straight for the bar to jot down as many notes as I can remember, because I want to take a piece of him, of this night, home with me. And while I am scribbling down that sorry — S-O-R-R-Y, is five letters, two syllables, one word, perhaps the most important one — my eyes start to well up, and even though I know I must look ridiculous to the bartender, I don't care. These stories are too important. How his father put him in boxing classes after schoolmates kicked him with football cleats. How he quit his job to move to Australia for a year — a clean slate, he called it. How I met him in that bar because he just started working there after deciding to go back to school to study physics…
Gravity. That was all that was holding Johnnie's wall together. Every stone supported by, and supporting the others, in turn, each with their own individual weight. Their contents dug up from the earth, out of something deep. Each transported to their specific location, their shape and size assessed carefully by the builder before finding the spot where they fit into the larger picture, the space where they belonged, because of the way they complimented the other pieces. It is a labour of love requiring artistry, the strength to lift and carry each stone, the discernment to choose them all by hand.
On the way to Top Withins, the possible inspiration for the house from Wuthering Heights, Johnnie points out two other farms, Middle and Lower Withins. There is not much left of Middle Withins but the outline of a building, and I ask Johnnie if someone took the stone to build something else. He confirms that's what usually happens when the roof of a farmhouse falls in, and I like the thought of it. How a farmhouse could become a church, or another building, or one of the stone walls. How even stones have the chance to be reinvented, to have their own clean slates.
In the Brontë museum I read about Branwell's failed romance with his employer and speculate that he may not have have died from alcoholism, but a broken heart. I have been told this is medically possible, but have learned, first-hand, that a broken heart can also be the way you really begin to live.
At Culloden Battlefield I recognize the same plants Johnnie pointed out to me in Yorkshire, showing me how they're all connected; the moss growing near the heather, and the peat collecting underneath. He told me how some Japanese English professors hired him for a tour and had taken an hour to just lie in the heather and look up at the clouds. A way to really live their work. All I can think is that this is not the kind of heather you would want to lie down in.
The graveyard in Haworth is less somber and more poetic, its headstones the largest I've ever seen, and in such a small town, but none of them belong to the Brontë sisters. Charlotte and Emily are buried in a vault underneath their father's church, with various plaques commemorating them and other members of the family. It is the one moment, in such a personal trip, where I feel a part of something much bigger than myself.
I realize during my walk back that the only reason I am standing here in this town is because a family of writers, of women writers, decided to create something, and again I am moved to tears. They become for me in that instant more than names, more than words on a page. I see them as real people, with ideas they fleshed out into works that had stood the test of time, so that two-hundred years later, a girl from Chicago would love them enough to travel the furthest she ever has to see where they were written with their own eyes, after having imagined them in her mind as a young girl, and years later lived them in her own heart. This is what endures.
I came to the UK for castles, or at least that's what I've told everyone, but by my third one I am exhausted. Museum signs do not grab my attention the same way Johnnie's stories did. And I am not touched by jewels and paintings the way I am by nature and literature. In fact, I'm a little turned off during my visit to a lived-in castle, to see so much wealth held by a single person for no reason other than being born to a certain family. It is not an accomplishment, and I see no reason to admire it, to be in awe of anything related to it.
But I have an hour to spend in Kensington Palace before my flight home, and I arrive just in time for a fifteen minute talk about Queen Victoria, just short enough to squeeze into the end of my trip. I'm surprised and refreshed to find some of Johnnie's storytelling here. The focus isn't on dates or facts, but Victoria's emotions. How she regained control of her own life after a sheltered childhood, one where she was not even allowed to walk downstairs without holding someone's hand. How the moment she became queen her first order was for an hour alone, to write a letter sending her condolences to her aunt on the death of her uncle, and the second was to sleep alone from then on, moving her mother to a different bedroom.
I learn that even queens have physical desires, Victoria's attraction to her advisor Lord Melbourne described as purely sexual in nature, and a meeting with her future husband Albert made memorable because of the fact he was wearing tight, white riding pants with nothing underneath. When he died, she went into mourning for years. It is these human moments I am drawn to. The feelings of a woman who placed equal importance on independence and love, rejecting the idea that they could be mutually exclusive.
Diana's dresses are also on display here, a tribute to her contribution to fashion, but it's the video about her charity work that I'm most impressed by. How her choice to remove her gloves before shaking hands with an AIDS patient sent a clear message to the world at such a crucial moment in time. The way her children speak of her genuine concern for other people. This too is a lasting contribution.
By the time I'm heading back to the airport, my suitcase is heavier than ever, and I don't think it's the tweed blazer, the wool sweater, or the books that I've bought that've made the difference.
At some point during my walk with Johnnie, I give one of the walls a push, a shove. Not really to test its structural integrity, but to feel with my own hands how solid they are. Whatever caution I exercise is unwarranted. They do not give an inch; this is no game of Jenga. I'm reminded of someone who told me they had to plant their feet, to be sturdy and reliable and dependable, and I see the same ideology does not apply to stones. There is no obligation holding them in place, it is because of their own weight that they stay where they are. Because they simply cannot help it. It is an inherent quality they possess, not anything they could aspire to become. A pile of pebbles cannot be commanded to supply the same structure, the same support.
The walls themselves are low. They are not the defensive fortresses we build to protect ourselves after being hurt, or the vengeful Poe-ish cells in which we imprison our foes and our fears, the thoughts we inter alive in the hopes of suffocating them. They are the healthy demarcations between what is mine and what is yours, the boundaries our lives so depend on. These walls keep nothing hidden; they are easily seen over. They form an identity, and contain all that may change within them. To build them is the active effort required to keep what is good from leaving, and the acceptance that harm will inevitably come our way. They are vulnerability solidified.
Jane Eyre is published when Charlotte is 31, Wuthering Heights when Emily is 29, and Agnes Grey when Anne is 27. I've always thought I'd need to be in my forties or fifties before knowing anything really worth writing about, but their success makes me wonder if I've been too hard on myself, makes me question if I know more about life and love than I give myself credit for.
"Why are you still thinking about me?" they repeat my own question back to me. "Because I miss you," I answer at the time; a reflex of a response. It's not until later that I realize I should have said, "Because I never stopped." Because I couldn't help it.
"To travel is to take a journey into yourself," quotes my travel journal. "To travel alone is to find the answers you've been seeking and discover the questions to all your unfounded thoughts."
I think we became stones in each other's lives even though neither of us wanted it to happen.
The stone still sits between others I've been collecting for some time now. On top of all the things that made up the space it fit into, and underneath all the things it created room for. This trip, too, has made room for objects of weight. For people like my Edinburgh Jamie who know who they are, who aren't afraid of change, of who they could become. For the things and places that inspire me, that help me to open up and relate to my own feelings. The one story we all share.
The truth is that temptation is a myth, written to prove to us that even if it were possible to live a life sheltered from pain and suffering, we still wouldn't choose to. Because our compulsion towards knowledge and truth would always overpower any sense of obligation. The story is never one of being cast out of anywhere, but of traveling to places we've never been, of our souls taking us where we long to be. When I realized I had no use for picket fences, I wasn't sure what to seek out as an alternative, or if there were any to begin with. But in the absence of have to's I found myself discovering the cannot help it's, I found my stone wall. The things that, for me, make up a life of substance.
It all depends on how you build it.