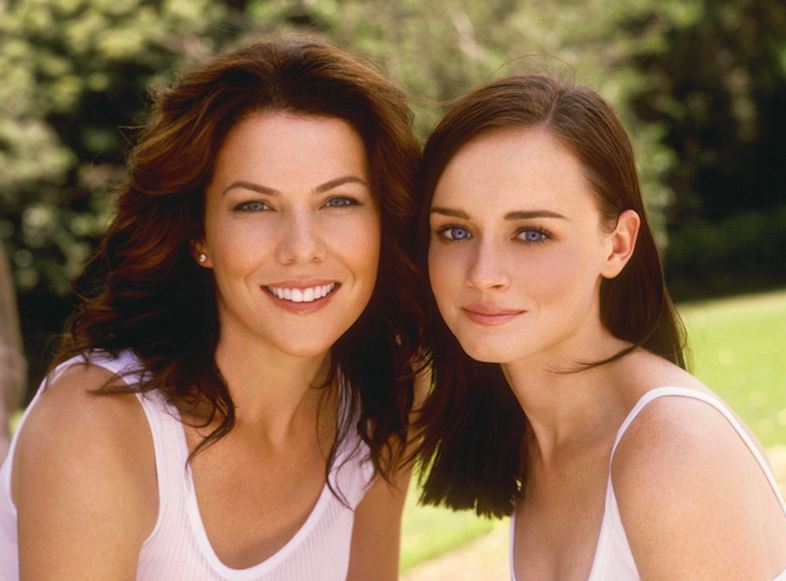 At long last, the perfect circumstances for our favorite 2002 catchphrase have arisen. I mean I don't know about you, but after hearing that the Gilmore Girls cast would be reuniting in Austin at the fourth annual ATX Television Festival, my Gilmore gut instinct practically screamed, "Oy with the poodles already!" While I'm sure Netflix watchers who have recently discovered and fallen in love with the show were also excited about this get-together, to the old-school Gilmore fans (yes, by old-school I mean early 2000s,) this news surpassed the excitement of Christmas morning.
We're not going to talk about the intense disappointment I was hit with after finding out that I left Austin, Texas a mere 3 days before this festival took place. Yep, not going to talk about the fact that I missed my own personal Hep Alien reunion by 3 DAYS.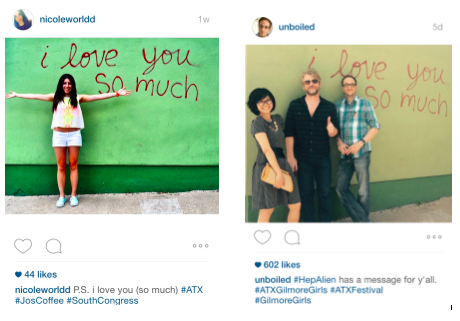 It's okay, because at least I got to watch the panel online (you can too if you haven't already) and pretend I was there, and let me tell you…it lived up to the hype. The festival was just as magical as the many festivals that have been held throughout the years in Stars Hollow. The directors, writers, and cast delivered in every way imaginable. From the touching Edward Herrmann tribute, to the much anticipated debate of which boy was right for Rory, to the long-awaited meeting of Alexis Bledel and Mae Whitman (Parenthood fans, whattup,) to the Hep Alien reunion concert at which they played some of their greatest cover hits (Blondie, The Monkees, White Stripes, Pixies,) and of course, closed with a tear-jerking cover of Carole King's "Where You Lead," the reunion was almost perfect. Like most things, the only way it could have possibly gotten any better was if Beyoncé was somehow incorporated…OH WAIT, she was. That's right everyone, Hep Alien performed a cover of the Texas native's "Single Ladies" and I almost passed out.
One of my favorite parts of the panel was when the actors were asked to provide their thoughts on where they imagined their characters would be today. Needless to say, some of the answers were perfect…and others were not so ideal (I mean fly fishing? Really?) But anyways, it got me thinking about where I saw the characters today. Turns out I had a lot more thoughts on the future of Stars Hollow than I originally anticipated, so I felt the need to write them down:
Taylor: (Side note — Although Michael Winters, wasn't actually at the reunion Liz Torres brought Taylor up so I started wondering about his character) I don't know why, but when I think of Taylor's future it always has a dog in it. I never quite pictured him with a love interest (mainly because I can't imagine a person who could be compatible with Taylor's unique personality,) but as Kirk and Lulu have taught us, there's someone out there for everyone. I suppose if the right woman came along I could see Taylor courting her, unlocking the Soda Shoppe after hours for a sweet and romantic end to a date, even sitting her front row at town meetings and being that guy that goes out of his way to mention the fact that he has a girlfriend whenever he has the chance, undoubtedly eliciting a firm, "We get it Taylor" from Luke (accompanied with endless questioning as to what she sees in Taylor). However, romantic interest or not, I see Taylor's character remaining pretty set in his ways. He would carry on his long-standing role as mayor, remain stubborn as ever, and get a dog (his ride-or-die companion) that he would probably train to pee on Luke's shoes.
Miss Patty: Miss Patty would continue to hold the crown for gossip queen of Stars Hollow. She would expand the dance studio and open an official theatre in the town for her shows and recitals, eventually getting recognized and honored by someone, somehow, for her passion and dedication to the arts. I feel like over time she would also start up her very own match making service, employing Babette and Lulu. She would live a happy life in the town she loves with romance and show business by her side.
Paris & Doyle: I think that Liza Weil and Danny Strong said it all. Paris and Doyle would definitely still be together. They would be taking the world by storm, traveling, having children, and making sure to check back at the Yale Daily News and frighten each new crop of reporters until journalistic success was their only option.
Hep Alien: I think after the twins were born, Hep Alien went on a hiatus. However, after a few years Mrs. Kim would notice how the lack of music in her daughter's life was taking a toll on her, and set out to reunite the band. She would go find Gill, and he would probably be so completely stoked that he would name an egg-salad sandwich after her. She would then inspire Lane, Zach, and the beloved Uncle Brian to return to the band. They would eventually book a solid gig at CBGB's (pre-closing) or somewhere equally as cool, and Brian's parents would be so proud that they would live on the edge and have a celebratory drink. (I think it goes without saying that Dave Rygalski would eventually return and jam as well.)
Lane & Zack: I thought Keiko Agena gave a flawless description of where present-day Lane would be… somewhere between the parenting styles of Lorelai and Mrs. Kim. Regardless of which she leaned towards, there is no doubt that she would be a rocking mom (literally & figuratively). I also feel like the family would have some kick-ass group Halloween costumes (Queen, The Beatles, Metallica, etc.).
Michel: You know, now that Yanic Truesdale mentioned it…I really have no idea why Michel was in Stars Hollow either. I think despite his act of perpetual annoyance and disgust, deep down he loves the town and the people. I can picture Michel working alongside Lorelai and Sookie for quite some time. Then, perhaps for some milestone birthday or work anniversary, they would buy him backstage passes to a Celine Dion concert where his life would be changed forever. Michel and Celine would hit it off, and after being invited to accompany her on tour he would embark on his dreamlike travels. Michel may take a break from The Dragonfly, but I have no doubt that he will return or at the very least schedule monthly lunch date reunions with his former co-workers.
Jackson & Sookie: The whole vasectomy theory may not be so far off. I think after many successful years working at The Dragonfly, Sookie would want to do more. Maybe she and Jackson would start their own restaurant or some other joint venture. One thing is for sure, Sookie would be that crazy mom that runs bake sales as though Buddy Valastro will be in attendance.
Emily: Besides the fact that I think Kelly Bishop is one of the most brilliant people in the world, I think she did a lovely job reflecting upon Emily's future. Emily and Richard would be exactly where they have always been, and they would be completely thrilled about it. However, like Bishop, I cannot fathom Emily's life without Richard…so I'm taking a pass on this one, and hope that one day we get the chance to see Amy Sherman-Palladino's take on it.
Dean: Dean, Dean, Dean. I think Dean could very well own Doose's Market one day, if he stays in Stars Hollow that is. I guess he might go back to school, maybe work some odd jobs as a mechanic (I mean he did build a car so why is he working in construction?) while he's figuring life out. I think we've officially seen the last of him and Rory. I definitely see him getting married one day to someone less diva-ish than Lindsay, and preferably someone with a job who motivates him to succeed like Rory did.
Logan: Oh Logan, poor thing. Devastated and confused after things with Rory ended so abruptly I have an unfortunate feeling that Logan fell back into his old, one-night-stand ways to mask the pain. I feel like Logan spent a month or two after the break up wallowing, going on slightly dangerous adventures, drinking far too much with Collin and Finn, and throwing endless pity parties. He never stopped thinking about Rory though, and one day after reading her first big, real-world article, he decided he would do everything in his power to win her back. He got his act together again, and they formed a friendship. While I don't think we've seen the last of Rory and Logan, I can't say with certainty that I think they'll end up together, because despite all of Logan's redeeming qualities, he is not now and nor will he ever be…
(insert drum roll here)
Jess: Jess Mariano, everyone's favorite secretly good, bad boy. Present day Jess is a writer and still rocks the leather jacket like the best of 'em. He has written more books, gone on several book tours (reluctantly,) and travelled the world getting inspired, going to worthy concerts and cafés, visiting significant historical locations like Jim Morrison's grave and whatnot (but obviously not being obnoxious and asking someone to take a picture of him in front of it). I can see Jess settling back down in New York, maybe owning his own record store or used bookshop with some deep name. Not "Rory's" because I don't think he's that cliche, but definitely something that had meaning to both of them…something like "Dodger's" (after Rory's literary comparison of Jess to an Oliver Twist character after he stole her copy of Howl). I picture Rory in the city one day, stumbling upon the cool looking shop and entering, only to find that Jess is the owner. The two of them would rekindle their relationship and it would be at the right time for both of them. I'm fairly confident that we haven't seen the end of Rory and Jess, and I truly believe that after some distance apart and time to individually grow and mature, they could make it work.
I sat here for a good 20 minutes attempting to imagine where Luke, Lorelai, and Rory are today. I can't do it. I admire them too greatly. I feel like anything I could possibly come up with would do no justice to whatever vision Amy Sherman-Palladino is creating (or saving for us) in that remarkable brain of hers.
I want to see where Christopher is. How old is GG and where the hell is Sherry? Are Liz & TJ still together? Did Kirk and Lulu get married? Is there a little Kirk running around?! (That'd be really confusing since cat Kirk and human Kirk already exist…maybe he can get everyone to call 'Baby Kirk' when referring to the baby and 'Adult Kirk' when referring to him.) What's April doing? (I actually don't care about that particular answer so much but it felt rude not to ask.)
I miss the gazebo, the Black, White, and Read multi-purpose bookstore/movie theatre, Kim's Antiques, Weston's, Stars Hollow Books. I miss the Firelight Festival, and the snowman building contests, and the Winter Carnival, and movie night in the square. I miss daily trips to Luke's for coffee. I miss the long-winded rambling and endless pop culture references that no other show has been able to top. I just hope that one day Gilmore fans will get a chance to take a trip back to their favorite town and check in. I have the utmost faith in Palladino, and trust her when she says that if it ever does happen, it will happen correctly.