Although the internet loves Ryan Gosling and Joseph Gordon-Levitt, I firmly believe that Anderson Cooper is the perfect man. What more could you possibly want? He's an accomplished journalist, funny, intelligent, a superb giggler and a fucking Vanderbilt. Also, he looks like this. That picture is photoshopped, but it's real to me.
For those of you also under the Coop's pale spell, here are 29 GIFs of the foxiest Silver Fox that ever foxed — each of which its own explanation as to why he's the world's most adorable human. (Because he just is.) When darkness comes and pain is all around, these GIFs will be your bridge over troubled water. See how they shine:
1. Because He's Able To Hold Up Drunk Women And Still Look Amazing:
2. Because His Surprise Face Has Great Reflexes:
3. Because He Gives Great Sneer:
4. Because He Isn't Afraid Of Carbs (Or Looking Silly On Television):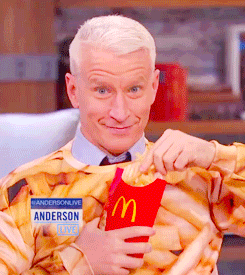 5. Because That Smile Makes Me Die:
6. Because He's Still Adorable When He's Making A Very Unattractive Face:
7. Because He's Not Afraid To Pull Out A Wig (And Rock It):
8. Because This Isn't Even A GIF But It's So Perfect That I Put It In Anyway:
9. Because This Isn't Either, But I Love A Man Who Can Get Down With Metal:
10. Because He's Hot No Matter What Size He Is:
11. Because He's Like A Sexy, Bespectacled Bunny Rabbit:
12. Because He's A Friend To All Creatures:
13. Because He Might Be Clark Kent:
14. Because, For Real, The Man Can Fucking Wear A Pair Of Glasses:
15. Because He Is Reaaaddy To Paaarrrttty:
16. Because A Hunky Guy's Sexiest Accessory Is A Cute Puppy:
17. Because He Still Looks Good In A Shower Cap (But You Probably Didn't Even Notice He's Wearing A Hat):
18. Because The Man Knows What To Do With His Mouth (E.G. Put Desserts In It):
19. Because He's Not-So-Secretly A Model:
20. Because I Don't Even Know What's Happening Here But It's So Fucking Cute:
21. Because Kelly Doesn't Know Either:
22. Because Even When You Can't See His Face, He's Still A Dreamboat:
23. Because The Man Knows His Blue Steel:
24. Because He Looks Like A Great Cuddler:
25. Because He'd Be A Perfect BBF (Or Gossiping Buddy):
26. Because He's Not Above Laughing At Poop Jokes:
27. Because He Knows You Think It's Adorable:
28. And Because He Doesn't Seem To Care About It That Much:
29. Because, Seriously Though, He's Fucking Perfect:
Marry me, Anderson. Seriously. It's legal now in your state. You can tweet your proposal to @nico_lang. I await your Twitter hand in marriage.