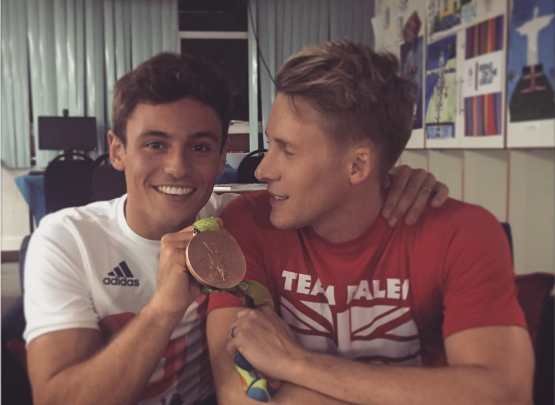 This year in Rio, a record breaking 49 LGBT athletes are competing, as compared to 12 in Bejing, and 23 at the London games. Rio also marks the first time a transgender model has been used at an Opening Ceremony, after Brazilian model Lea T rode into the Maracana stadium pedaling the bicycle that carried Brazil's name ahead of the host team marching out. Here in the states, Chris Mosier became the first out transgender athlete on the U.S. men's national team when he qualified in the sprint duathlon earlier this year, and now is starring in his own Nike ad. And while rugby player Isadora Cerullo didn't secure a bronze, silver or gold medal, she won a partner for life after girlfriend Marjorie Enya, a volunteer at the 2016 Olympics, proposed to her in front of teammates, volunteers and media. These and numerous other stories are highlighting a rising trend for the LGBT community—acceptance. The internet, however, was right there as always to remind us why we can't just have nice things.
On Thursday, in a move that feels much more at home at gossip-sites like Gawker, Daily Beast reporter Nico "straight-with-a-wife-and-child-and-me-thinks-he-doth-protest-too-much" Hines, published a piece of clickbait, titled, "I Got Three Grindr Dates in an Hour in the Olympic Village," and summarily outed several closeted athletes.
Perhaps, the similarity stems from the fact that Gawker did essentially the same thing almost exactly one year ago to the day, when they aided a blackmailing escort in outing a non-public figure, who's brother just happened to be a senator. Unsurprisingly, that Daily Beast would go on to publish several critical reactions to Gawker's decision, including "The Day Gawker Tore Itself Apart," and "Why Outing Will Never Vanquish Gay Shame"
In his own words, Hines was shocked to learn that the Olympics have become, "a hotbed of partying athletes, hookups, and sex, sex, sex." Particularly gay "sex, sex, sex.," and decided to cruise hookup apps in order to, I don't know, cheat on his wife probably? Hines apparently never stumbled onto one of the countless stories that come out every four years detailing the increase in condoms that are passed out amongst athletes in the Olympic Village, which peaked this year 450,000.
The piece is meant to serve as a voyeuristic peephole for straight readers to get a glimpse at gay life, and it isn't anything new, sadly.
Bobby Finger at Jezebel called the article a "breathlessly written account of someone who appears to think gay sex is as mysterious as the prehistoric origins of Tilda Swinton." And Mark Joseph Stern at Slate called it "a uniquely disgusting and irresponsible entry into the tired genre," rightfully accusing Hines of taking pleasure in "luring in these Olympians then outing them to all the world."
"But the offensive purpose of Hines' article is really the least of its problems," Stern adds. "Far worse is the actual damage it will likely cause to real, live human beings—inevitable consequences that Hines blithely ignored."
One of the athletes, by Hines' own admission in the article, was from a country with anti-gay laws. Openly gay Olympic swimmer Amini Fonua, who has represented Tonga in the 2012 and 2016 Summer Olympics, was beside himself with disgust at the article, tweeting several statements, including, "1 of the guys you just outed is only 18 years old… I was 18 once & nowhere near ready to come out," as well as, "Imagine the one space you can feel safe, the one space you're able to be yourself, ruined by a straight person who thinks it's all a joke?" Hines invaded a safe space for gay individuals, no differently than Omar Mateen did, when he killed 49 people in an Orlando gay nightclub, just two months ago.
While he didn't call out any of the men by name, Hines did share quite a bit of identifying information about them. "Athlete profiles on the various apps during my short exploration included a Brazilian track star, an Italian volleyball player, a South American record-holder in the pool, a sailor from New Zealand, a British diver, and a handball player from a notoriously homophobic country,' he wrote. The article goes on to include height-and-weight measurements, and while paired with their events, and countries of origin, there was more than enough info to discern the identities of athletes, whose physical stats are widely publicized.
Naturally, a lot of people weren't pleased with Hines' stunt:
So @NicoHines basically just outed a bunch of athletes in his quest to write a shitty @thedailybeast article where he admitted to entrapment

— Gus Kenworthy (@guskenworthy) August 11, 2016
Can someone .@thedailybeast please explain why on Earth's @NicoHines dangerous & homophobic article was commissioned let alone published?

— Nick Coveney (@nmjcoveney) August 11, 2016
https://twitter.com/jpbrammer/status/763741804315471873
Exploiting LGBTI lives for amusement is trash "journalism" at best and extremely dangerous at worst. #Shameonyou @thedailybeast @NicoHines

— itsonlyzach (@itsonlyzach) August 11, 2016
By 10:30 a.m. ET, the Daily Beast had, in a tone-deaf show of concern, edited out the most identifying details about closeted athletes. The piece would not be removed altogether until Thursday evening, with an editor's note beginning, "Today, The Daily Beast took an unprecedented but necessary step: We are removing an article from our site"—while internally congratulating themselves on all the web traffic generated.
For his part, Hines has yet to respond to the controversy. But he did tweet about the long lines at McDonald's in Rio yesterday:
Little bit of rain won't put these athletes off the huge snaking McDonald's line. True Olympians pic.twitter.com/zhYD6KUpCm

— Nico Hines (@NicoHines) August 10, 2016
P.S., this whole thing feels like a bad sequel to Never Been Kissed.