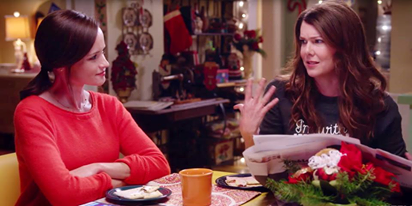 After waiting nearly a decade Gilmore Girls fans will have a lot to be grateful for this Thanksgiving.
Today, Netflix dropped two major bits of good news. One: The new episodes have a release date of November 25 at 12:01 a.m. PT on the streaming service. And, two: there's a teaser trailer to tide you over until then.
Netflix, dropped the first footage from the revival series Gilmore Girls: A Year in the Life onto some of their international Twitter accounts, including France's @NetflixFR. Later, Netflix dropped the official teaser on their YouTube channel.
https://www.youtube.com/watch?v=fTnU5MG5Edw
When Netflix announced that Gilmore Girls was getting a revival: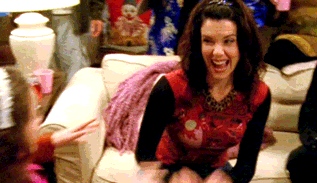 When they told us next to nothing about it:
When clues started trickling in via social media:
But, then you remember that Edward Herrmann (aka Daddy Gilmore) died:
And then all the Melissa McCarthy-Amy Sherman Palladino drama hit:
But, then Melissa McCarthy announced she would be coming back afterall:
And so are all of your other Stars Hollow favorites:
When your clueless friends ask you about it:
And defending why you don't hate April to your clued-in friends:
Watching the teaser trailer a dozen times:
When the memorable theme song started to play:
And you saw the Stars Hollow town square:
And Luke's Diner:
When Lorelei asked Rory if she thought Amy Schumer would like her, and you remembered why she is the most relatable person ever:
After realizing you'll have to wait till November for new episodes:
… But that means you have 120 days to binge the entire series before then:
Just be prepared for your roommate's snarky remarks when you bogart the TV and sofa:
And not being able to shake the question of whether they will acknowledge Michel's homosexuality after all this time:

In the meantime, waiting 4 months till Gilmore Girls: A Year In The Life premieres:
Just Remember:
JK!