The first thing you notice is how different the cars look from the rest.
Hitched to the back of a standard-issue Amtrak car, the Millennial Trains Project caravan consists of three vintage Pullmans lovingly restored and operated by a Los Angeles family.
The oldest car, Pacific Sands, was built in 1950, at a time when the train, automobile, and airline industries were at the height of a three-way showdown for passengers. This meant rail cars were well-appointed, offering something the others couldn't—space, a sense of calm, homey amenities, and an ever-changing bedside landscape.
When I imagine this kind of travel, I think of movies, vintage advertisements, and postcards from my grandparents' generation. I feel a misplaced nostalgia for a fictionalized, faded-away America. The vision of stylish cars piercing through a Western landscape is intoxicating. It's hard to resist.
I'm preoccupied with these images as I'm crammed into the back row of a delayed flight to Atlanta. We've been stuck on the runway for an hour, and the pilot has stopped giving his cheerful updates. I'm trying to catch the Millennial Train for the last day of its 10-day journey, and I don't think I'm going to make it. The irony of flying last minute to catch a spacious, slow-moving 1950s train is starting to sink in. The person in front of me reclines fully in his seat and falls asleep.
But somehow, I make it. With two minutes until the train leaves the station, after trying—and failing—to explain the MTP project to my cab driver, after asking a confused Amtrak agent how to board a private car, I find Patrick Dowd, the founder and CEO of the Millennial Trains Project, rushing to meet me at the Atlanta station. I'm in.
Dowd started The Millennial Trains Project (MTP) in 2013. A former analyst, editor, and consultant, he was inspired by a similar trip he helped lead in India in 2010. Called Jagriti Yatra, the trip circumnavigates the entire country, taking youth on a transformational journey to meet Indian business and cultural leaders in hopes of inspiring the next generation.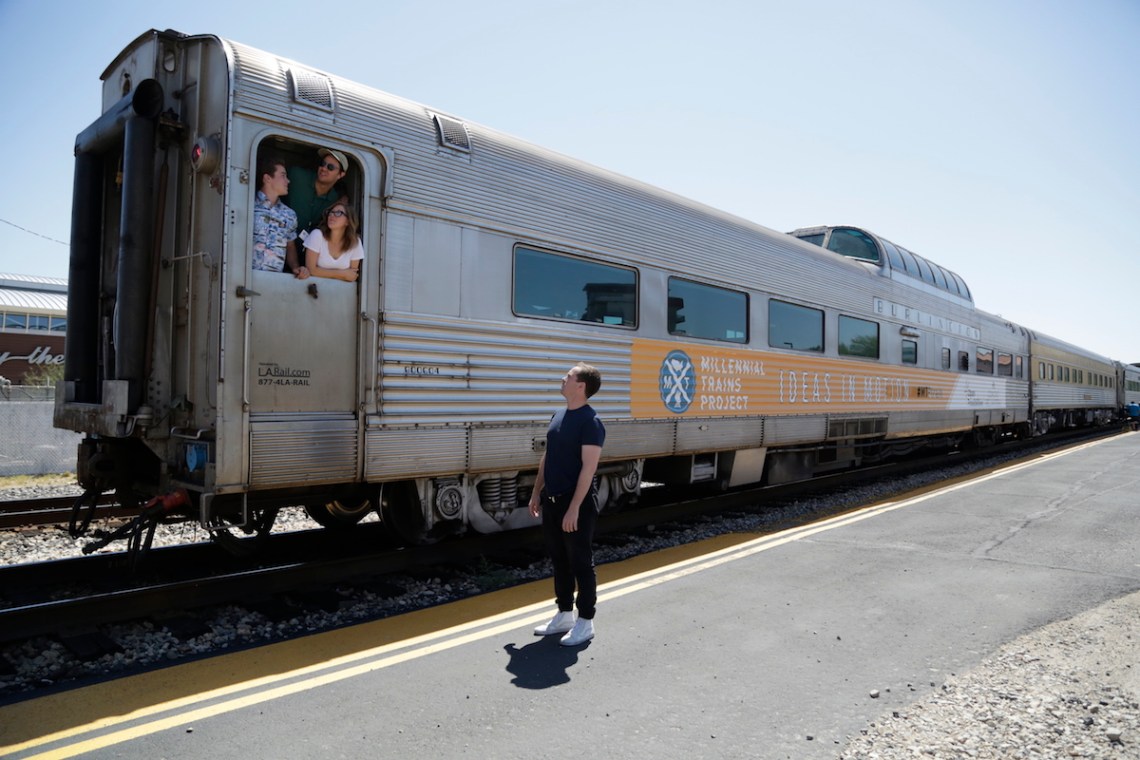 The idea is similar here. A group of 25 millennial entrepreneurs, artists, activists, and community leaders travel eastward across the United States, acquiring ideas, mentorship, and research along the way. Having each already crowdsourced the funds to embark on the journey, or, in many cases, having received fellowships for their trip from the U.S. Department of State's Fulbright Program and Comcast/NBCUniversal (whose program-wide sponsorship stems from NBCUniversal's Open Possibilities initiative), the riders hope to further develop and augment their projects in a roving, workshop-like setting.
The group is buzzing. As we're climbing the stairs into the sleeper car, Dowd explains that they're coming straight from New Orleans. Energy is up, attitudes are gleeful. I'm ready to meet the millennials.
But first, I'm greeted by a porter. She's wearing a typical vintage porter's outfit, although I don't think I've ever actually seen one. She asks me if I'd like my bed turned down, hands me a towel, points out the showers, and lets me know I can have an extra blanket if I'd like. This is all surprising and elaborate to me. I was half-expecting a single seat.
After settling in, I find my way to the group. It's late, but many of them are still awake, deep in conversation in the dining car.

The Millennial Trains Project participants have an infectious optimism for the future. But it's not without an understanding of the amount of work that needs to be done. With projects ranging from finding better models of urban agriculture to developing mobile apps that address police violence, they have a shared desire to tackle the nation's biggest issues.
But why a train? I kept asking myself this question before the trip. On a practical level, the cars offer a novel, intimate space for the participants to collaborate and generate ideas. Several riders described the train as an "innovation platform on wheels." It certainly feels that way—with the misty landscapes of Georgia as a backdrop, laptops left out with the previous night's half-finished notes reflect the next morning's sunrise. Riders wake up early, picking up conversations where they left off.
There's a sense of the kind of spontaneous, unlikely community that forms whenever strangers are temporarily thrown together. New connections open unexpected possibilities. Even this late in the trip, I learned that two participants had just met for the first time. They were sitting close in a booth, excitedly catching up on lost time.
There's something about the train that just makes this project work. It creates a shared experience that ties the passengers together. The changing landscape paints a bigger picture, fitting their individual projects into a larger story. Here, it's a narrative of inclusivity, change, and meaning. It's a story about the shortcomings of America's past and the possibilities of its future.

Somewhere between Atlanta and Washington, D.C., after most of the riders retired to their sleeping compartments, Jose Rodrigo Moran Gamez, a Fulbright scholar from El Salvador, was still awake with a few others in the retro-futuristic dome car—the Silver Splendor, built in 1956. From the window, scattered lights dotted the horizon. A distant town or highway, but nothing else.
"As a personal journey, it's been life changing," Gamez says. "Being confined to a very reduced space with other innovators, artists, and entrepreneurs—it's just incredibly conducive to explosive ideas."
As Randi Gloss, who is producing T-shirts that memorialize victims of police brutality and collecting their stories on this journey, explains: "It's a crazy sensation of constantly being in motion, but there's an element of stillness that allows you to think a bit more."
Dowd asks me if I've been to the back of the train yet. There's an observation deck with large, open windows on all sides. It's a good place to get fresh air. I can feel the train pick up speed as it enters the long, overnight stretch between Atlanta and Washington, D.C.
In the darkness, the rails behind the train look liquid. They rise and fall like waves, appearing and disappearing in the dim taillight. Some passengers call this the "silver snake," unfurling behind as the train speeds forward.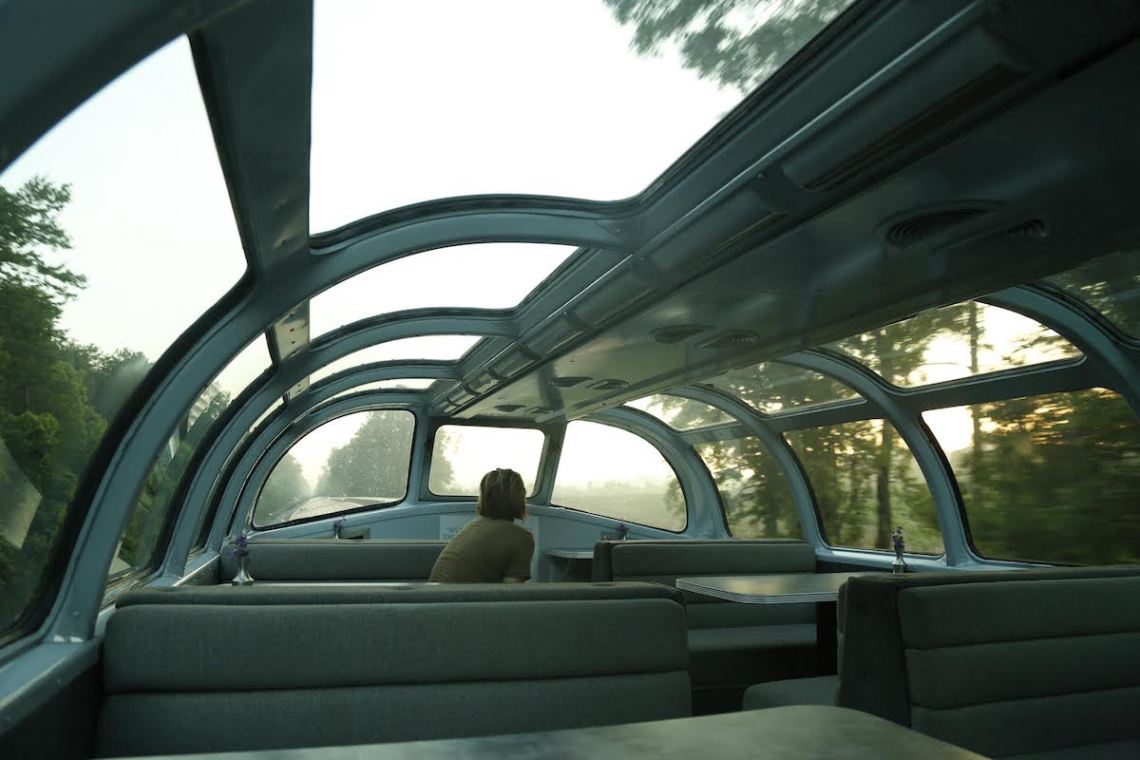 I'm up at sunrise the next morning after a sleepless night bouncing around my compartment. "You get used to it after a while," a neighboring rider calls out as I stumble through the dining car, bleary-eyed, one hand against the wall.
I meet Kalimah Priforce in the Silver Splendor dome, now spectacularly lit-up with morning light. I imagine riders watching the country unfold through these windows 50 years ago. We dart through a tunnel. A lush vineyard appears as the train slows for a curve.
For Priforce, the train serves as a timely metaphor.
"The challenge facing millennials is: How do we create an economy of meaningfulness?" he asks. "We're building our dreams and this new economy—very similar to the Millennial Trains Project—where we're riding on an antiquated system.
"For the mobility we need, we have to work with this antiquated system: the politics, the old economics of capitalism, matching our dreams with market demands."
Growing up in a Bedford-Stuyvesant group home, Priforce became a community leader at an early age. At 8 years old, he launched a three-day hunger strike to improve conditions in his group home, successfully persuading the staff to purchase more books for the site and provide museum access for residents. By 17, Priforce had started his first computer company to serve low-income neighborhoods.
Now an eminent tech and social innovator, Priforce is the headmaster and CEO of Qeyno Labs, an Oakland-based organization that aims to bridge the diversity gap in the tech world.
Named after Priforce's brother who was shot and killed outside of their elementary school, Qeyno hopes to give "high-potential youth in low-opportunity settings the power to transform their worlds through social innovation, education, and technology." Through MTP, he hopes to launch a series of hackathons—collaborative computer programming events—to empower diverse communities.
For others, MTP is way to learn from existing communities. Saja Al Quzweeni, a Fulbright student from Iraq, is using her trip to research and develop a practical model for urban agriculture. She's comparing programs in different cities along the way, noting the unique struggles and success stories that she can apply to her own practices.
"I want to design a model in urban agriculture and build a center to educate youth in the neighborhoods in my city, in Baghdad … to engage people and make them participate in building their community," she says.
Al Quzweeni explains that in one week she'll be back home, in Iraq, putting her model into action.
We're sitting in plush sofas that line each wall of the lounge. There's a coffee bar on one end, a retro-style record player on the other. A white sign covers an entire wall: "JOURNEYS BUILD LEADERS," it implores. Sticky notes, cups of coffee, open notebooks and uncapped pens are left behind as evidence of the last 10 days. Now, at the end of the trip, you can feel a collective sense of accomplishment, exhaustion, and an eagerness to get to the next steps.
The train pulls into Union Station, coming to a full stop. I imagine the silver snake curling back beneath the cars. There's a rustle in the cars as the 25 participants scramble to gather their belongings and exit the train.

Later that day, I catch up with Marzena Zukowska, another MTP participant, in D.C.'s DuPont Circle. Zukowska moved to the United States with her family from Poland when she was 6, and spent most of her childhood without a green card.
"On the Millennial Trains trip, we've been talking a lot about the sense of place," Marzena explains. "Having to grow up in the United States as an undocumented immigrant really impacted my sense of identity, sense of what citizenship means, and sense of how geography can impact what opportunities you have access to."
Through her project, "Opportunity Pipeline," Zukowska seeks to create "a more equitable and inclusive immigration system." Now a D.C.-based community activist, she advocates for undocumented immigrants' rights, among other issues, with a focus on increasing immigrant participation in the social innovation sector.
"Especially in the United States, we're the most diverse workforce," she says. "Today, about 40 percent of millennials don't identify as white, and 15 percent of them are foreign-born. These are huge statistics, and imply that inclusivity is going to be the changing factor that will help us bring more voices—maybe voices that haven't been at the decision making table—to the decision-making table."
Zukowska and I walk back together to the hotel, the MTP crew's final stop before they disperse into the humid D.C. afternoon.

Inspired, affirmed, energized—these are words I hear often as the participants summarize the trip. Their optimism for a more livable future is hard to dismiss. You believe in their visions. You want to live in the world they're building.
Leaving D.C., I saw the three MTP cars separated from the other trains, now empty. They were waiting to return to L.A. the next morning, returning only their owner and his daughter. Huge, shining silver, old, antiquated, and beautiful in the late-afternoon sun, the cars looked like misplaced props, or a child's model.
I left Union Station optimistic about the future. I felt a trust and pride in my generation. Back home later that night, I still felt the rocking of the old passenger cars careening through my body, an uncanny feeling of moving forward.