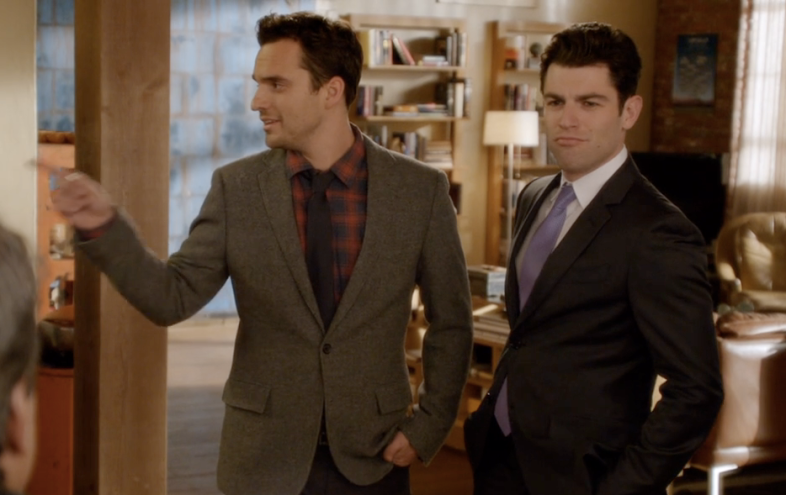 A while ago, I taught the Internet how to act like a gentleman. Now I'm here to tell you that you've all done terrible and should be ashamed of yourselves, especially you, just sitting there in sweatpants watching reruns of Futurama. Oh wait, that's me. You're doing fine. But here are some tips for dressing like a gentleman so the next girl you meet doesn't laugh at you for wearing Calvin and Hobbes sleep pants in public. Wait, that was me again.
1) Suit Up
Barney Stinson said it best – "Suit up!" Gentlemen, you can't go wrong with a well-tailored suit. If you think suits are constricting or uncomfortable or annoying just remember – your significant other most likely isn't wearing lingerie to bed because of its levels of comfort. That's what sweatpants and your t-shirts are for. So be a man and dress to the nines when given the opportunity. Even if you don't have to wear suits to work, owning one or two of the essentials – a light gray, a charcoal, or navy suit – can be procured and tailored for less than you might think. You don't have to spend over $2,000 on a nice suit. There are places to get well-made suits for less than $450. As we get older we'll be expected to start going to grown-up places and act like adults. For someone like me that recently purchased dragon shaped mac and cheese this is not an easy transformation. But we will all start having to go to weddings, engagement parties, work functions etc., and you certainly can't expect to act like James Bond if you don't at least attempt to dress like him. And for all you naysayers out there – if you're still wearing your dad's or older brother's hand-me-downs then maybe it's time to get your act together.
2) Accessorize
And speaking of getting things together – you know what goes great with a nice suit? A shirt and tie combo that match and complement each other! Not to mention maybe a pocket square or tie bar. An old expression goes something like, "It's the little things that matter." I don't know what exactly they were talking about (for all I know it could be midgets and purse dogs) but that old adage is useful when it comes to our sartorial endeavors. Even in regards to things such as watches, shoes, and belts, if you take some time and effort into finding something quality that looks good then you've done yourself a great service. So ditch that old digital Casio calculator watch or whatever you're wearing and grab a timepiece that catches the eye. You don't have to get a Rolex or Omega to make a statement with your watch. A nice Torgoen can do that same thing while looking just as nice for 1/10th the price.
3) Dress Your Age
If you're out of college and in the real world maybe it's time to ditch the graphic tees with funny or ironic sayings on them. Plain colors and patterns without humorous quotes or edgy logos say a lot more about you than even the most whimsical phrase written across your chest. There are a lot of options out there for where to get what fits you best so shop around and do some research so you can go out in public looking like a functioning member of society who knows what they're doing in life rather than a 20something post-college rebel still floating through life on their parents' dime.
4) Learn What to Wear and When
What do you wear to a day function versus an evening event? Is a dark suit during a day wedding appropriate? What's the different between smart casual and business casual? Can you wear jeans? What about wearing a tuxedo before 6pm? If you don't know the answers to these questions don't worry, you're not alone. And here is where owning more than one suit comes in handy. As we enter our mid-to-late twenties and transition to our early thirties we begin to see an exponential growth in the number of classy events we start attending. In 2013 I was invited to 6 weddings, some were during the day, some were at night, some were inside, others were outdoors. It's important to know what is appropriate to wear to each event. Obviously I can't detail every possible scenario but this site is a good start. And like any grown man should know – when in doubt, ask
5) Do It All – Even if You're Lazy
We're all busy. We all have jobs, and significant others, and volunteer work, and hobbies, and blogs, and Reddit, and whatever else we're spending our time on. Plus, some of us flat out hate shopping. You have to take a shower, put on clothes, drive to a mall, look around, hop from store to store – yuck. No thank you. But now we have some fantastic services to ease the frustration. If you know your sizes and what you like to wear then you're already a step ahead of the game. Now you can get top quality clothes delivered right to your door. Need some shirts? Just click the app. Want some new dress shoes? Go to the website. Going on vacation and need some solid island wear? Give them a phone call. You can get tailored service just for you. They'll help you find the right brands and right sizes for your body type and style. No more excuses why you're still wearing old shirts you've had since high school. Not anymore.