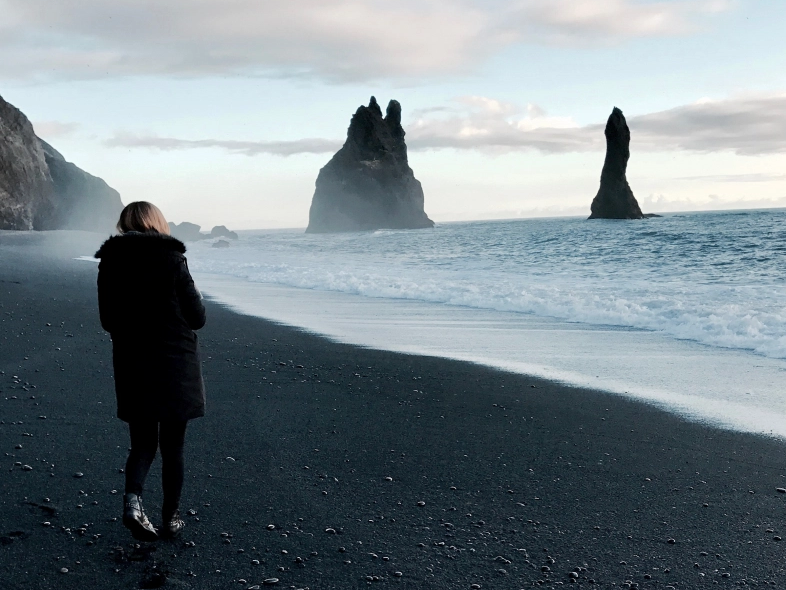 If you live in the DC-Maryland-Virginia area, you might have noticed how the notion of seeing the Northern Lights – the mystical "Aurora Borealis" that we've seen in our nineties flick Balto movie, read in our grade school textbooks, saved video on our facebook newsfeed, or favorite on our pinterest walls – has become much more realistic to achieve right now. No longer is it some far off goal, with the excellent marketing and low flight prices to one of the major lands to which you can see this hue in the sky. And thus, my flight was booked.
My fixation with Iceland actually began with another popular attraction which caught my eye five years ago on Pinterest – and that was the Blue Lagoon. Five years ago it was still a hidden gem. Now it is a commercial, selfie-stick, "basic" girl/guy mecca. It was so booked, we did not even go. In Iceland's sudden booming popularity, lies the issue with this country veering off from the normal backpacking Eurotrip that I am used to.
For starters, let me quickly sidestep and make the hypothesis that every magical crevasse in the world will become popularized because of our rampant social media. When we experience something amazing, we usually want to share it. Sharing goes viral, and thus a vacation spot does as well. The good news is that their tourism and economy boosts. The downside is that the place becomes overcrowded, prices go up eventually, and the "natural" feeling of something special and awe-inspiring can degrade. Skydiving has become a Saturday morning activity. Novelties are becoming normalized. That being said, we are innovative and will always be able to invent a new thrill or push conservation efforts to respect the sanctity of a space in nature.
After all, I certainly appreciate the globalization of these secret paradises. We are driven by desire, by goals, by dreams. Sharing that video is bestowing some random person out there in the cyberweb with a rejuvenated vigor for life – if you want to take it that far. Nonetheless I believe that the industry is becoming more common for all ages – not just retirees or the hipster world travellers of our past generations – and I think it's a good thing.
Alright- back to the OG topic- Iceland. Like I mentioned previously, this place is so popular that everything is booked, from hostels to "adventure packages". Typically I fly to a country and can just walk a few blocks and compare at least three rates. For us to fly into the heaviest snowfall in decades however, made it difficult to go door to door. Actually….I retract that. It made it difficult for all of us to agree to go door to door. Which brings me to my first tip…
1. Choose your traveling companions wisely — be very clear on your plans.
I tend to be hyper-trusting of folks. So when I sent a facebook message to my crew saying to pack hiking gear, I expected them to do so. Wrong. Essentially, I want you all to interview your group members. Stress your desires, and receive verbal confirmation that they are on board. If someone keeps to themselves that they don't want to hike, or they feel uncomfortable driving the rental four hours down to stay at a hostel in a village instead of the city – get it out of them!
I know it sounds like a no-brainer, and having sent as a message that I was intent on doing a long drive in another country and hiking on a glacier had me thinking it was a go, but I was wrong. People can agree flippantly via message but may need constant reminders on the itinerary. Now in my case they had retracted their desire to go down south because of the snowfall. That being said, we had the chance to cancel our flights and take a refund. I wanted to, because I could tell they did not have the same vision that I did for this trekking trip. They wanted to stay in the city. Nevertheless, as I spearheaded the trip, I had to stick with it.
Upon landing, I was ready to walk around the city and look for cheap hostels, because that's just how to find the best rates. I've been told that booking online ahead of time limits you from stumbling upon a really stellar space, or cheaper prices for excursions. Unfortunately, with all the snow and my underprepared guests, they did not want to walk around. They wanted me to book – on the spot. We ended up having to rent a more expensive price than what I even saw online, and it was a private room so we didn't get to ask other bunk mates in the room around us about deals or cool bars to check out. And yet, after we did go to a bar and chatted with Icelandic folks, I realized that perhaps booking online was the only way to go. Which brings me to my next point…
2. Book Your Hostel ahead of time. Book the Blue Lagoon in Advance.
You don't have to book everything ahead of time, but Blue Lagoon should be done months in advance – seriously. Iceland has become so popular, it's hard to just walk into a hostel and find a bed – they're all taken! So, you do have to book prior to your trip unfortunately. As for expeditions that warned me to not book until I landed – that was mainly due to weather complications. I found that many reimburse if the weather is bad, so I'd caution on booking anyways, if that gives you peace of mind.
Also when booking online – please verify the prices. Many hostels have hidden fees, or have a bunch of figures underneath the big bold price that makes it look like they bake into that overall price. They don't. They're additional. It's a grimy move but I've seen a lot of websites practice it. We booked a spot for a low rate that ended up doubling because of the fine print. Read everything carefully. If you see other numbers, add it to that big bold number. It's not the final price. Misleading, but it happened to us and I don't want it to happen to you.
3. Rent a Car – but be aware of possible parking difficulties
Transportation in Iceland is not easy, and if you want to get around the city for cheap, a car rental is better than an uber. Iceland is like DC or NYC when it comes to parking though, so be prepared to have coins to feed the meter. We typically found parking within 5-10 minutes, but it always came at a price.
**Also**if you want to see the Northern Lights or go on a Glacier Hike, driving on site is loads cheaper. For the Northern Lights, Google search national parks where there are peak viewing spots. Just drive there, and it'll be completely free. B ring a tripod and a DSLR camera if you want to take photos. You'll want to set it to at least a 20 second shutter speed to capture all the light, which is why you need a tripod. Human hands are physically incapable of staying steady for that long.
As for a glacier hike, if you have your own crampons to attach to your boots (which you can rent on site for a cheap rate), you can drive straight to the site. I highly suggest going with a guide. Glaciers are dangerous. There are spots like sinkholes – only snow lightly covers the surface and you end up falling 10-50 ft down in ice. It's freezing, you'll have trauma injuries, and on one of the larger glaciers you may have a hard time finding another person out in the field to help you.
Make sure to wear hiking socks because once your toes start to freeze, its very uncomfortable. Wear fur lined boots or hiking boots, and bring a change of socks and clothes if desirable.
If you landed in the city for your flight, get a hostel near the glacier. Its anywhere from 2-4 hours from the city, and you'll likely want to stay the night there. Of course you can pay for a tour bus to take you and you'll probably sit next to Americans that you can talk to. That's what I ended up doing. I wasn't the hugest fan because I felt like the rental at that point was a waste (again – communication prior to your trip is key) but at least I got to hear about the new fad of eyebrow bleaching on the upper east coast (anyone else hear about this??).
4. Surf the Icelandic web!
Since I've been mentioning the benefits of booking online due to popularity, I'd like to go one step further and suggest going on local websites. When we Google, there's this conception that we pull in all global data and therefore are making a well informed decision. But if you actually search ".is" instead of ".com" for Iceland spots, you'll get MORE data. Like a normal website however, do not have any spaces between the words and the ".is". You may have to play around a bit, or wait until you land and your search engines will automatically pull up Icelandic sites.
When I went on my glacier hike, I went to "Arcanum.is". They have a site that you can travel to and park, then pay for just the hike, for a cheaper alternative than a bus from the city.
5. Travel During the New Moon of the month (in months October – March)
If there's one thing we got right, it was seeing the Northern Lights. The locals know there's a scale 1-10 of chances that you'll get a good visual, and our rating was 5-6 each night. Even a 5-6 is great, you'll see full green but will miss out on the purple and pink. That can absolutely be captured on camera however. I suggest driving out and venturing further out from the crowd to make it feel more natural.
We went this past February and it was freezing. The tour guide said it can be seen just as well in October, so I may shoot again for that. I definitely will be returning. Icelandic people are so hospitable and love the new waves of people coming. After all, when I was there I recieved multiple snap chats and facebook messages from people I knew who said they were in Iceland and the same time I was! I did not get to meet up with them because my stay was so abbreviated, but that just goes to show how "in" it is right now.
Besides, I have to go back because I did not get to travel to any hot springs at all. FYI – Blue Lagoon is not the only geothermal spring – it's just the only half- fake one. Yup, that crazy blue color is not natural – even though it is that blue in certain geothermal lakes in Wyoming. That being said, I have a little "basic" in me and probably will go to the Blue Lagoon too. I do think it's become more of a photo-op than relishing in the beauty of humanity and nature working in tandem to produce such a sight, but as I said earlier, it's that photo shared that enlightens others around you of the opportunity that lies just a cheap flight away. So take that photo and spread the happiness. Just don't forget to take your tripod with you.
Disclaimer: Iceland wasn't 100% a nightmare because of the tips above, although having a group that did not want to dive into nature like I did was a bit of a bummer. It was more so because due to the snow, we got into a minor car accident on our first day (a vehicle hit my rear so it was not my fault – just a slip on the ice) and on the third day my friend lost her passport and we had to spend hours at the embassy fearing her ability to go back home. These are events that are highly unlikely to happen to you….but that being said keep your passport on you at all times!!! And don't bring people with opposing political views who are both very chatty about it…..it leads to long flights back home where you're between them….