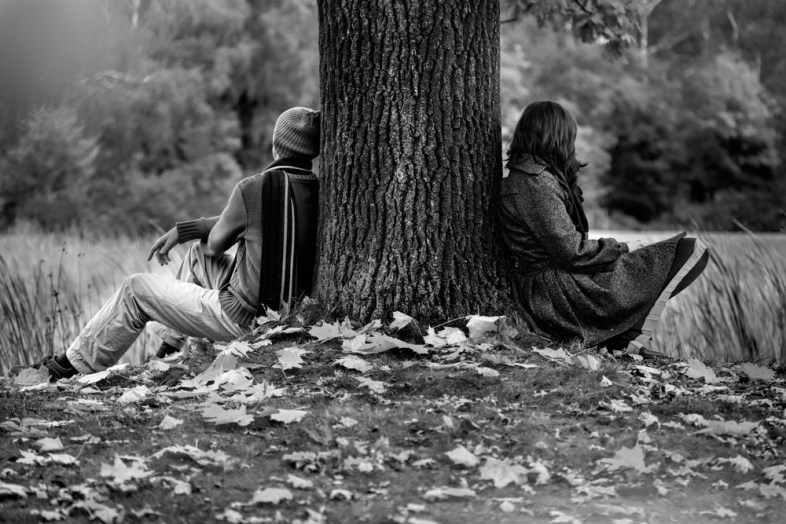 We met at the end of summer, when it's warm enough to step out in a strapless dress, some open-toed wedges; no need for a light jacket. The air is fresh and full of life, fall's chill hasn't overtaken. I had seen you around before, and maybe you had seen me too. But until that night, we had never really noticed each other. We talked, we laughed, we flirted, and eventually, we kissed. From that moment, I knew that I had fallen for you, for us. 
As the late summer transitioned into a light fall, now in sweater dresses and flats, we enjoyed the chillier breezes, lucky to get a few sunny days in the midst of the early cold. I began to study you more. The way the back of your hair stands up when I'm grabbing it as I kiss you, the way a smile is never too far from your lips, the roughness of your palm, and the way your soft eyes glisten when you stare into mine. But the thing I studied most is who I am when I'm with you, which is a person I love.
As the weather got colder, and the full force of fall came to pass, now in boots and jeans and fall jackets, the breezes became unbearable, and your embraces became tighter. You held me like your life depended on it, you kissed me to keep both of us warm; our conversations getting deeper, my heart opening up wider. It felt right with you, not like I was fighting or forcing to make something happen. It felt easy and light and it felt different. You were different; you are different.
Winter came early, and we began to only wear layers upon layers, with sturdy boots and long coats. But I wasn't afraid like I usually am, because I had you. Your words, your touch to keep me warm; you would protect me from the cold, long nights. I let you know that I'd given you my heart and only you but you seemed to shy away. And I thought maybe I was too eager and I had told you too soon. Suddenly that feeling of warmth that I had felt in the heart of fall escaped. You reassured me and told me to wait, and here I am, still waiting.
Winter continues and sitting by a fireplace with loose clothes and blankets feels like the only respite. But it's not just winter outside for all to see, it feels like winter within me. And not the kind that is joyful and full of laughter, but the kind that is horrid and harsh. The kind that leaves you shivering, and cursing, dreading not only today but tomorrow. Time seems to stand still and every day seems like the one before. But when you finally decide what to do with this heart I gave you, I am certain time will move on. You haven't chosen me yet although I have chosen you, and that can only end in one way: You're going to break my heart and I am going to let you. But at least that destiny means that I got to love you a little. And the pain that will ensue, would have still been worth it.