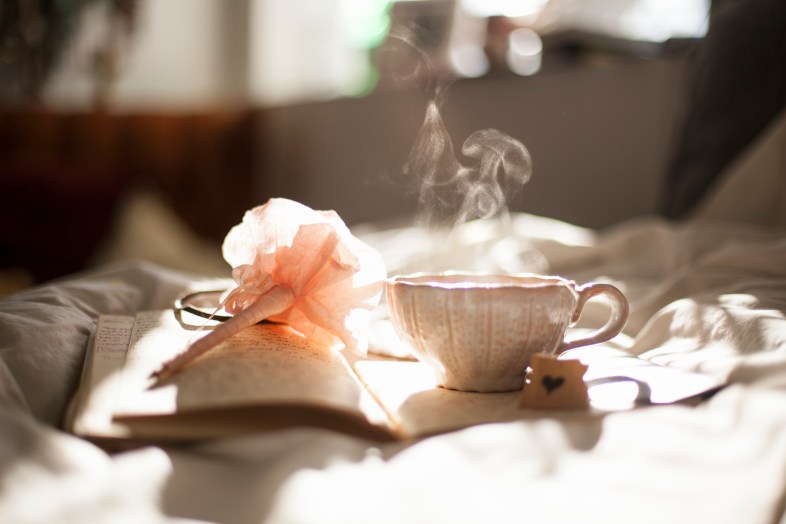 SHE CAN TRACE THE LINE OF YOUR FACE AND BODY WITH HER PEN. 
She captures the sparks that light up in the corner of your eyes when something excites you. She describes the way you laugh in the best way possible with every single little details that you don't even know you have. She can make people who read her writings knows exactly the strength of your arms when you hug. Or how your hands fit hers just fine.
SHE REMEMBERS EVERYTHING.
She transfers her thoughts and memories of both of you into a piece of scrap paper. Of how intense and burning the first time you both kissed (oh and the soundtrack that was playing). Or when you told her about your dad the first day you rode her home. Everything you loudly tell her or whisper to her, everything that happens between you and her, she keeps it forever. She engraves each of them in her brain as she writes. She leaves mark of what the two of you once had.
SHE WRITES HER FEELINGS. 
You'll see bunch of emotions in her paper journals. You'll find happiness nested on those pages in the form of beautiful and structured metaphors. But she also scribbles it somewhere, the sadness. Fights, breakups, mistakes, and every single bad things you said and did that hurt her when you didn't even think she remembered. They are all carved using her pen strokes.
SHE DROWNS IN HER WORDS.
When time gets a little bit rough, she escapes the reality. She gets lost in her own words for some period of time. You'll find it irritating that she writes it instead of telling you what's going on. But you have to let her. Because words are her power and writing is her way of protecting herself from a major downfall.
BUT ONE THING FOR SURE, SHE WRITES FOR HERSELF.
She writes so she can free up some space in her brain that's been weighing her down for quite long. None of her writings is meant for you to read. Sometimes she shares it with the world when she thinks people can relate to it. No need rocket science to find out that it's all about you. But it is never to seek your attention or to impress anyone else in the first place.
She simply needs it to keep her sanity.