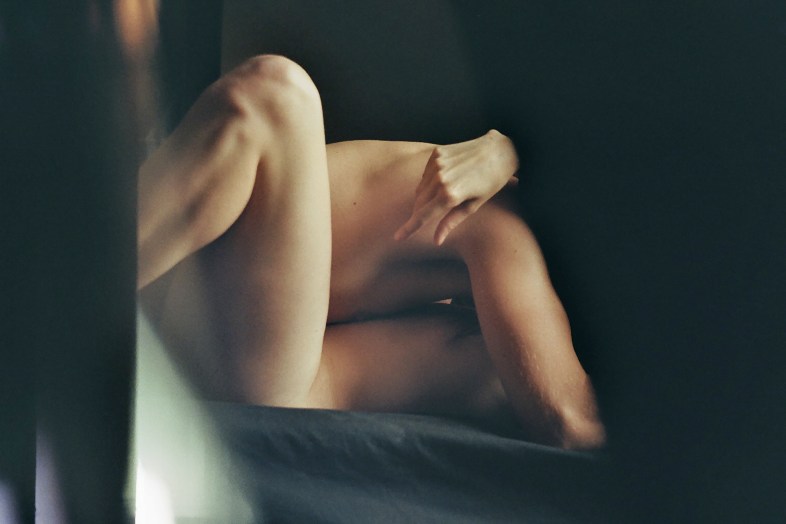 The client notices I am dressed to kill when I walk in his penthouse a little past eleven in the morning.
In our previous three meetings, as I pitched for his ten million dollar investment account I was dressed in sober, even severe, business suits. Now at a meeting at his home on a weekend (I suggested the date and the location) I am dressed in a skirt with fishnet stockings with a simple black top. The top hugs my firm breasts and I know I look good both coming in and going out in a manner of speaking.
We sit in his spacious living on sofa, right angles to each other. We go over my firm's proposal, though I am sure the client is only half listening. His eyes are constantly switching between my bust and my legs. I lean in to let him have a whiff of my scent and make my voice softer. This isn't the first time I am going to fuck my way into an account, I know all the moves.
"You see, Jenny, I reviewed both your and Kidder's proposals," he names my chief rival firm. I decide to wager it all. I lean forward, and touch his leg with my long fingers, lightly running them over the seam of his trousers.
"You see sir, I think you will find us, especially me, willing to go the extra mile that Kidder simply won't," I say back. I am right, their account manager for this client is a Hispanic man in his late forties. He is no threat to me.
He clears his throat and looks me in the eye, "Are you saying….?"
I smile and nod. "Whatever is inside of this" I point to my body "is nice, tight and willing, sir. You only have to say yes."
He pulls me closer and kisses my lips. His hands move on my body to find my breasts and knead them lightly while I push my tongue on his. I respond and sit in his lap. The client runs his hands on my smooth legs and pushes my tight skirt a few inches up.
"Let sign the deal on the table," he says and we walk to the writing table. He stands behind me and raises my skirt to my waist. His breath feels hot, feverish on my long neck as I hear his clothes drop to ground.
A hard slap on my rump that makes me jump and squeal, and the client pulls my panties down to my ankles. I feel exposed, whorish, standing at the client's table in his living room at eleven in the morning. He pushes my top up and I help him take it off. His hands cup my big breasts though my armpits and he kneads them while we kiss. He slaps my ass again.
"Oh yeah, I knew I wanted this when we first met," he whispers kissing my neck and my back.
I feel his erection brushing against my opening for a moment before he thrusts suddenly. I squeal in surprise and that squeal becomes a practiced moan of pleasure as I concentrate on giving Mr. Foster value for money.
He soon holds my slim waist and starts thrusting in and out in smooth, practiced motions. He has pushed my bra cups up so that my nipples are exposed and now he lets go of my waist with one hand to knead my breasts once in a while.
I know men equate noisiness with manhood. So soon, I am screaming like I am getting stabbed with each thrust. He is grunting and my moans are driving him even crazier. His keeps smacking my ass with the flat of his palm.
After some time I suggest a change and turn around. I rest my bottom on the edge of the table and spread my thighs. He spreads them even further and enter me again. His mouth is now hungrily sucking on my nipples alternately. I scratch his hairy chest with my long nails and keep volume as high as possible. He is moving at a frenzied pace now. When he links his palms beneath my ass, I happily let go of the table and rest myself on his palms while he finishes.
Later, we are in his bed. We are both naked, sweaty and sticky beneath the sheets. His mouth can't have enough of my boobs. I ask him to insert a pillow beneath my generous buttocks and let him mount me. I am impressed in spite of myself. He is on top of me and thrusting while his hands grab my ass cheeks. I wrap my milky thighs around his waist and again increase my volume. At the last minute he sinks his teeth in my breasts, leaving a mark that will be impossible to explain to my boyfriend. I lay pinned beneath the client for a few minutes while we catch our breath.
A brief period of rest and then, when he is ready again, he suggests I go to town on him. I oblige. I sink to my knees on the bedroom carpet while the client sits in bed and plays with my hair and breasts. I also oblige him when he wishes to cum in my face.
A nice, hot shower together and I am getting dressed again. I step into my panties, pull on my bra and hook it on back. Then I turn to him and say, "Sir, I brought an extra copy of our agreement. I hope you will sign it now."
"You had left a copy with me when we met at your office last time," he says while opening his writing table drawer. He tosses a file at me without even looking at it "I had signed up for you folks about twenty minutes before you came," the bastard says with a smile.