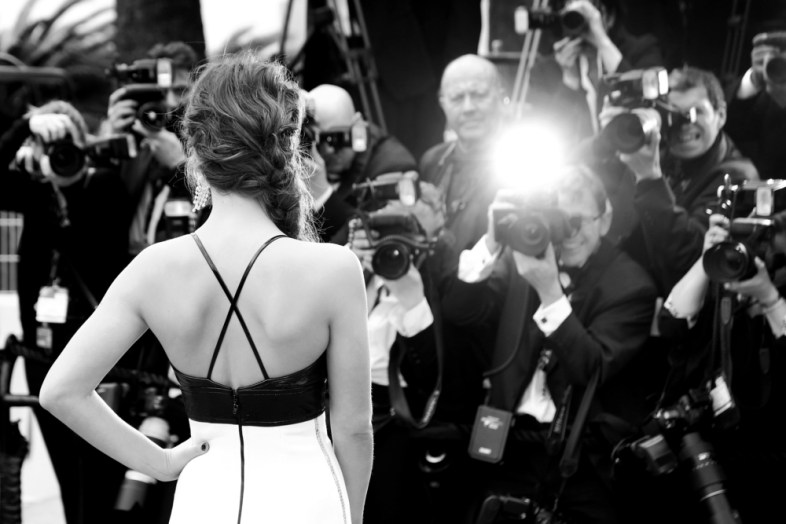 You're not supposed to feel bad for people who work in Hollywood, especially actors. They chose to work in a ridiculous profession and make tons of money if they "make it." But after living in LA for eight years and meeting tons of people who've decided to come out here to make it big, I have to say that actresses in particular have the least enviable job in this business. Struggling or not, the job is full of downsides, way more than the obvious "the paparazzi stalks you on vacation."
Since I haven't spent much time in the acting world, I asked my girlfriends who run around from audition to audition in their tiny, filthy cars to tell me the worst stuff they've experienced/heard of while busting their toned butts. Remember that nothing is true of everyone, so these things can't be assumed about all people, but they've popped up enough that they're worth noting.
1. IT COSTS THOUSANDS TO EVEN GET STARTED
The cost of moving to LA with whatever savings you have aside, every day is like prom for an actress. Regular upkeep of hair, makeup, wardrobe, fitness, healthy food and a working vehicle are all must-haves. Then you throw on the cost of headshots, acting coaches and workshops and you're at another couple of thousand. And that's if you get your headshots right the first time—I have so many friends who have paid hundreds to have headshots shot and printed only to be told by a casting director that none of them work.
2. NO ONE'S GOING TO HELP YOU
When you start a new office gig, there are plenty of people around who only benefit from you doing a good job so they're eager to lend a hand. When you're an actress, more people benefit from you sucking. When you go to auditions, you see girls with lipstick on their teeth and tags sticking out of their shirts and no one tells them. It's not uncommon for actresses to lead one another in the wrong direction. Few are generous enough to even speak to you. At that stage, you have to live by the motto "trust no one." And that's a terrible way to move about the earth.
3. PEOPLE FUCK WITH YOU ALL THE TIME
One of my girlfriends told me that she auditioned for a big national commercial ($$$) and the casting director told her to come back the next day as a brunette. Assuming that the gig was hers, she dyed her freshly highlighted hair (a $200 expense), and went back only to find out the part went to another blonde. So basically she ruined her new highlights for no reason AND didn't get the job AND had outdated headshots because her look had changed so drastically.
4. YOU'RE EASILY TAKEN ADVANTAGE OF
You're a sitting duck for scams and other icky behavior when it's clear that you're inexperienced and willing to "do anything" to make it. I was told a few tales about women who got fully nude in front of casting directors (even one for a student film) only to find out later that the part had already been booked by the time they were seen.
5. THE BUSINESS DOES YOUR FAMILY PLANNING FOR YOU
Unless you're the star of a sitcom in it's sixth season, no one wants a pregnant woman on set. They're expensive to insure and who knows when they'll be back in fighting shape?
One friend told me about a gyno who's bread and butter is performing abortions on starlets who get knocked up unexpectedly. She said that many of these girls would sob in the waiting room because they didn't want to give up their babies but felt (or were told) that they had to for their career.
6. IF THEY HAVEN'T MADE IT BY AGE 30, THEY START TO GO NUTS
It's gotta fuck with your mind to spend you twenties working out every day, eating vegan and going on audition after audition for student films and commercials. Actresses come out here young most of the time and expect to book their first big job by 25. Or they do book parts in their early 20s then have a dry spell for a few years. Once they hit 30, they are more aware than ever that their youth is fading. What are they supposed to do if they're not going to be cast as the ingénue but aren't exactly the "funny best friend" type either?
This feeling of exhaustion/insecurity/fear often shows up as nervous chatter or other desperate behaviors at cocktail parties and meetings. They start to reek of it. And that only fucks them even more because unless you're super talented, no one wants to hire a weirdo with frayed nerves.