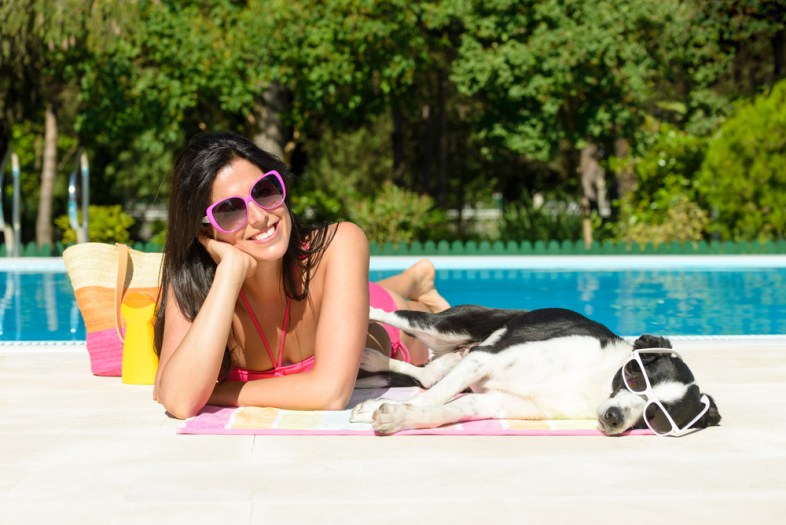 1. THEY FORCE YOU TO GROW UP
Well, a little. Like, they don't remind you how to do your taxes or that your best friend from college is coming into town and sleeping on the Luvsack in your living room. Those things are life's fun little surprises. BUT! Owning a dog will never leave your mind. When you hear "last call" and that Semisonic song starts blaring, you don't think "should I get this Persian dude I've been making out with's number?" You're all like, "Oh, that's my exit, gotta go home and walk my dog because I'm a responsible, loving pet owner!" And if you have your cat/dog/chinchilla and you don't think the latter, you should probably give your pet to someone who's not a fucking socio.
2. THEY'RE FUZZY
I wear a lot of faux fur because I go for the "hooker chic" look 6 days out of 7 and my therapist told me that the reason I do that is because fur is very calming. Unless you adopted or bought (bought! You asshole!) a sphinx cat you have a warm fuzzy thing at your disposal whenever you need to be soothed. I rub my face on my Chihuahua. He hates it, but I love it so whatever.
3. YOUR WEIGHT WILL CHANGE
If you have zero ability to set boundaries, be prepared for a little accidental anorexia moment or for your jeans to be a little snugger than usual. I would guess I've eaten most of my meals out (which is bad for you 87% of the time) or hovering over my sink. I do so as fast as I can because there's a lot of pressure to keep your tray of Bagel Bites to yourself when a seven pound dog is barking and climbing your leg in hopes that you'll drop a three cheese into his mouth. But if you DO share your food, you're barely even eating and you'll be model skinny so see you at fashion week, mother fuckers! I'll be the one in the first row of the Marchesa show illegally smoking cigs with visible bite marks all over my thighs!
4. THEY REALLY DO ALWAYS CLEAN YOUR TEARS
I know it's not because they want to help you feel better by licking the tears off your cheeks, but it does help 'cause you get off a bad phone call all "My entire life sucks to death but these kisses are wet and furry, LOL!"
5. YOU CAN TEACH THEM TO DO COOL THINGS
My dog can sit and put his tummy to the ground, but he doesn't always do it. He's a little punk who likes to Gaslight me. Example: We'll spend hours in the apartment where I write and he terrorizes me, but as soon as I take him out everyone else in the world sees this sweet, docile Chihuahua with the face of a model. Or sometimes a new female friend will come over and he'll smell her and kiss her and curl up in her lap and I'm standing there like, "He's putting on a show. He's fooling you. This is not who he is. I'm not making up the tales of abuse."
One thing I taught him that stuck was how to find his leash and bring it to me. If he starts jumping around and I look at the clock and realize it's pee time, I yell, "Go find your leash! Where's your leash?" and he'll come back from the kitchen swinging his leather leash from his mouth like, "Who's the champ? Who's the champ?"
6. THEY KEEP YOU SAFE
My seven-pound dog has a bark so loud he scared away men attempting to break into my Koreatown apartment twice. He also scared the homeless guy who roamed into my apartment screaming, "Where's my daughter?" Wags is basically Christina Aguilera in that he could be described the way she often was in 2002 "little body, big voice."
7. THEY KNOW WHO'S DOWN TO FUCK
For a long time I thought my dog hated men but then I realized that he doesn't hate all men. He loves gay guys and guys who have zero interest in fucking me. It's the dudes who wanna bone who get the full Wags experience (which often involves him purposely drinking too much water so he can force himself to puke on the dude.) Pets know, man. They just know.
8. YOU STAY A LITTLE MORE ORGANIZED
I know that in a pre-dog ownership world I would just toss my thongs anywhere I wanted in my apartment and be like, "Fuck it, I'll deal with it on laundry day." But the thing is, dogs love crotches so much. And they don't stick to the thongs from Target. You should see how many $30 thongs I have with the crotch eaten out of them like somebody paid me to let them do that. My thongs go to the laundry room almost regularly now but sometimes I'll find a wounded soldier between the couch cushions and give myself a serious talking to about leaving nice lingerie around when you own a perverted dog.
9. YOU HAVE A REASON TO KEEP TRYING
I can't tell you how many times I've been one freelance check away from packing up my shit and moving home to Boston because of my financial status. But that's when I start to hustle harder because it takes approx. $6 (minus the cost of rent) to keep a Chihuahua alive & safe and if I can't keep my dog alive, I'm more useless than this girl I used to call "Useless Stacy". And I am not a Useless Stacy! I am a stong proud woman who can dodge the landlord for six days until my rent money comes in. Then I just have to throw half a fistful of Iams into a bowl twice a day and the little dude has a safe home in LA for at least another month. Useless Stacy didn't have a pet but once accidentally flashed an apartment full of people her bare vagina and drunk giggled herself out the door. That's a woman who doesn't have any reason to be home by 2:30. The only thing Useless Stacy has to feed is her demons.
10. YOU HAVE SOMETHING TO TALK ABOUT
When I leave the house I have absolutely nothing to say to anybody because people make me nervous, even the nice ones. When it's real bad I just hold up a picture and say something like, "Look how cute my dog is" and they die for him and then I ask that person if they own a pet. Most people love pets, but be warned, there are a lot of people out there who hate pets and those are the ones you gotta be looking out for 'cause they will not hesitate to kill you if they feel they need to.
11. YOU CAN SPOT A BAD PERSON WITH MORE EASE
As I've said, anyone who flat-out says they don't like pets is probably going to murder you or someone when they deem it appropriate, but a lot of people don't just come out and say it. They drop hints. It's the tone in their voice when they tell a friend on they're cell that you're running late because you "had to walk your dog" as if letting a dog out to urinate for three minutes is narcissistic, self-obsessed behavior. Or if you're strolling down a pretty street, taking in the vibes and drinking an iced coffee (add shot, splash of 2%) and you see a little pet store and stop to looking in the window s/he grabs your arm while shaking their head and saying, "Ohhh-kay, let's move along" as if, instead of a seasonal dog sweater, you were checking out a kit that's supposed to help you molest children. If someone can't handle you taking in something for a moment or two, they're a hot pot of dick stew. And s/he doesn't respect your relationship with your pet and that's a major deal breaker.