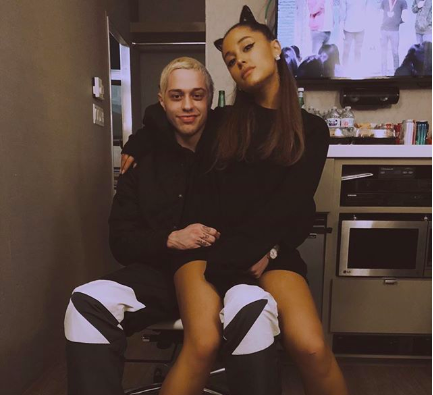 Life throws us unforeseen obstacles all the time. Often, these trials are really opportunities for growth, testing our limits and helping us become who we are meant to be: Stronger, better, and more self-actualized, or whatever.
For me, it was falling in love with a celebrity who I will literally never meet and then finding out he got engaged to someone way richer, hotter, talented, famous, and important than me. And now everyone is obsessed with him, too!!!
Of course, by now you know I'm talking about Pete Davidson and Ariana Grande. And this is me finally shipping the fuck out of them.
(Note: I even followed Grande on Instagram today. Yes, I am growing as a person. Ty for noticing.) 
I mean, look at them!!! They look like they make literally no sense together!!!!!
She is so small and tiny and cute and has a voice, eyeliner, and ponytail that defy gravity. She is also almost always wearing animal ears, which I am now seeing is actually adorable as hell. I was a hater for a long time, but Kendra told me she has an impressive vocal range and is a feminist, so I guess I kinda like her now.
Davidson, on the other hand, is her opposite. He is tall and lanky. He is a #sadboy whose smile could kick my daily need for 40 mg of Prozac. He is mysterious (recently, he deleted all his Instagram posts) and he makes dark shit funny. He also really likes colorful clothes.
To sum him up even better than I ever could, here is a tweet that makes me understand all my attraction:
pete davidson is so hot in spite of, or maybe BECAUSE OF the fact that he looks like a blink 182 song that came to life

— SadeVEVO (@fillegrossiere) August 16, 2018
"All The Small Things" he is not, though. He has BDE and is like six-foot-three. That is a tall glass of water, my friends. And mama thirsty.
Anyway, I digress. My love for Davidson is not the point of this bizarre thinkpiece!
Basically, when the couple started dating, I was so not for it. In fact, I have never been less for something in my entire life. And I have many opinions on lots of things that don't matter, but this one truly took the cake.
But then, as they posted more and more pics on Instagram and they got more and more press, my disdain turned into curiosity which later transformed into genuine affection for the two. They are actually pretty damn cute together.
Today, Grande released her new album Sweetener and one of the tracks is literally titled "pete davidson." This week, GQ also published a profile of Davidson where he lovingly spoke about his fiancée and how grateful he is for her. The two are clearly pretty into each other and maybe love isn't dead after all.
So, in conclusion: God is a woman, Ariana is super hot, and Pete is a lucky dude. My blessings that no one gives a fuck about have been granted.