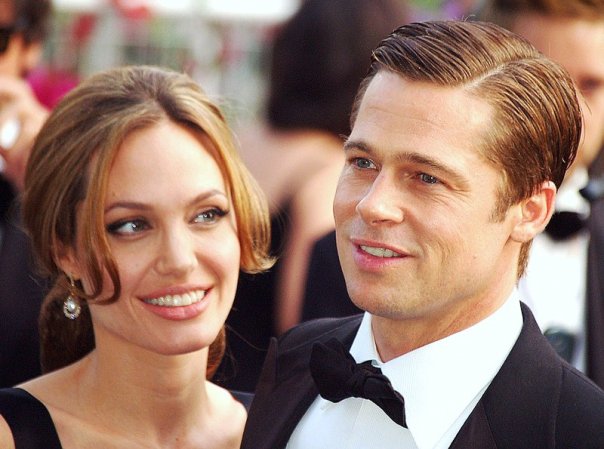 As you've probably already heard, TMZ reported today that Angelina Jolie has filed for divorce from husband Brad Pitt on Monday, citing "irreconcilable differences" in her documentation.
Cue eruption from the Internet, claiming everything from love is dead to that it never existed in the first place. But, the thing that stood out most to me was that Jennifer Aniston, Pitt's ex-wife, would be laughing maniacally from wherever she is, basking in the sweet schadenfreude in seeing her ex-husband's marriage fall to pieces. And frankly, this is bullshit.
In case you need a refresher,
Pitt and Aniston were married from 2000 to 2005. The pair met while filming an episode of Friends in 1998 and were married in Malibu in 2000. However, in 2005, the couple announced they would be divorcing. Pitt had fallen in love with Jolie while filming the comedy Mr. and Mrs. Smith. In 2006, Jolie announced she and Pitt were expecting their first child. They were married in 2014 and now have six children together.
As you can probably guess, the media took the story and went to town. Jolie played the role of the homewrecking slut. Aniston, the victim and woman Pitt left behind, surely heartbroken and never to love again.
Poor Jen. Slutty Angie. And the role Pitt played? Just the dude two women were fighting over.
The story was a match made in tabloid heaven, a narrative that would follow Aniston for years, from every relationship she pursued. However, Aniston is now happily married to Justin Theroux. She's successful AF. She's hot AF. And you know what?
She probably doesn't give a fuck that Pitt and Jolie are divorcing.
Like, not a single one. Home girl moved on, yo. She does not care. And the fact that everyone is speculating how one woman is probably rejoicing bitterly over one couple's fall is frankly typical misogynistic bullshit.
You see, women are often pitted against one another, especially when it comes to the affection and attention of men. Women are taught from day one that we are in competition with one another, grabbing and fighting to be the object of the man's desire. So despite Aniston's successes, despite her being happy, the fact that one relationship with one guy didn't work out surely has left her bitter and scarred. But this is clearly not the case.
Because here's the thing: One man does not define a woman's happiness, success or worth.
One man who decided he did not love her enough to stay does not make her unlovable or undesirable. He's one dude. And even if Aniston had not found happiness with Theroux, she would still be worthwhile. She would still be the badass woman we know her for today.
So let's let's leave Jen out of this one. After all, she's doing just fine.