Rome is my absolute favorite city in the whole world (so far). I don't know what it is that draws me in, but nowhere else seems to compare. After visiting a couple of times, I compiled a list of my favorite things to do and see if it's your first time visiting. Some I discovered simply by wandering around, some are obvious tourist destinations, and others were recommended by locals or people who visit often. No matter what you see in Rome, you won't be disappointed.
1. Palatine Hill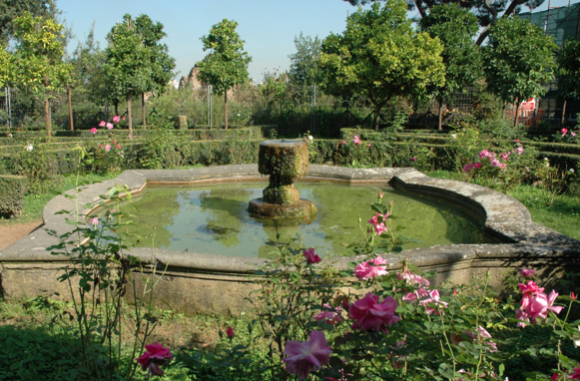 There are so many gorgeous things to see in Rome, but taking in the history is a must! Palatine Hill lies right next to the Coliseum, and you can usually get package tickets to both on the same day. The area features an arena, forum, amphitheater, church, Augustus' house, and more. Not to mention the incredible view of the city from the top of the hill. I recommend grabbing sandwiches before you enter and enjoying a picnic in the afternoon. Leave plenty of time to walk the hill as it takes about half a day to truly appreciate it.
2. Coliseum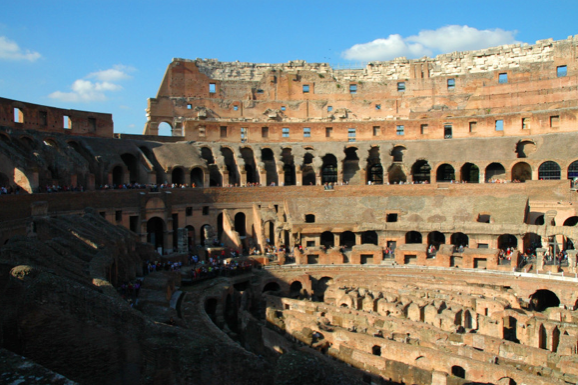 One of the things I loved here, is that you can actually walk around and touch a piece of history. They trust you to be an adult and respect the property, so make sure to follow suit. We ended up going before sunset by accident, but it turned out to be a huge bonus. Seeing the sunset over the coliseum was spectacular! We were actually the last people to leave and having the place to ourselves for a moment was indescribable.
3. Monumento Nazionale a Vittorio Emanuele II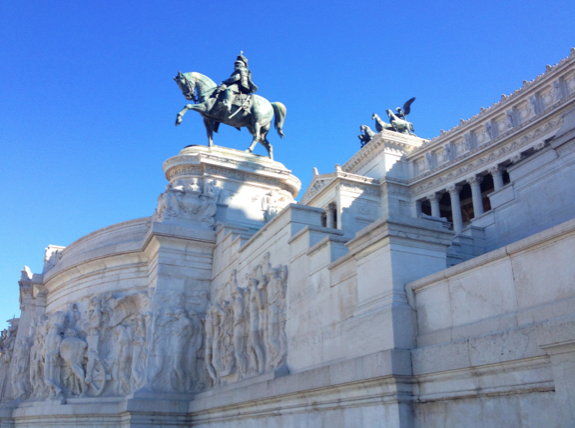 This was actually something I walked past the first time I visited Rome. I assumed it was a government building and thought it was off limits since there are guards out front. On my second trip to Rome, I discovered that you can walk around inside and go to two different roof tops. The first roof has a cute cafe where you can get an amazing panacotta (my favorite dessert) and cappuccino. The top roof has an unbelievable view overlooking all of Rome. Inside are a few small museum exhibits as well. I feel like a lot of people either skip this or don't know to go, and they are definitely missing out.
4. Ristorante Mario's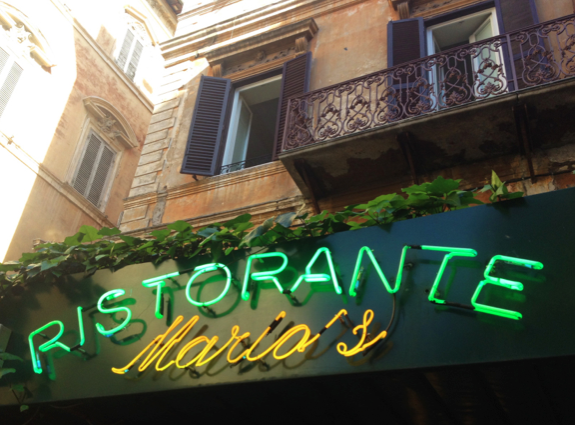 This adorable little restaurant happened to be across the street from our apartment on our second trip and became one of our favorite spots to grab a bite to eat. It's close enough to all the touristy things you'll want to see, but just far enough off the beaten path that it's not crowded or overpriced. Plus, it's a lot more authentic than most of the restaurants on the main strip. The pasta here is phenomenal, but they also had a platter of fish that was to die for.
5. Trevi Fountain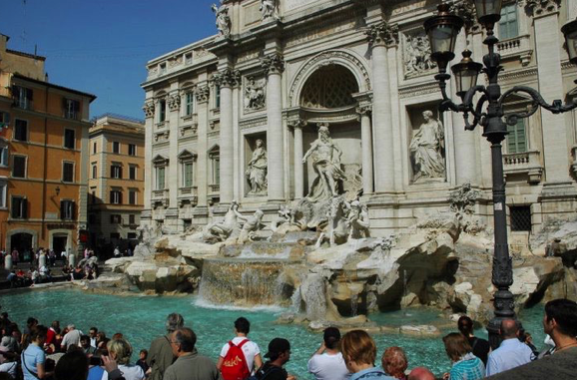 Although overcrowded with tourists, it's a must see. I accidentally stumbled upon the fountain one day, and it truly is beautiful. I was asked to take a photo for a large family (about 15 people) in front of the fountain, which I was happy to do. They asked us if we wanted a picture, which we were delighted about. They actually stood and blocked people from stepping into our photo so our pictures look like it was empty that day, but it was actually jam packed. Thanks to the family who acted like bouncers as we got our perfect shot!
6. Pantheon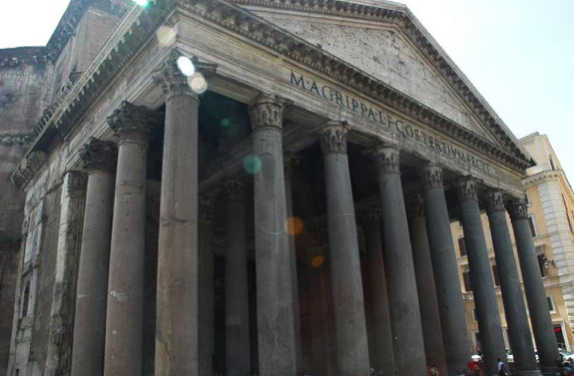 The Pantheon is not far from the fountain and is worth the extra walk. It's a bit overcrowded and a little over rated. Nonetheless it's still worth seeing on your first visit. It's one of the most well preserved Ancient-Roman buildings which makes it pretty amazing. Read up on the history before you go to better appreciate it.
7. The Vatican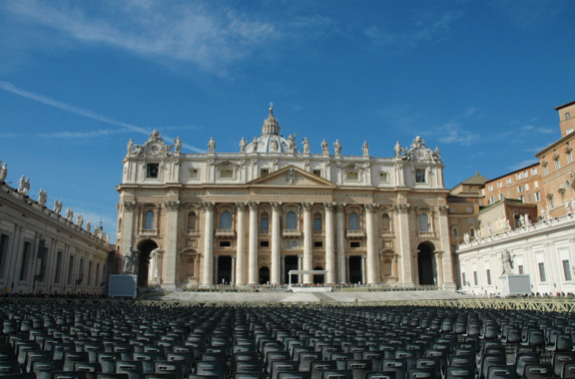 The Vatican is another place where you're going to experience large crowds. This time it's totally worth it. St. Peter's Basilica is breath taking inside. I honestly can't explain how awe inspiring it really is. Even if you're not religious, the architecture and detailing is so beautiful. Although you can't enter the city, you can still say you've been to the smallest country in the world which is great for bragging rights.
8. Hotel Palatine Roof
I am not exaggerating when I say the roof top restaurant at Hotel Palatine is where I had the BEST food I've EVER eaten. My boyfriend and I asked our waiter for a recommendation, and he said we must try the chateaubriand. We didn't argue as he was very convincing, and he was completely right! The steak literally melted in my mouth. I didn't even have to chew it. The flavor was impeccable, and nothing I say can really do it justice. Just trust me and try it. You won't regret it.
9. Gelato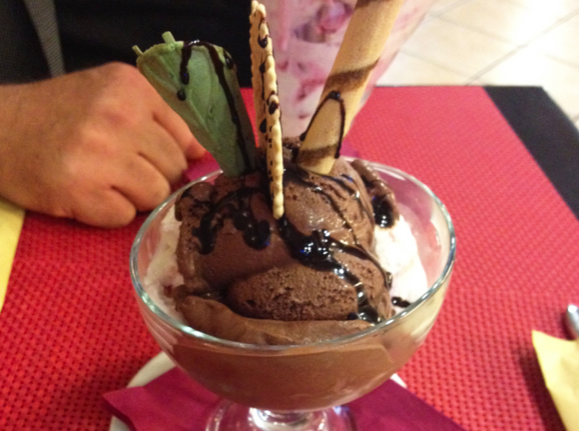 My only advice here is to eat as much as you can. Eat it after breakfast and after lunch. Hell, even get it as a late night snack. Don't feel guilty, you can work out when you get back home.
10. Basilica San Clemente
I actually missed this on my first visit to Rome. I always ask people their favorite thing to do when they visit a city, and this was highly recommended to me by someone who had been to Rome many times. The cool thing about this Basilica is that you can actually go underground and explore tunnels underneath the city. It's a little creepy, but very interesting as well. (Unfortunately, they do not allow photos here.)
11. Spanish Steps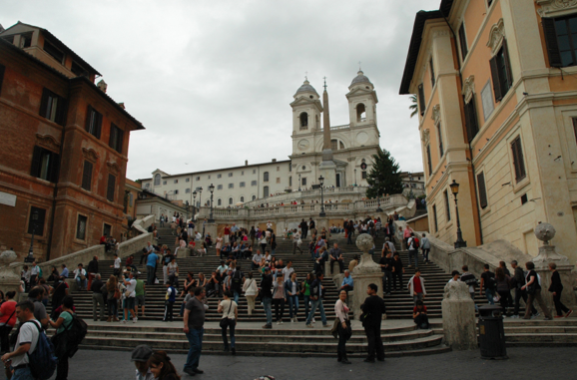 I've included this on my list although I have a love hate relationship with the Spanish steps. The good part is that they are beautiful and right next to prime shopping. The bad part is that the steps are covered with people trying to sell you weird little toys. There are also several men who hand you a rose as a gift and then ask your boyfriend to pay for it. Obviously, this puts your beau in a rather awkward position, so be aware and don't take the "free" flowers. The real reason I love these steps is because they lead to the Villa Borghese Gardens.
12. Villa Borghese Gardens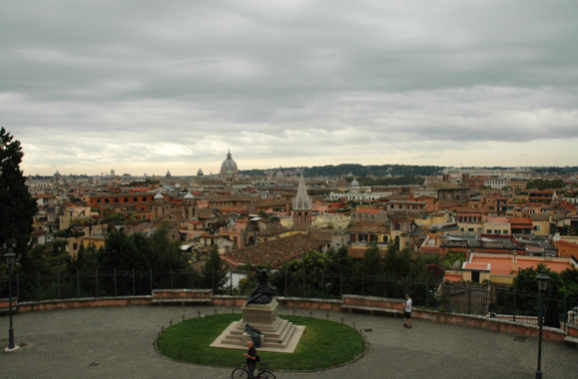 We accidentally stumbled upon these gardens on our second trip to Rome after going up the Spanish Steps and veering to the left. We rented bikes very easily and rode them around the gorgeous park. There are a few small floral gardens, a couple of museums, restaurants, and a beautiful lookout point where you can see all the way to the Vatican. We ended up spending half a day here, and it was the only times I felt a little like a local.
13. Cappucino
Like gelatos, you should always indulge in a cappuccino. We walked around so much that we would get exhausted and need to take a break. Sitting down for a half hour and enjoying a coffee in the afternoon was a much needed break from an otherwise packed schedule.