Spending a day in New York City and only spending $30 is challenging (to say the least), however this week I decided to focus on Chinatown. If there is one area in NYC that is cheap, this is it. The most difficult part of this challenge wasn't saving money. The challenge turned out to be filling an entire day with this small chunk of the city. If you do decide to visit Chinatown when you're in New York, you can honestly make this a half a day trip.
10:00am Brunch at Jing Fong Restaurant- $10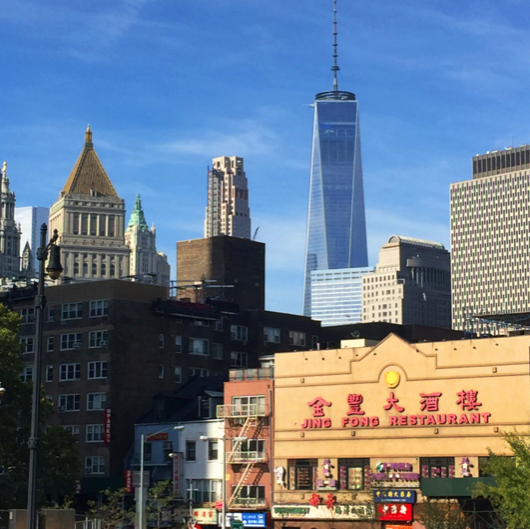 The day started with brunch at Jing Fong. We arrived at 10am and were seated immediately. This restaurant is unique in the fact that you do not order from a menu. Instead, you are seated family style, and the wait staff pushes around carts filled with different delicacies. If you see a dish you like, they bring you a small plate, and if nothing wets your appetite they move onto the next table.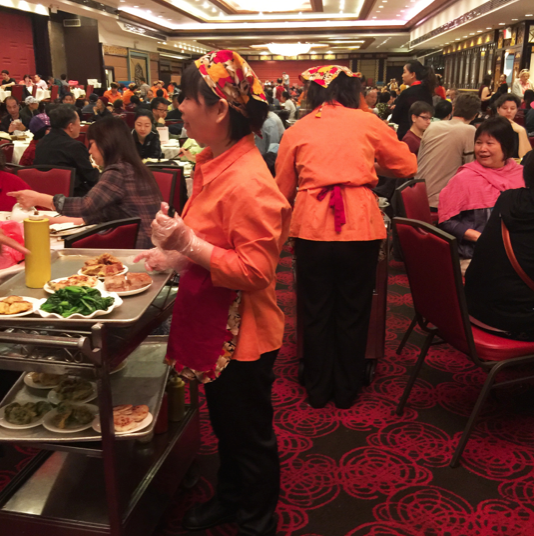 At times, this can be overwhelming and it's not for the faint of heart. At least 50% of the time, you are unsure of what you're consuming. Mostly the waitresses will say "shrimp" or "pork" when pointing to a dish that looks nothing like shrimp or pork. For those who feel adventurous and are comfortable diving in head first (or mouth first in this case), you will be in food lover's heaven.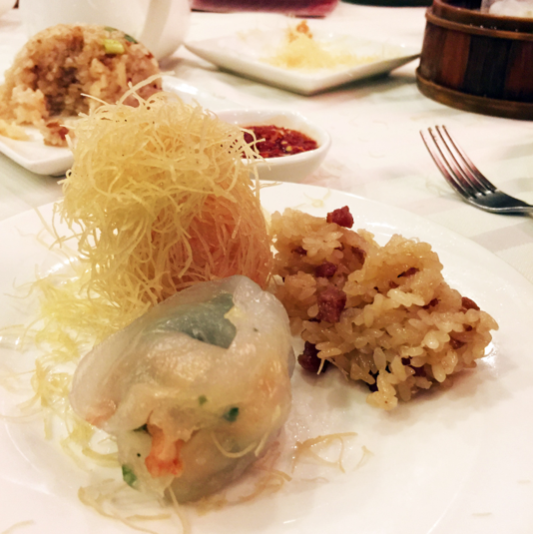 Most of the unusual dishes, for instance the chicken feet and trippa, are extremely easy to spot. My favorite dish was the shrimp dim sum. We ordered five dishes to share and only spent $10 each.
11:00am Visit the Mahayana Buddhist Temple- $1 donation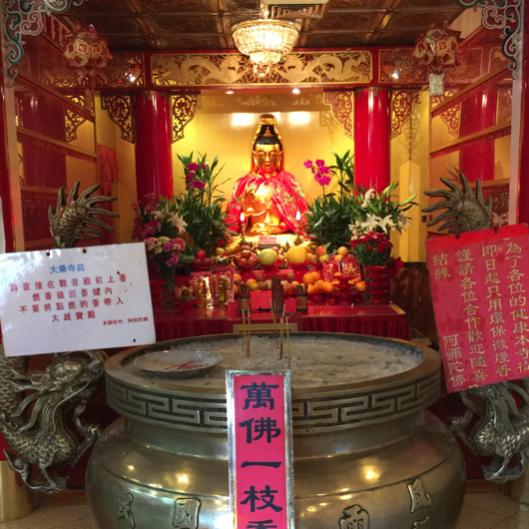 The next stop on our list was a visit to the Mahayana Buddhist Temple. We entered to find a medium sized Buddha stationed in front of us and the smell of incense in the air. We continued into the main temple where the cities largest Buddha was surrounded by women waiting for a service to begin. We wandered around the room reading descriptions of the paintings on the wall. After several minutes the service began, and we headed to the back of the room out of respect. We slowly exited but watched for a few moments as the beautiful ceremony took place. For a $1 donation you get a rolled up fortune.
11:20am Entrance to the Manhattan Bridge- Free
We made our way across the street to the entrance of the Manhattan Bridge. This stone entrance consists of a beautifully detailed stone arch with columns on each side. People neglect to stop and appreciate its beauty because it is often full of traffic entering the city. If you can take the time to tune out the horns honking and cars speeding past, it's actually rather pretty.
11:30am The Original Ice Cream Factory- $4.50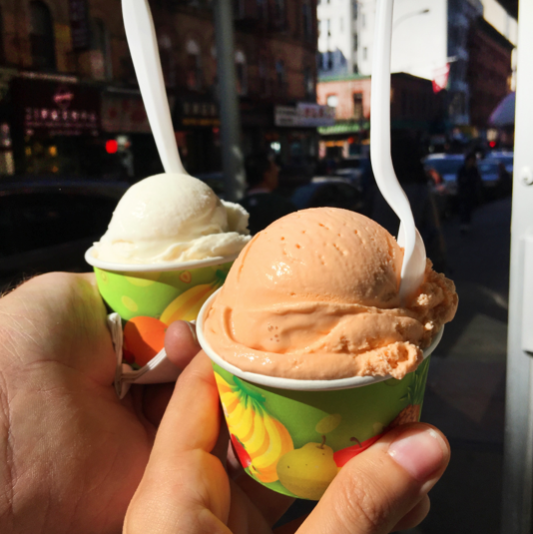 We doubled back and walked slightly further than Jing Fong restaurant to find The Original Chinatown Ice Cream Factory. I would not expect one of New York Cities best ice cream joints to be in Chinatown, but alas it is! This small hole in the wall ice cream shop is more than meets the eye. Their most popular flavor is the "Black Sesame" which I'm going to be honest, tasted like oil to me (blah). However, their "Thai Tea" and "Lychee Rose" are delicious. If you're more of a traditionalist, fear not. They also have more common flavors like chocolate, Oreo cookie, and strawberry. We each spent $4.50 on a single scoop, which was well worth the high price.
12:00pm Shop Canal Street and Areas South- Free
With ice cream in hand, it was time to do what most people come to Chinatown to do. It was time to shop. Well, it was time to window shop since actual shopping was not included in the budget. If you are planning to buy souvenirs while in New York City, this is definitely the place to do it! You can purchase New York t-shirts (5 for $10), hats, scarves, and a number of other goods to take home. Be prepared to haggle as almost everything can be reduced by at least $2, and make sure to have enough cash for the entire day with you, since a lot of businesses do not accept credit cards here.
The only downfall of walking through this area is that you will definitely be stopped by tons of people trying to sell you fine watches and designer purse knock offs. Although the offers are enticing, try to ignore them, as most are extremely sketchy. These fine salesmen tend to flock to Canal Street. Instead of staying on the tourist-inhabited street, I'd recommend traveling up and down the side streets to avoid being badgered. Plus, you'll see a lot more of Chinatown this way.
1:30pm Columbus Park- Free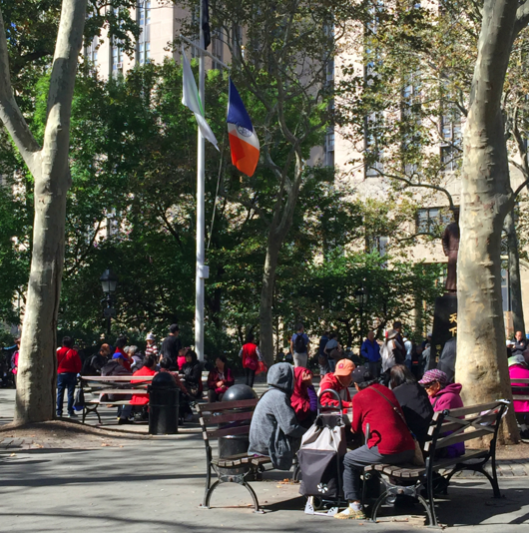 While wandering around, we ended up seeing a part of Chinatown I had never been to before. We came across a map, which showed Five Points nearby. We were only a block away, and my boyfriend wanted to check it out. It ended up looking more like a difficult place to cross the street than anything else.
Then, we turned a corner and found ourselves in Columbus Park. A park I had never visited before. The great thing was that it appeared to be a hang out for the elderly Asian community. We witnessed people playing music, groups of friends catching up, and tons of people playing intricate card games. We sat on a bench and just people watched for a half an hour while taking in the sounds of people chatting and playing foreign instruments.
2:00pm Kung Fu Tea- $3.50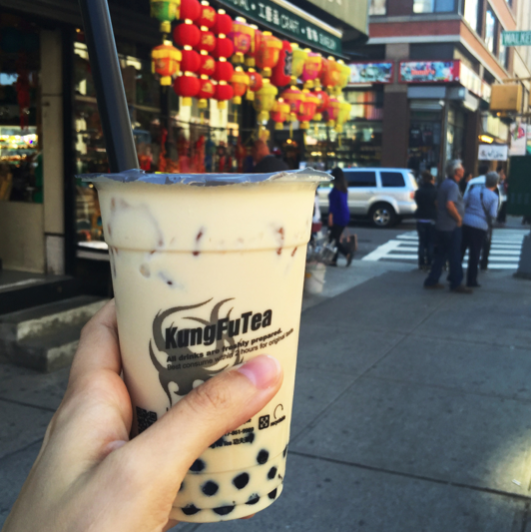 After making our way up and down several streets, we stopped to grab a drink at Kung Fu Tea. Bubble tea can be hit or miss since some people hate having to chew their drinks. I personally love it. For those of you who haven't heard of it, it's ice tea mixed with tapioca balls. A medium tea cost $3.50 each.
2:30pm Museum of Chinese in America- $10 ($5 if you're a student)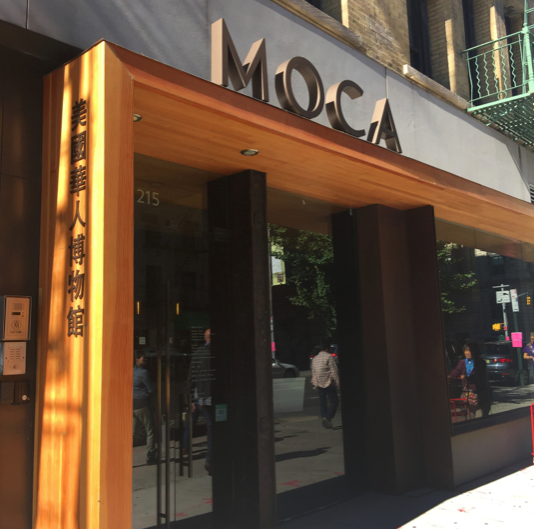 At this point we had checked off almost everything on my to do list and it wasn't even 2:00 pm yet. If you're only going to be in town for a week, I'd recommend checking out another area for the rest of the day. However, if you are spending a couple of weeks in New York City and really want to see everything Chinatown has to offer, I'd recommend heading to the Museum of Chinese in America (also known as MOCA).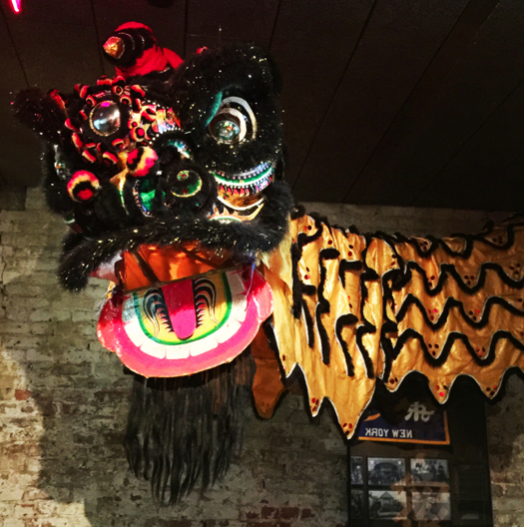 This was an unplanned stop on our tour. We happened to stumble upon it right as we ran out of things to do. I had researched it online, but it cost $10 a person to enter and I didn't account for that in the budget. Since I had a student ID it only cost $5 to get in.
They currently have three exhibits. The first was on the life of casino workers living in shared housing, which I thought would be a bore. Most of the information was presented in easy to understand graphs alongside photos. I actually found it extremely informative. The second exhibit was about immigration into New York City and the struggle of Asian Americans. The exhibit included original documentation, videos, and stories of people from the time. I felt like I was getting a small glimpse into a history that I had never realized existed.
Most of my classes in high school taught me about the Irish and Italians immigrating to the U.S. And later, when I learned about equality it was usually based around African Americans and women's rights. I felt ignorant for not realizing that Asians too had to overcome so many obstacles. The third and final exhibit was about Asian architecture. This one I found less intriguing as it was a small exhibit of building photography. Overall, it was a great experience, and I was glad we decided to go in on a whim.
3:30pm Walk North of Canal Street- Free
We continued to wander down the streets. We had left the typical tourist area and began to explore the more local part of Chinatown. Most people stick to Canal Street and Mulberry Street, but Chinatown stretches a lot further. I'd recommend walking up to Grand Street and across to Allen. You get to see all the local stores including fish markets, veggie vendors, dried foods, herbal teas, and holistic pharmacies. You'll spot everything from dragon fruits to dried sea cucumbers.
5:00pm Dinner at XO Restaurant- $9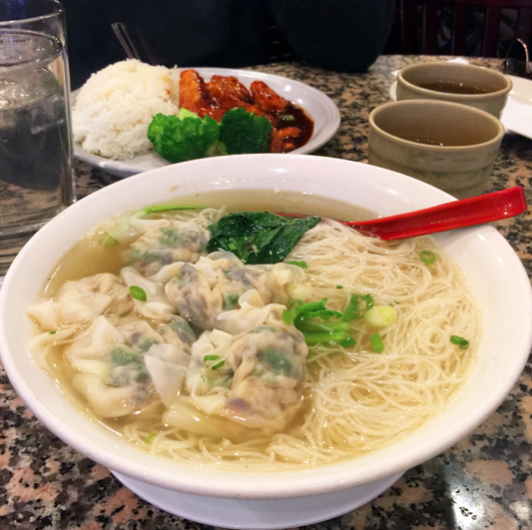 We finally decided it was time to grab a bite to eat. We settled on XO Restaurant on Hester Street. The food looked authentic, and the prices were right. I ordered the noodle soup with shrimp and pork parsley dumplings, while Gary opted for the more American orange chicken. Both tasted great but the less authentic the dish, the pricier it was. Our total was $9 a person including the tip.
A lot of people seem to be afraid of Chinatown, but it is truly one of my favorite parts of New York City. The diversity that exists here is what makes living in New York so great. If we add up the costs, you'll see that I came in over budget at $33 ($38 if you're not a student). With the unexpected stop at the museum, we had a hard time getting back under budget.
I would definitely say that having both the ice cream and bubble tea was unnecessary. To stay under budget, I would follow this itinerary minus the Kung Fu tea. In addition, it was difficult for us to window shop in Chinatown as we both have been there so many times. I think someone visiting for the first time could easily spend more time shopping, and not need the museum to keep busy.
If you decide to do a half-day, you can stop right before the Kung Fu tea on this list and have only spent $15.50. Leaving you with $14.50 to spend in another neighborhood while staying on budget!