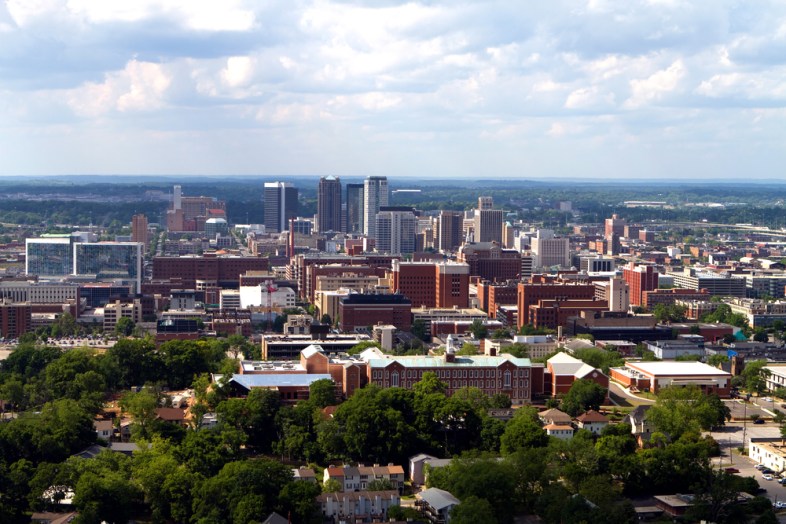 I don't get back to the University of Alabama that often anymore. When I do go back, I find a shadow of the place I left. It is the same, but something is different. I wander the streets, recognizing some places, finding others new and unfamiliar – What the heck is Taco Mama? – staring out into a rush of young faces, somehow surprised I don't recognize a single one. More surprising is how I struggle to remember the me who went here, and all the dreams my friends and I carried with us every day to class. I remember my first dorm room at Ridgecrest West, and my apartment at the Woodlands, and the one behind a Powell Gas Station. I remember Queen City Avenue, and thin-crust, square pizza pies from a Tuscaloosa dive named Pizza Palace. I remember walking across the quad to Lloyd Hall, and I even remember the day 2014 #1 NFL Draft Pick J.D. Clowney showed his NCAA Football '11 prowess and beat me, taking home the W on a blocked punt as time expired, but I cannot for the life of me remember how I felt. A lot of those dreams we nurtured here at the University of Alabama have become reality. A few college roommates became NFL athletes. Another serves in the United States Navy. The thing about dreams, you realize later, is that the journey making them come true brings more joy than seeing them realized. When I go back to campus, I try to remember. I think about what outlast every whistle and clock. Mostly, I think about late April.
Radio City Music Hall looks out over 50th street and 6th avenue, and requires a tie. I have walked past it from 6th avenue before, without a tie, and never felt underdressed, but tonight I have to wear a tie. My usual attire is less formal. I have never worn pants with creases this sharp and can't remember the last time I wore a suit and tie but it's nice. I see what Justin Timberlake is talking about.
When the elevator opens, you hear the noise, screams and cheers of an extravagant celebration. Bright lights beam for TV reporters. A new class of NFL first round picks hug family and friends. Hotel security and NFL officials pace back and forth, walkie-talkie in hand, monitoring the arrival status of the buses. "Boarding in 30," a security officer shouts across the room.
At the end of a hotel lobby, Dont'a Hightower steps out behind elevator doors and stands alone. Confusion anchors his face. He adjusts his watch and sends a text asking where I am. It's almost time to go. A small hallway connects the lobby to a business center. Much like everywhere else, a challenge waits here, too. It is four forty-five in the afternoon. We've been at it since three. My mother, frustrated but patient, offers instruction from a web cam inside my father's office in Huntsville, Alabama. The wide-end to the necktie extends 12 inches below the narrow-end and flips back underneath it, she tells me repeatedly. Nothing changes.
I'm on a guest list to the NFL Draft and can't tie a necktie. The whole thing would be sort of hilarious if not for Gerstmann Syndrome, a rare neurological disorder I acquired at birth. Gerstmann Syndrome impacts everything I do in some way, and on this day, of all the things that could possibly fail me, it's my hands.
"You can do this," Mom insists
I say nothing, nodding in agreement. Groups of thin men in dazzling suits sit at tables next to dark drapes and large windows. A Manhattan skyline of blue and scarlet swirls shines bright. A slant of the late spring sun lights the room. Mom's voice blares loudly over a speaker phone as if I can't tie a necktie because I can't hear her. Heads peep from behind laptops. Everyone stares.
"You don't have much time," Mom reminds me "Please hurry."
Crowds flock to Avenue of Americas, waiting for the doors to open. Tightly packed photographers wipe lenses clean on the red carpet beyond. If you raked your gaze from Avenue of Americas to the hotel business center and back again, you could take in the immensity of my journey. 4 blocks may seem but a skip and a hop to you. It is quite far to me. I rank in the single lowest percentile in spatial and perceptive skills. Somebody has to.
"Focus on what you control," Mom adds. "The rest takes care of itself."
"Sure," I say, trying to determine what I control and what controls me.
I have just come to the end of a chapter of nightmare and devastation. A whole year spent reliving a year ago today every day. Strangers seem surprised, maybe even stunned, to learn the details. I dread the questions but even more I dread my answers. The day Tuscaloosa's large, violent EF-5 Tornado nearly separated like all my protons from my electrons is never far behind in my mind. Sometimes in the post-midnight hours of the night, old memories come to visit. Eventually they always do, but it doesn't matter. Not now.
"Just focus on what you control," Mom repeats. "That's all that matters."
A perceptible shrug of Mom's shoulders suggests she thinks otherwise. Our pasts are permanent but in many ways my future is, too. The distance between what my mind wants and what my body can give doesn't change regardless of what I pray, say or do. I can't write due to dysgraphia and I can't perform arithmetic due to dyscalculia. I struggle to distinguish my left from my right due to left-right disorientation and can't see or feel my fingers because of finger agnosia. Doctors suggest I use a walking cane to keep track of the ground but ways to tie a necktie have never been discussed.
Minutes lapse in silence. Mom repeats the instructions hoping this is the time I tie the necktie, and sighs quietly under her breath when it isn't. I remain hopefully optimistic about the whole situation but exhale deeply in frustration whenever I come up short. This is a game for hopeless optimists with a Charlie Brown-like faith thinking maybe Lucy Van Pelt won't pull away the football, that this time it'll all be different. Life isn't what you're given, it's what you create, what you conquer, and what you aim to achieve. By the time the necktie is finally tied, Mom and I are nearly out of breath, a phrase which here means cognitive deficits did not win again.
The NFL draft prospects wait in a lobby lounge, checking Facebook and Twitter, uploading pictures of the new ice on their necks and wrists. Waiters in dark jackets and perfectly tied neckties refill glasses and offer well wishes. But nobody says much, even now as an NFL Pre-Draft show plays inside the place. A small crowd gathers around the doorway leading out to East 48th Street. Their screams reach fever pitch when NFL Draft bus doors open up out front. Burly security guards patrol the scene but this doesn't prevent excited fans from recording. Quite everyone is on a cell phone. I'm on mine, too, handing out major buckets on NBA Jams. It helps kill the awkward buzz in the room only it's not just an awkward buzz that justifies the quadruple doubles I'm dropping. Double-flash snapshots fly off long-nosed cameras. White lights flash bright, carrying me further and further from a low swivel barstool where I sit. In my mind's eye, lightning strikes before smoked-glass bar windows, and though the sun shines in the sky, I see vicious rain.
This is New York on Draft Day. Here, I sit behind a long, bright bar saucer-eye gazing through floor-to-ceiling windows facing the street. The burnished wood and well dressed guests in the big, expensive place speak to a glitz and glamour world in contrast to the one where my thoughts swarm. Outside, dark clouds loom near Manhattan in nobody's mind but my own. History repeats itself and the idea of history repeating itself today of all days makes me coil nervously. Nobody seems to notice. Dont'a Hightower notices me immediately, and calls my cell phone.
Dont'a Hightower and I have been friends for years. Our friendship began on the first day of college, when we both sat in Morgan 203 for English 101. Dont'a walked around the lecture hall that day in the same quick strides he does now, even before filling front pages of newspapers and magazines. Dont'a was always a blue-collar athlete, hustling to the huddle between plays as if arriving to a difficult, back-breaking, 12 hour shift on the job. He wasn't born Dont'a Hightower, Butkus, Lott and Lombardi award finalist, with extraordinary talent. He invented himself, Dont'a Hightower, NFL first-round hopeful, with a commitment to excellence and a fierce competitive nature. That he was the size of a small Caribbean Island helped too.
"Bro, was you seriously just Skyping your Mom right now?" Dont'a shouts into the phone, his voice rising in disbelief. I laugh out loud. Dont'a Hightower makes his way through a small legion of bellhops to where I sit and taps me on the shoulder. "I'm serious," he says. "I had no idea where you were!"
"Worry about you, stink breath." I respond jokingly.
"Where have you been?" He asks again, sitting down beside me. "I've been looking for you everywhere." His eyes scan the invisible boundaries of an exit pathway loosely arranged. He is rock-solid at 6-4 with huge arms and dreads. He turns and checks the time. "We're traveling separate, boss, you ready?" I say yes, I am. He says "Come on. We're going to be late."
The NFL Draft buses are in front of me now, and I have one final task. A last sunlight follows like a spotlight, making the asphalt shine under the intensity of its glare. Family and guests climb aboard one by one, oblivious to the challenge walking up bus steps can even be. There are doctors who say I have a better chance of seeing God then climbing up bus steps. I take a step forward and go down another. Both eyes focus on stairs that might be too steep, but determination allows my mind to leave the prison of my body, and show the universe what kind of human I can be. Lights inside the bus are off. Despite being crammed with like 70 other people, there is a distinct sense of feeling alone. As seconds pass, thoughts become fears, and memories of awful winds bearing down, houses blowing away like castles made of sand, a presence of four best-friends around, and mostly – mostly –
"OUR 5 O'CLOCK NEWS STARTS NOW, AND THE NEWS IS WEATHER." ABC 33/40 meteorologist James Spann says, speaking quickly before a BBC Compass Weather SKY CAM. "Again, we should point out there is potential for a violent tornado."
It is the tail end of April 2011, the midst of a hot, humid spring in Tuscaloosa. Spann has a bald head, a strong jaw and a red stripped tie. He is a Tuscaloosa native, a product of the Capstone with a degree from the University of Alabama. His voice steers clear through chaos.
"This is a large, violent tornado that is approaching from the southwest." Spann says, "Nobody should be driving."
The viewers tuning in to ABC 33/40 this afternoon, from Birmingham's black urban core to suburbs in West-Central Alabama, have grown accustomed to bad weather. Early this morning, a line of thunderstorms meteorologists call a "quasi-linear convective system" – has generated 3 EF-3 and 5 EF-2 tornados. Producers cut to a web cam atop Tuscaloosa County's courthouse. A wedged, EF-5 tornado crosses Downtown Tuscaloosa. Spann's report is rich in detail, so five minds jump clean out their skull with every word. Four friends and I sit inside a University of Alabama off-campus clubhouse bathroom. We hear the broadcast from a television that plays in the lobby down the hall. Something strange is happening with the gunmetal grey clouds down the road. James Spann paints pictures none of us want to see. A violent, mile-wide, spinning vortex spins toward us, and not a thing in the world can stop it, or even change what happens next.
We stare into chip plastered white walls, ignoring a yellow flickering light growing dim. Everyone checks the time. I check it, too, avoiding the elephant in the room much as everyone else. Thunder bangs like a bowling ball down an AMF alley. The ceiling clacks like billiard balls from heavy rain. In a video shot from an iPhone, a friend says goodbye to her Mom and Dad. She begins sobbing, whipping her eyes with Kleenex, scared, trying to get herself under control. Then, she turns and records the rest of us. Three friends sit tucked underneath a bathroom sink, away from a full-length mirror hanging overhead. Beside them, calm, calculated, NCAA All-American middle linebacker Dont'a Hightower sits and scoots against a corner wall. 365 days from now, Dont'a Hightower and I will be at an ESPN the Magazine NFL Draft Party, a great story as to what difference a year can make for everyone around there writing the big headline stories for a living. Back in an off-campus clubhouse bathroom now, though, a friends arm extends from underneath the sink, so that her cell phone's camera briefly captures the look crossing my face. Thirty seconds later, we're in darkness. Tuscaloosa's tornado moves fast.
We hit 6th Avenue and turn right. New York never takes a night off. Electronic billboards and the commercials being projected onto the sides of glass buildings are blinking and flashing and moving at their usual 0-100 real quick speed. The street is clogged with yellow taxis trying to get out Midtown, any twenty of which are unleashing their horns for no reason at all. Given the sights and sounds, the sidewalks are clear. When our bus pulls in, wide eyed spectators stand losing their minds. They applaud wildly before realizing we are only the NFL Draft guests. Disappointed, they continue on their way. RADIO CITY MUSIC HALL is lit in a red lettering and blue glow large enough to be seen from the back of the bus where I sit. A spider's web of pale pink and gold twists through clouds. The pink rises into the gold and the sun mirrors a yellow ball dropping from the sky. A Chase bank building looms ominously out the ground, and on the ground, they stream atop streets stretching the entire length of Manhattan. The men are in freshly pressed jackets, the women in long gowns, big smiles everywhere. One foot in front the other, we make our way.
Which leads me, as you might expect, to the Green Room at the NFL Draft, where I retrace the steps of Calvin Johnson, the Manning family, Primetime, and many other NFL legends of before. Trying to loosen the tie now strangling my neck, I can't help but laugh as I look out into a crowd and see the biggest and brightest celebrities and NFL athletes. None have a seat better than mine. WELL, WHADDAYA KNOW!!! THAT'S DANIEL RADCLIFFE, I think to myself, trying to decide if I should tweet this moment to THE Emma Watson. We wait for NFL Commissioner Roger Goodell to take his place center stage. Behind it, conversations are kept to more simple matters – Lebron or Kobe. OVO or MMG. Then the Cleveland Browns move up a spot, from the fourth overall pick to the third, in a trade with the Minnesota Vikings. No one knows why. Rumors spread like wildfire. I anxiously tug at my poorly tied necktie once, then again. Many forgot, or maybe never knew, that a camera would cover every single thing in sight tonight. This ode to potential success shared amongst people who have already found success is not where I belong. I am not built for this place, or, really, this world.
The Green Room is perhaps our planet's most intense final round job interview ever – just one small, subtle ringtone after another, after another. Twenty-six phones are on twenty-six tables. Phone calls hold the hopes and dreams of twenty-six athletes. Dont'a Hightower speaks to me occasionally, but mostly watches an NFL Network Pre-Draft Show. A million thoughts are on his mind. The gears between my ears spin just as fast. I wonder if Dont'a Hightower sees the same ghosts I do. He was there too, 364 days ago today. My journey from the EF-5 Tuscaloosa tornado to the NFL Draft can be measured in many ways – the LSAT's I cancelled, the hours I sat in doctor waiting rooms, the deals I made with God to stop the nightmares – but as months passed, PTSD took complete control of my mind and my body. The pain felt after nearly dying in a tornado conjoined with every other pain I felt too, with being born different, with a mind that works differently. In all the nightmares and hallucinations PTSD brought, what kept me going in life was gone.
Years later, just two days before the 79th Iron Bowl, my memories of those April days aren't like my memories of other days. They aren't even like my other memories. When I come back to Tuscaloosa, I discover my feelings from all those years are for people and not places. My Tuscaloosa wasn't a collection of restaurants and bars. My Tuscaloosa is no longer here. The person I was then doesn't exist either. Turns out, we can't go back, and yet we try. Three-and-a-half years after Dont'a Hightower played matador to the F-5 Tuscaloosa Tornado's bull of a pull, snatching my sliding body by a shoulder and neck before tucking me beneath a bathroom sink; I have taken up writing. I wrote a book about Gerstmann Syndrome and PTSD for Rare Disease Day 2014. I have since learned about the hunger it takes to become more than a starving artist. I could go on, and on. I think I already have.
A guy see's an empty seat at the Alabama-Auburn game. He asks the guy seated next to it why, and he says "It was my wife's, but she died." The guy asks, "Couldn't you have invited a friend?" The other guy says, "They're all at the funeral."
And so, the game. Kickoff's close. I'll begin believing in ghosts Saturday at 6:45, because when an ocean of crimson and white roars inside Bryant-Denny Stadium, the noise really will sound like thunder across the sky. I haven't been back here since an overtime loss in a "Game of the Century" to LSU in 2011. Our Iron Bowl tickets are Gate 5, Section N, seats 19 and 20. My brother's a senior at Auburn, and the Iron Bowl will be his final regular season game as a student. All things end, really. De'Quan Menzie retired from the NFL last July. A month later, Nico Johnson was cut by the Kansas City Chiefs and then picked up by the Cincinnati Bengals. Meanwhile, Dont'a Hightower's still bigger than big, running around out on a football field like he's actually just a Honda Civic the New England Patriots laid a 54 jersey over the top of. But Dont'a Hightower has moved from outside backer to middle linebacker, and Dont'a Hightower is now the first to be signal caller on a Bill Belichick and Nick Saban defense. The Patriots play the Packers at Lambeau Field on Sunday, but right now, I love this moment most. When Bear Bryant's "I ain't never been nothing but a winner," shouts out over a JumboTron loud enough to be heard from wherever the heck Chris Davis 109 yard field goal return for a touchdown was made, our state feels something. That pull, unique in each particular, but ultimately familiar, is what Iron Bowl's are about. And it's for moments like this we return home.