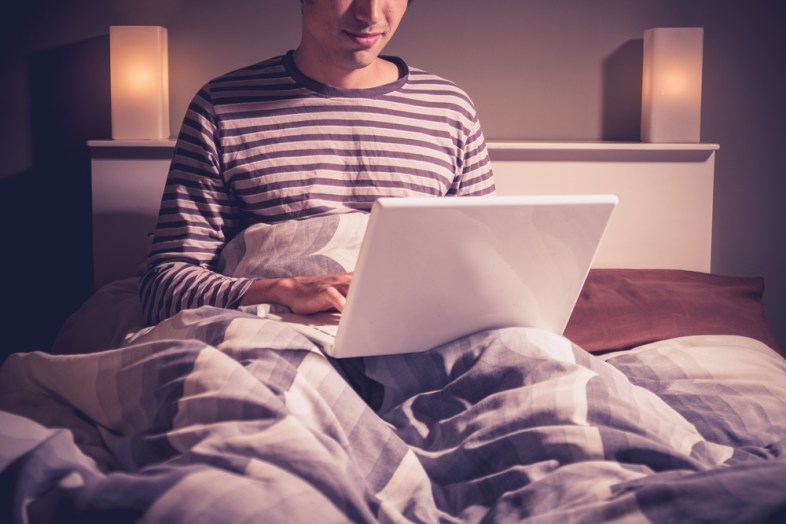 In the age of swiping right, swiping left and swiping your dignity under your knock off Pottery Barn rug, there's no better time to put your most intimate details on blast for the entire world to see than now. If you are bored of Tinder and Match.com why not experiment and look for another way to get struck by Cupid's arrow? Since the Internet is a battleground of phony dating websites and cat videos, I have taken the liberty of weeding out some of the best dating sites in the hopes of you finding someone to share a life and health insurance policy with.
1.) WealthyMen.com
If there's any website that scream's "my father never loved me" it's this one. If you're looking to be the side chick of an emotionally unavailable NYC investment banker who has a wife and three kids nestled in a New-England style estate in Connecticut then you are set to find the man of your dreams here! For just a small monthly fee you can pretend that morals don't matter and that good things really do come in Saks packages. Ladies if this sounds like your kind of commitment then climb on top for two minutes and claim your Michael Kors bag!
2.) WomenBehindBars.Com
Can't wait for season 3 of Orange Is The New Black? Are you the type of guy that likes to "save" girls? Well then Women Behind Bars is for you! For the small price of $4 (plus bail money) you can get access to the addresses of some of America's finest women being held by the legal system. These women are looking for real relationships from real men who don't mind a girl in a sleek, orange one-piece wedding suit. If she sounds like your kind of problem, then gentlemen, step right up and claim your pen pal before death row does!
3.) MarryMeAlready.Com
Have you ever wanted a man or woman who alienates you from your family and friends? What about someone threatens suicide if you attempt to break up with him or her? Then your next prescription drug dependency is at Marry Me Already. This site is geared towards people looking for singles who are serious about dating and ready to skip the "get to know each other" process all together. If you're ready to live a real Lifetime movie 24/7 and settle for retirement on a 5150 hold, then what are you waiting for?
4.) GlutenFreeSingles.Com
Have all your friends abandoned you because you can't stop talking about how much better your life is now that you don't eat bread? Were you never well liked in high school or college? Does the word "bagel" carrying the same meaning as the "n-word" to you? Welcome to Gluten Free Singles, the best place to find someone as difficult as your eating habits. Celiac, allergies, dairy intolerant they don't discriminate! Whether it's freshly brewed lesbian kombucha or kale harvested by a newborn, your self-involved lover who doesn't care if you finish is waiting for you in Whole Foods aisle 7, sign up now!
5.) HowAboutWe.Com
Ever wanted to get someone to only do the things you are interested in? What about finding someone that doesn't have opinions or interests of their own? Well then HowAboutWe is for you! The concept of this dating website is very similar to the title in place. Users sign up and then suggest things to do like "how about we go to brunch" and see if anyone wants to join you or search for certain dates and see what people are doing next Monday if you want to join them. Obviously the two have to agree to attend together but can you imagine some of the suggestions that probably go on? I composed a couple of my fantasy "how about we's" in order to convery my most ideal of meet ups:
-"How about we…. watch entire seasons of TV shows on Netflix so we don't actually have to get to know each other."
-"How about we…. call my dad together so he can't really tell me what he thinks about my lifestyle because another person is listening."
-"How about we…. get dinner and lie about our deepest insecurities in order to prove that we may or may not be capable of another date with each other.
-"How about we…. do everything that I want to do because that's the only way I'll actually be happy."
-"How about we…. talk about meeting up but never actually do it."
6.) Purrsonals.com
Have you ever wondered what it would be like to live in quarantine forever? Have you failed at all personal and professional endeavors? Then get ready to lose all your friends and develop serious allergies when you sign up for Purrsonals! The name says it all; you get to match up with fellow cat lovers who have been alone forever just like you. Join now because it's free (LOL) and find someone who's just as bad at making direct eye contact and has never officially been diagnosed with Aspergers.
7.) AgeMatch.com
Do you like changing diapers on adults? How about going to dinner at 5pm? Then step right up and find your reason to move out of your parent's house! Age Match is dedicated to bringing together singles that want to date someone vastly older than them. They say men look for women that remind them of their mothers, and what better way to be reminded than by someone who was born the same year? If you're looking to destroy the relationship between you and your father by dating a man the same age as him, then step right up and claim your life insurance policy today!
8.) BeautifulPeople.com
Do you only like people who are only pretty on the outside? Is your favorite feature on your phone your own number? If you answered yes to both of these then Beautiful People is the premiere dating website for you. This website requires a screening of your photo to see if you have what it takes to make it to their website. If accepted you'll have access to hundreds of terrible people just like yourself! Create a free membership today, because beauty is the ultimate price!
9.) CanDoBetter.com
Are constantly judging others before you meet them? Do you enjoy ruining people's lives? If so, Can Do Better if the perfect place for you to direct your self-loathing! This website operates on a simple, yet deeply flawed system of one couple putting a picture up of each of them and then the masses deciding who can do better. Whoever gets the most votes saying they "can do better" will be emitted to the site. If you're looking to tell you girlfriend or boyfriend "I told you so" then this is a place for you. Sign up now and let the world know you're hanging on by a thread.
10.) SkyeCandy.Com
Skye Candy is not a strip club airliner or a woman battling crippling daddy issues, it's a dating website of course! If you're into hiding behind a computer screen while typing obscenely, objectifying comments to another individual in a method to lure them into liking you or taking off an article of clothing, then Skye Candy is for you! Even the homepage of this website looks like a message board for human trafficking or if AA suddenly decided to not be so anonymous anymore. This website is geared towards "individuals who don't have time to meet up" and want to have "video dates instead" AKA Chatroulette with a different name This site seems like it's trying to be progressive and geared towards the millennial who just doesn't have the time to meet up or the social skills to carry a conversation past "hello." Sign-up now to have you identity stolen by a middle-aged man.