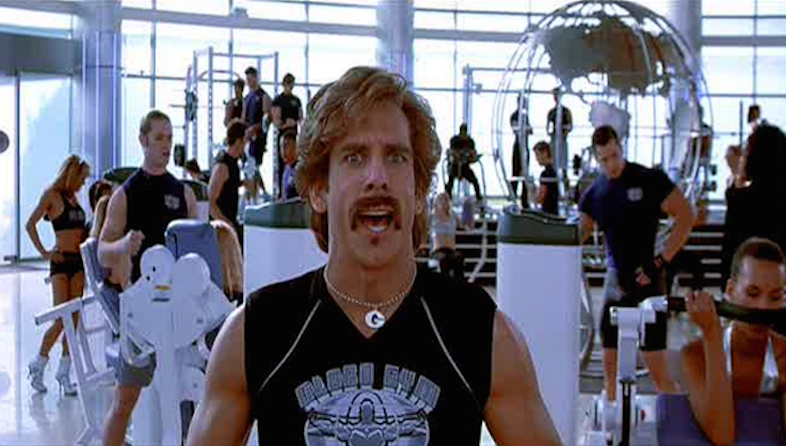 It's about that time of year again — the time when all gyms (big and small) see an influx of memberships for the New Year. The population growth is astounding and I get it, it's great for business. Gym owners are happy, personal trainers are happy, and new members are happy.
Everyone is happy except for the average, consistent gym goer like me. This is what makes me happy: I want to go to the gym, get a great work out in, measure results, and leave feeling accomplished. Well, if you're like me and you want to get sh*t done, then you best steer clear of these following gym New Year's Resolution-ers:
1) "The Babysitters"
These individuals forgot to read the gym handbook. They hog a specific machine you wish to actually use for extremely long periods of time. Oh… and they forgot to clean the machine after they were done using it.
"Are you done with [insert machine]?"
"Oh no, I'm still using it…"
"It's been 20 minutes."
"Yep, one more set."
2) "The Smart Phone Dummies"
These are the boys and girls who use their phones more than the equipment. They are most likely babysitting a machine as well. Selfies, talking, and texting- Oh My! There is a time and a place people. Please exit the premises and find your local Starbucks. I am sure your conversation would pair nicely with a double chai mocha latte.
3) "The Wannabe Fitness Models"
Here's a slight misconception, fitness models are fitness models beyond their Instagram profiles. Yes they are attractive but they also put in hours of hard work and clean eating. Wearing makeup, a sports bra, and tight yoga shorts might get you a lot of followers, but it won't get the results you want. More than anything, you have to be willing to work up a sweat. Put in the work, I'm sure you'll look beautiful in whatever you wear.
4) "The Only Cardio-ers" 
Cardio is great. It is very essential for sculpting, shredding, and burning those excess calories. BUT cardio is not meant to be casual. Again, you have to work up a sweat. I'm sorry but walking a treadmill at level 2 while watching your favorite soap opera for an entire hour is not going to take you where you need to be. And ladies, I promise lifting is not going to make you unattractively bulky.
5) "The Not So Super Setters"
These are the individuals that are quite opposite to "the baby sitters".  They are consistently using 8 pieces of equipment at the same time. You cannot tell what they are working out today. Is it chest, back, bicep, abs, or all of the above? Oh and when they are "finished" don't bother cleaning or re-racking. Thanks, I got it.
6) "The Couples"
"Aw sweetie let's do everything together, it will be fun. I put your hand up on my hip, when you dip I dip we dip." I know the New Year motivates couples to be the next #swolemate #fitcouple #motivationmonday #thiscouldbeusbutyouplayin if I squat you squat duo; but chances are working out on everything together is unrealistic
7) "The Singles"
"How you doin' sexy thighs? I see you're a wannabe Instagram fitness model. Wanna go to GNC and share a protein shake?" Ladies and gents, the gym is not the place where you find your future wife. Get focused and get another set in.
8) "The Shaker Socializers"
So you bought a new shaker bottle, maybe even a new pre-workout. The first half hour of your gym time should be used to warm up. Shaking your shaker and distracting others in mid work is a no-no. Remember, this is not happy hour. If you have a question about a certain lift or machine, try to ask at a different time without acting like an obnoxious nuisance. If you are a know it all, also note that unsolicited advice is strongly discouraged. Be a mover not a shaker.
9) "The Grunt and Groaners"
"I'm going to over-extend myself and lift more weight than I can physically lift. It's cool bro, cuz everyone in the gym will see how strong I am." I think Mckayla Maroney's "not impressed" face is appropriate here because, my friend, if Planet Fitness doesn't allow it and neither should we. In fact, the only exception to the rule would be extraneous noises from Hanz and Franz- that would just be pure entertainment.
10) "The Temps"
Well, for what it's worth, you put in a good run. You bought a whole year's membership but you only need the first 3 weeks. But, it was the best 3 weeks of your life. You might have even noticed visible results, great job! But like most things, motivation flickers and evaporates away.  Excuses emerge to the forefront of your schedule and it is all downhill from there. Your work out partner either left you behind or fell into the trenches too. The good news is that gym owner is still happy.
So here's the thing, I am not a body builder, but I do take my work out time seriously. I cannot imagine that I am the only one either. If you out there came into the New Year with new vigor and long lasting dedication to fitness, kudos to you. I highly recommend that you do not associate yourself with those mentioned above.
For all current gym members, while we cannot rid ourselves from these irritating individuals, I can offer a small tip to detract their unwelcomed presence: put on headphones (even if you do not like to listen to anything) and wear your angry face.  Good luck everyone and Happy New Year!