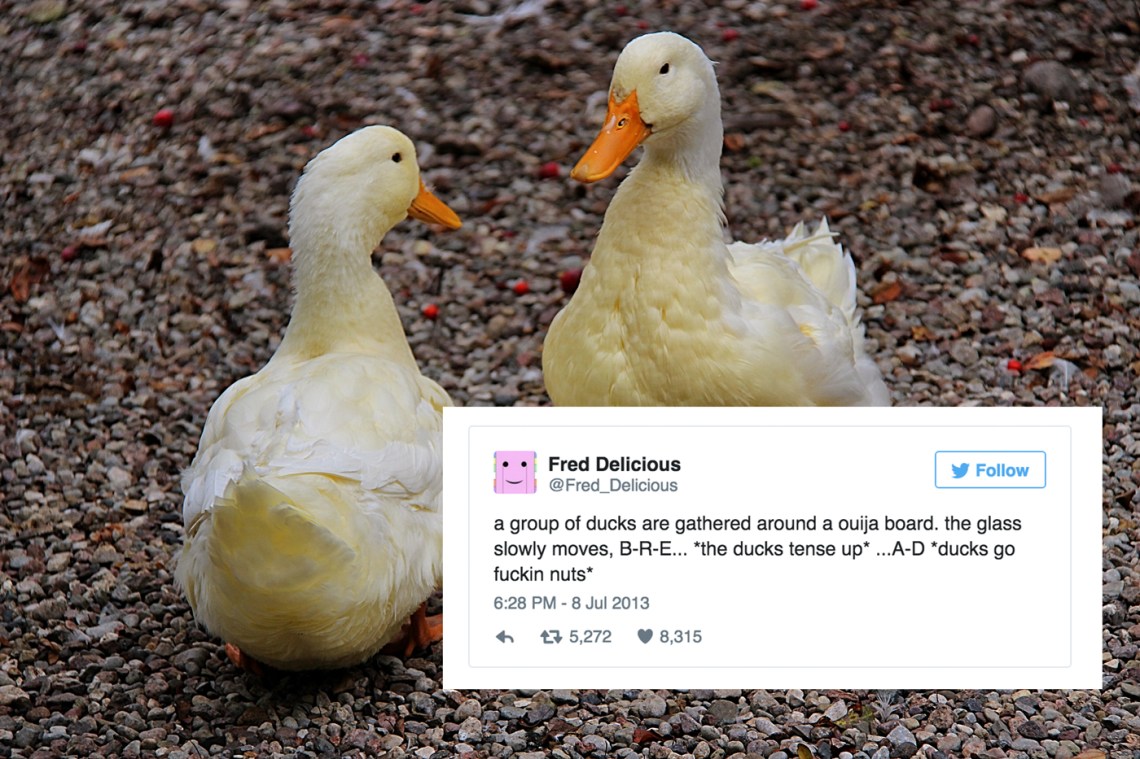 1.
Ducks aren't saying "quack", they're trying to say "duck". They're Pokémon or Pokémons or Digimons or whatever the fuck they're called.

— Mark Leggett (@markleggett) January 25, 2013
2.
a group of ducks are gathered around a ouija board. the glass slowly moves, B-R-E… *the ducks tense up* …A-D *ducks go fuckin nuts*

— Fred Delicious (@Fred_Delicious) July 8, 2013
3.
https://twitter.com/KeetPotato/status/571320716148252672?ref_src=twsrc%5Etfw
4.
*sticks bread all over clothes and goes to the park*
*ducks peck away at bread to reveal Go Ducks sweatshirt*
*ducks go fuckin nuts*

— dan mentos (@DanMentos) November 7, 2014
5.
https://twitter.com/trentistweeting/status/551487197916827648
6.
Duck internet search history:

Bread
Bread pudding?
what is "breadwinner"
how to become breadwinner
where to win bread
Duck boobs
Free bread

— Marin Hubka (@marinhubka) July 30, 2014
7.
https://twitter.com/michaeljhudson/status/350061399424237568
8.
Duck Negotiator: Ok, so we get to live in your parks and you guys will bring us free bread

Humans: Can we pet you at least?

Duck: Fuck no

— Jason (@longwall26) July 3, 2014
9.
"Yes, that should fit the bill" -guy shopping for a muzzle for his duck

— dan mentos (@DanMentos) May 16, 2014
10.
I lay awake at night knowing that a duck could stab me to death in the middle of the night and he'd never see a day in prison.

— Just Some Guy | Black Lives Matter (@Home_Halfway) August 4, 2014
[polldaddy poll=9227185]