US Prosecutors indicted nine FIFA officials and five executives (14 in total) for racketeering charges and corruption.
Nine FIFA Officials and Five Corporate Executives Indicted for Racketeering Conspiracy and Corruption http://t.co/7SvYgNmlaN

— Justice Department (@TheJusticeDept) May 27, 2015
The charges include, according to CNN: "…racketeering, wire fraud and money laundering conspiracy. They include FIFA officials accused of taking bribes totaling more than $150 million and in return provided "lucrative media and marketing rights" to soccer tournaments as kickbacks over the past 24 years."
And Swiss authorities took decisive action against FIFA, raiding its headquarters in Zurich.
Sepp Blatter, however, has not been charged. Unfortunately.

As companies look to adopt a "greener" image, solar power's foothold in the energy world jumped "more than 20 fold" in the past seven years. In 2013, solar power usage increased 30%, and analysts predict it will more than double in the next year. "Solar is the new shale," an analyst said.

China's economic growth slowed to about seven percent, yet their stock market continues on its increasingly oblivious bull run. Analysts are wondering if China is in yet another bubble, and if so, we're left to wonder when it will burst. China experienced a crash in 2007, and the trend looks like it will happen again.

A May referendum for Greece? Nope. Still stuck in stalemate. Bloomberg reports that Greece and its European counterparts are nowhere close to agreement. Finance Minister Yanis Varoufakis has set the new agreement goal to June 5th. Whether there will be an agreement is…still up in the air.

Bad news for Michael Kors — shares fell about 17% pre-market after their earnings report was released. Guess investors did not like what they saw.

The economy has made a slow recovery, but it looks like the central banks have managed to restore most of the wealth lost in 2008.

You can be a self-taught investor and be able to manage the world's most successful hedge fund.

Snapchat is making moves to become a "real business".

Quartz reports that there will be a "showdown" between Amazon and Alibaba in India. Online retailers, watch out!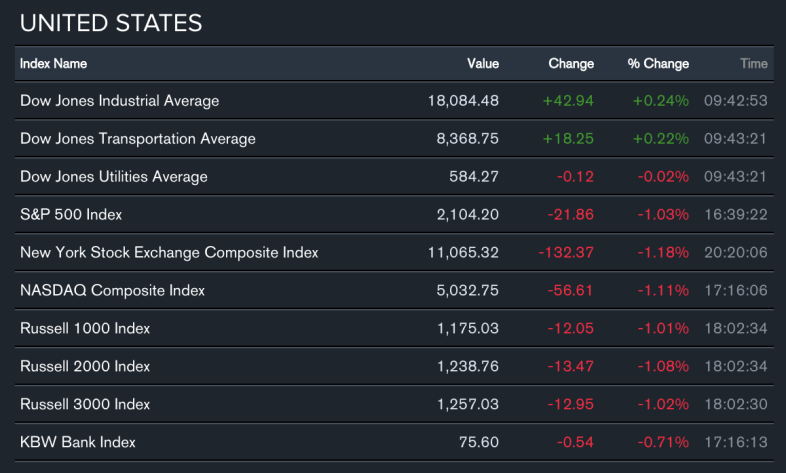 Everyone is saying the stock market will recover from Tuesday, but we'll see what happens.

SPACEX WAS RECENTLY APPROVED TO ENTER THE MILITARY MARKET. THAT'S A $70 BILLION INDUSTRY.

McDonald's is going to stop reporting monthly sales…and so, it becomes the shadowy corporation once again.

Last updated: 2:37 PM