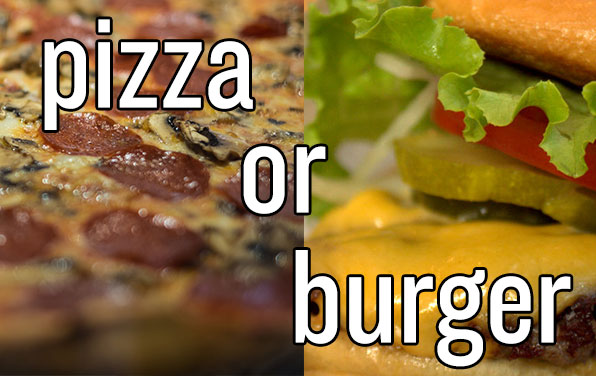 It's lunch time and I can't choose what I want to eat.
Pizza or burger?
Burger or pizza?
I've decided to ask you guys for help.
Crowdsource my answer.
So it's up to you guys to choose for me.
What will it be?
The wonderfully cheesy and comforting pizza…
…or the wonderfully beefy and juicy burger?
The only thing is that I can't have both.
I mean, I don't want to go to a burger joint and then go to a pizza place with my burger and vice versa. I'd love to, don't get me wrong, but I don't think that will be okay with my stomach (and my girlfriend).
Will you be #TeamPizza…
…or #TeamBurger?
[polldaddy poll=8807862]
Choose and I will go get whatever has the highest number of votes by 2:30pm EST.
---
UPDATE:
https://twitter.com/ughHugs/status/589135541100150784
Also, fuck you to those who voted neither.