If you think you can wait up to an hour-and-a-half to get seated for incredibly delicious Korean barbeque, then look no further than Kang Ho Dong Baekjeong on 1 East 32nd Street, right next to the chicken wing beacon of light, Kyochon.
Famous chefs come here to kick it and relax with their family while enjoying some of the juiciest, succulent, tender slices of meat known to man.
Here's Anthony Bourdain:
And here's David Chang and Rich Torrisi:
Hell, even Questlove got in on the love:
And there's a reason celebrities are coming through the door. The food here is amazing. And we here at Thought Catalog can attest to it.
As soon as you're greeted at the door — and it's not just the hostess that greets you, it's the entire staff. "안녕하새요, 백정입니다!" they'll shout, welcoming you to a land of grilled meats and opulent tables. And, they're already ready for you — there's cheesy sweet corn, scrambled egg, salad with chili pepper flakes and soy dressing, soft tofu with soy, pumpkin, waiting for your chopsticks (or spoon) plus the small six-page menu detailing the food you're going to devour in the course of an hour (or two).
The banchan is minimal, but the amount of food you get makes up for it (besides, the main focus is the barbecue). When co-owner Bobby Kwak sat down to chat with us, he mentioned that the banchan was carefully thought out and selected because they best complement the taste of the meat.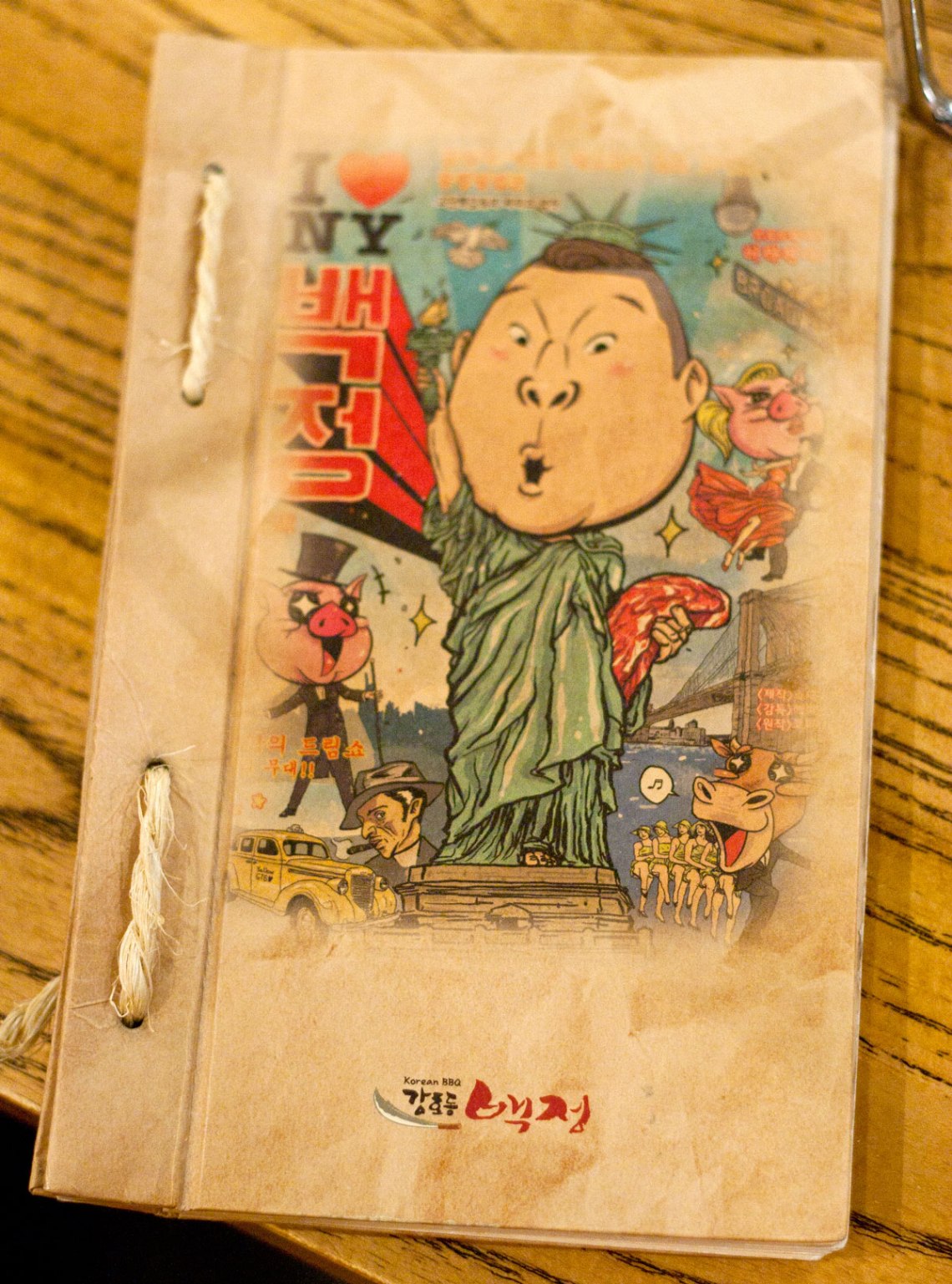 We settled for the Beef Combo (three cuts of beef: thinly sliced brisket (차돌), prime boneless short rib (꼿살), and seasoned prime short ribs (주물럭 갈비), plus a Korean seafood pancake (해물파전) and seafood soondubu (해물순두부). With the beef combo, you get a choice of Kimchi-jigae (kimchi stew) or Doenjang-jjigae (soybean paste stew)— we picked doenjang — okay, I picked doenjang, unbeknownst to Mink, our Book Producer.
The meat arrived first. Our server, who was also the "grill master" prepared the grill for the first cut: thinly sliced brisket. (Side note: Baekjeong has, probably, the best wait staff in all of New York City.)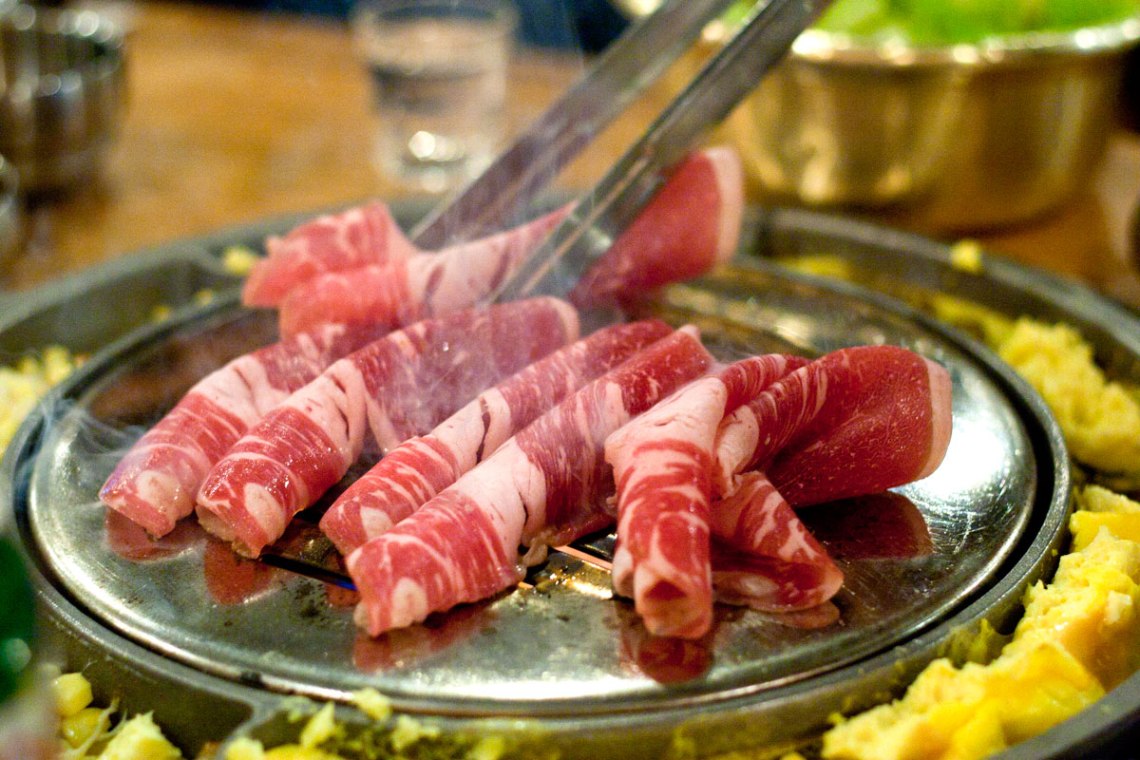 And look at the marbling on that beef. Bobby Kwak explained to us that Kang Ho Dong Baekjeong uses only prime meat, which to us means top-of-the-line delicious. He added that the meats served are on par with Peter Luger's steaks. And we could taste that quality. One thing that sets Baekjeong apart from other Korean BBQ restaurants is that it's second generation owned, meaning that Bobby and his business partner, Joseph Ko, are looking to treat their patrons to a refined dining experience without compromising authenticity. Taking the best from traditional Korean cuisine and upping the bar, just a little bit, by offering top quality meats which, by the way — Baekjeong will grill 1 serving of just 1 cut of meat if that's what you want (typical Korean restaurants won't do this; 2 servings is the minimum in order to be grilled at your table).
Classically trained Chef Deuki Hong, who has worked under David Chang and Jean-Georges Vongerichten, runs the kitchen and whips up some incredibly delicious menu items — the seafood pancake was packed with flavor from the squid, green onions, shrimp, and clams. (Deuki also has a book coming out from Clarkson Potter titled Koreatown USA.)
Baekjeong also employs a mixologist who is tasked with creating unique and delicious drinks for Baekjeong's clientele. We ordered the Yuzu Cocktail (on the right) and the Melon Bar Makgeolli Cocktail (on the left). If you've ever had a Melon Bar — Lotte's Melona ice cream — you'll be pleasantly surprised to find out that the Melon Bar Makgeolli Cocktail tastes exactly like it (plus some alcohol). The Yuzu Cocktail is citrusy and aromatic, which pierced through the aroma of the beef grilling next to us.
These are some of the many things that separates Baekjeong from all of the other Korean barbecue joints in K-Town.
We demolished the brisket — it was buttery and tender, and I could've had 3-4 more servings of it. Our grill master placed the short ribs on the grill and we were mesmerized by the sweet, savory scent of cooking meat.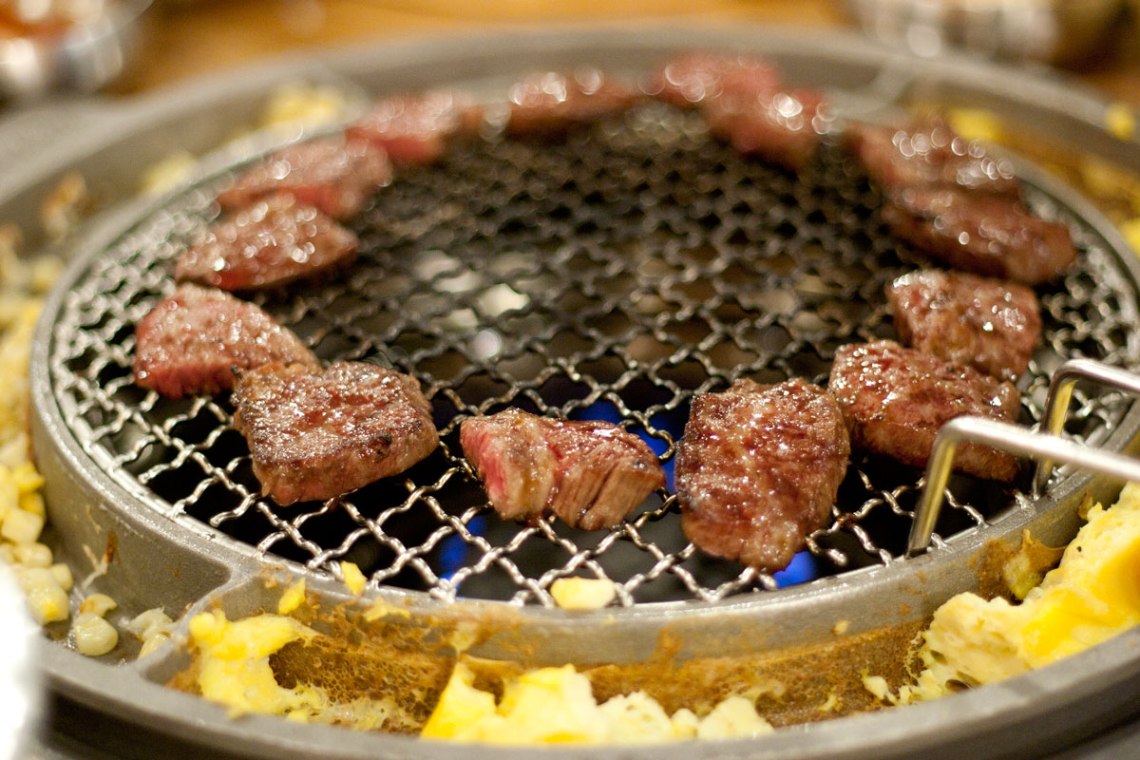 And finally, to complete our beef combination trip, the most prized prime boneless short rib was placed on the grill. Trust me, you've never tasted anything like this before.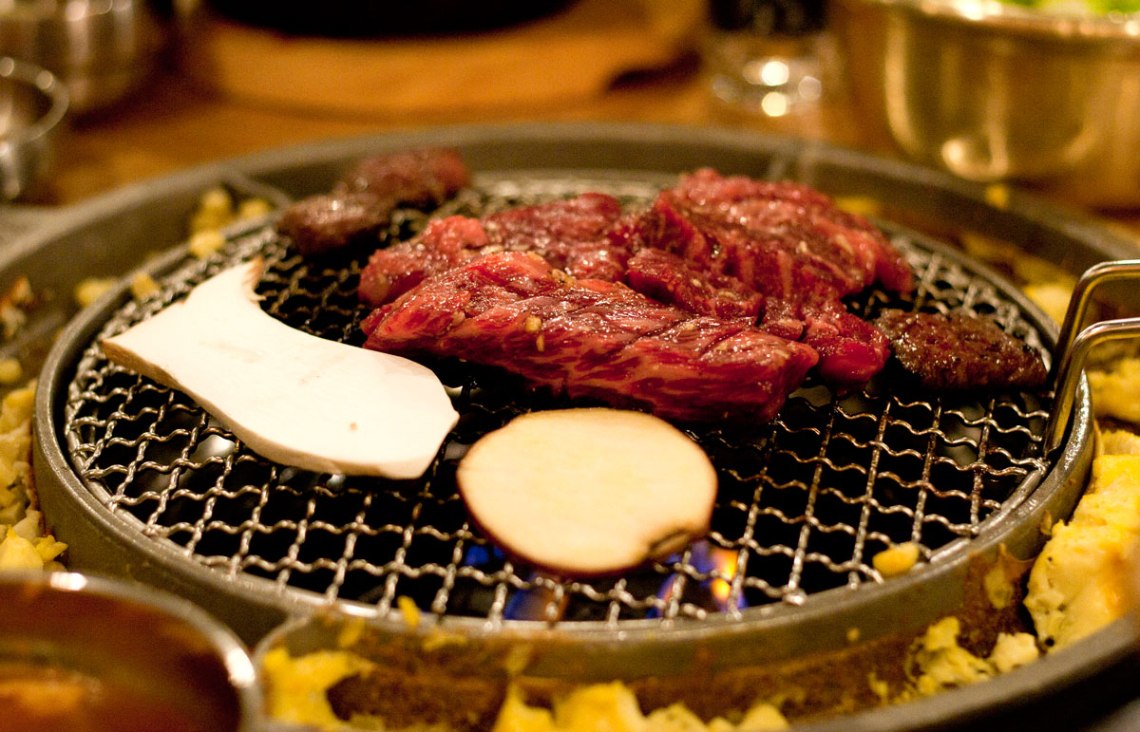 But we weren't done there. We were still hungry and wanted more, so Bobby suggested we order pork jowl. And that's what we did — also because Bob (Szantyr) said he loves pork jowl.
And it didn't disappoint.
Imagine pork belly, but the taste is richer and meatier, and so incredibly flavorful with an almost velvet-y texture. The pork jowl proved too much a temptation for Devon Hartman, a vegetarian for an uninterrupted eight years, who ended up breaking her vegetarianism with the succulent, perfectly grilled piece of pork.
To finish out the night, Bob and I decided to do dongchimi-backs — a Baekjeong rendition of picklebacks, but with daikon-kimchi variant in a watery brine. The dongchimi is refreshing — it's light and briney, totally unlike the sharp and harsh vinegary pickle juice.
We all ended the meal already making plans to come back to Baekjeong and surprised at the turn of events (we never intended to convert a vegetarian)! Thanks to their heavy-duty industrial strength ventilation system, none of us left the restaurant smelling like cooked meat.
Baekjeong, according to Bobby Kwak, can seat up to 150 people, with a table turnover rate of about four per night. That's 600 people ordering meat. And serving meat is what this place does best.
Kang Ho Dong Baekjeong should be at the top of your musts when you visit New York City.

More photos: